Imagine taking a dip in the ocean each morning, watching the sunset from the water and traveling with your entire home wherever you go.
Living on a boat full time is an alternative lifestyle that's all about simplicity — for the most part. Though it's exciting to think about living on a boat or yacht instead of in a house, it's important to acknowledge the different costs associated with claiming it as a full-time residence.
Our guide to living on a boat illustrates the high level of commitment this decision requires and outlines some steps to take to live out your dream.
Common Costs Associated With Living on a Boat
It's the big question — "How much does it cost to live on a boat?" To answer this question, you need to consider the cost factors involved in boat ownership and residency.

One of the biggest aspects related to cost is where you choose to live aboard. For example, fees in Florida may be higher than those in northern states. If the marina is vacant, they will often cut you a better deal compared to a marina with a waiting list. Other costs associated with living aboard include fees, maintenance and utilities.
HOW MUCH WILL LIVING ON A BOAT COST?
Living on a boat in a marina isn't free — although we wish it were. Three different types of fees exist depending on where you reside:
Anchorage: If a local government allows liveaboards, you may be able to find free anchorage in the right areas. Though rare, free anchorage is the most economical way of living on a boat.
Marina slip: Boat slips charge you daily, weekly, monthly or long-term fees to stay in a marina. They also add a monthly charge for liveaboards because you use the marina facilities more than someone storing their boat. Some slip fees include utilities, but others require you to arrange for services on your own.
Mooring: Mooring fields allow you to secure your boat to a permanent mooring buoy that attaches to a weight resting on the bottom of the water. Moorings cost about half the price of a marina slip, which can help cut expenses. As a bonus, some mooring areas have water taxi services, dinghy storage, holding tank pump-outs and access to onshore facilities.
MAINTENANCE COSTS FOR LIVING ON A BOAT AT SEA
Maintaining a boat requires more specific and frequent tasks than what you typically complete in a house. You must consider each boat component to determine maintenance costs, including the living quarters, hull, topsides,underside, canvas and deck. The marine environment is harsh — even more so where there is direct sunlight.
Think about the following costs of boat upkeep:
Canvas: A canvas can make life aboard comfier by keeping you cool and protecting you during the summer. While an awning can shelter your boat's cockpit and deck from the elements, you will need to maintain the material. Mildew or tearing can be an issue in harsh environments, and a special sewing kit can help you make repairs as needed.
Cleaning: It's essential to have a regular cleaning schedule for the outside and inside of your boat. Be sure to scrub down the topsides of your yacht or sports boat and clean out your living quarters. You should also clean the scum and barnacles off the underside of your hull. Upkeep can help preserve the condition of the rig and create a beautiful living space.
Polishing: Consider the cost of polishing your hand rails, coamings, trim and other surfaces to keep your boat looking fresh.
Waxing: The part of your hull that's above water oxidizes over time, creating a dull appearance. Waxing the surface once or twice each year can keep your boat looking clean and vibrant.
Zinc replacement: Zinc replacement helps to protect the stainless material on your boat from corrosion. As a part of your maintenance routine, inspect the zinc anodes while cleaning the boat's hull.
COST CONSIDERATIONS OF MAINTAINING YOUR BOAT'S ENGINE
When living on a boat full time, you have to maintain your engine. Your budget for living on a boat should include engine repair and upkeep materials, such as:
Filters: Clean and replace your engine's fuel, air and oil filters.
Oil: Check your manufacturer's manual to see how often you need to change your boat's oil. Oil keeps your engine operating smoothly and needs to be topped off regularly. When you change the oil, make sure to dispose of it or recycle it properly.
Zinc: The zinc components in your engine protect the unit from corrosion. Inspect the zinc areas and replace them as needed to maintain the integrity of your engine.
UTILITY COSTS AND OPTIONS
Depending on where you anchor your boat, you may have to pay the marina for utilities or handle them on your own. Several provisions to consider for your cost of living include:
Cable and phone: Some marinas provide TV, phone and internet hookups so you can enjoy leisure activities like you would on land.
Electricity:Many marinas have power pedestals that deliver electrical power to each slip. However, you may need to invest in a special adapter to plug into the pedestal. The adapter requirements may change with different marinas.
Water: The electrical pedestals will often have a water faucet.
Garbage: Marinas and mooring fields may charge a fee for their garbage removal services. If not, you may have to make the appropriate arrangements yourself.
Sewage: Many marinas, moorings and anchorages require you to store your waste in an onboard holding tank for sewage removal services. Some areas may charge a fee for a pumping service where your waste is taken to a legal disposal point.
How to Plan Your Unique Budget
Creating a budget and sticking to it is an excellent goal for managing boat living expenses. A liveaboard budget will include different categories and costs compared to that of homeowner's budget. The following are some steps you can take to adapt a budget to life at sea.
1. CONSIDER EXPENSES
The cost of living on a boat varies depending on factors such as:
The size of your boat
The necessities you need
Where you keep the vessel
Your travel plans
If you have a large, well-accommodated yacht and plan to travel across the world, your cost of living will be higher compared to someone with a smaller boat living as a long-term mooring resident. Consider what your situation may entail so you can begin compiling a budget.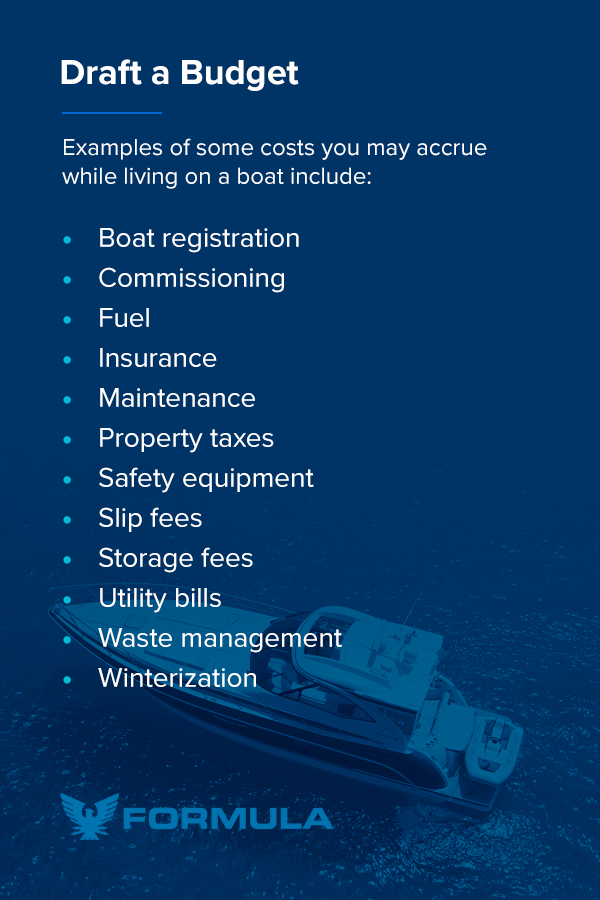 2. DRAFT A BUDGET
Your budget should cover two main categories:
Boat costs: Including maintenance, insurance, fuel and purchasing costs, if applicable.
Provision costs: Including utilities, food, electronics and necessity costs.
Examples of some costs you may accrue while living on a boat include:
Boat registration
Commissioning
Fuel
Insurance
Maintenance
Property taxes
Safety equipment
Slip fees
Storage fees
Utility bills
Waste management
Winterization
Note that property taxes and utilities will often cost less on a boat compared to a home. Maintenance and slip fees are what increase the cost of living on a boat the most. For example, marine parts can be expensive and the amount of labor required to install them may be extensive. Your maintenance costs may be less if you can DIY different repairs, but if you rely on a professional, you will likely have to pay a higher price.
Once you have an estimate of your monthly or yearly expenses, budget for a bit more. This cushion can help support you in emergencies or when you have unforeseen expenses.
3. GATHER YOUR FUNDS
When you have a budget in mind, consider how you will cover the necessary costs. You may opt to begin saving money or use money you've already saved. You can also choose to diversify your income if you're planning to adventure for multiple years. To bring in extra cash, think about renting out your home or committing to freelance work.
You may be able to save money by gaining the right experience before living aboard. If you have limited knowledge about marine engines, volunteering at a marina or taking a few courses can help you learn the ins and outs of your sports boat or yacht. This may equip you to handle more maintenance tasks on your own, which can help save money on labor costs.
Knowing what you're getting into, having the right resources and setting a budget can help make living on the water as smooth and relaxing as you've dreamed.
Other Important Questions About Living on a Boat
To get the most out of the liveaboard lifestyle, think about some of the following questions before you start your new venture:
Am I capable of handling boat maintenance and solving problems?
Am I living in a boat-friendly climate year-round?
Will my children or pets live with me?
Do I have a steady income or saved money?
Is this a change in lifestyle or a short-term commitment?
What type of amenities will I need?
A few other questions you may have include the following.
1. DO YOU HAVE TO PAY TAXES IF YOU LIVE ON A HOUSEBOAT?
Unless you are constantly moving from one port to the next, you will likely have to pay property taxes. If you dock your boat at a marina or slip, you may pay taxes on the outline of water you occupy. These taxes help you and other boaters gain access to on-the-water services, onshore facilities and waterway maintenance.
2. CAN YOU MOVE ABOARD RIGHT AWAY IF YOU HAVE A SLIP?
If you have a slip, there may be a few additional steps you need to take before you move onto your boat full time. Review the following list for some tasks to complete before you move aboard:
Inquire about a waiting list, if the marina has one.
Confirm that the marina allows liveaboards.
Ask about an application to become a permanent resident. If required, the application may request proof that you're capable of making payments and adhering to their local regulations.
Ask if your rates might go up. Liveaboard slip fees are usually higher than the average slip charge because you're there full time. Your insurance rates may go up as well.
3. HOW MUCH IS INSURANCE ON A HOUSEBOAT?

While boat insurance is not required, it's highly recommended if you plan to travel outside the marina. The cost of insurance per month will vary depending on the size and value of your boat or yacht. Other factors that can affect your insurance rates include:
Boat length
Your expected boat use
Boat horsepower
The region of the country you live in
Your credit score
Your age
Your motor driving record
4. WILL LIFE BE SIMPLER LIVING ON A BOAT?
Even though a boat is smaller than a house and has less space to take care of, living on a boat isn't always simpler. For example, small spaces mean you have less storage for food and other amenities. You also need to consider how you'll handle grocery shopping, laundry, mail and other things you may take for granted at home, like a dishwasher. With a little bit of creativity, you can adapt to the changes you'll encounter on a boat with ease.
5. CAN YOU LIVE ON A HOUSEBOAT IN THE WINTER?
Many boaters choose to put their boats to rest once winter rolls around, but that isn't your only option. You can live aboard during the cold months when you invest in provisions like:
Insulation
Shrink-wrap
Electric heaters
Warm clothes
A de-icing machine
What to Look for in a Liveaboard Boat
Different makes, models and sizes of boats are available to accommodate your liveaboard home, so the best boat for you will depend on your lifestyle, budget, application and destination.
When determining the best boats to live on full time, here are a few questions to consider:
Are you working from your yacht or boat?
Do you need a craft to transport you across different bodies of water or to the nearest port?
How many people will be full-time residents on the boat?
How many necessities are you bringing?
Is your plan to live full time on the boat or periodically?
Once you have an idea of what you need, you can determine what type of boat you want to live on. You will want to invest in a watercraft that maximizes your space-to-budget ratio. For example, powerboats give you the most living space per square foot of the boat with spacious areas above the water, excellent headroom and good storage. Sport boats also have space above and below deck for dining, living and entertainment.

You can also match the boat to your lifestyle with a luxury yacht, like the Formula 45 Yacht. The 45 Yacht is plush and homey with multiple rooms, living areas and gorgeous furnishing to make your liveaboard life feel remarkable. It also features:
A sunroof and windshield with panoramic views
An air conditioning system
A port-side lounge
A cherry dining table
A 40-inch widescreen TV
A refrigerator
Abundant storage
We deem the 45 Yacht as one of the best boats to live on full time because of its sought-after amenities, technology, comfort and transportation abilities.
About Formula Boats
Formula Boats is a family-owned company based in Decatur, Indiana. Since our beginning, we've been dedicated to continually improving and developing our line of sport boats. We craft incredible boats with uncompromised quality, fine-tuned designs and authentic craftsmanship.
Our boats are renowned for stunning styles, advanced engineering and exciting performance to help you enjoy priceless moments — whether you're living aboard on your own or with your family.
We've advanced our marine manufacturing techniques over the past 60 years to offer the FormulaFlex™ program that allows for individual personalization. We understand that customization and flexibility are what you expect when it comes to creating your dream boat, so we enable you to control the following aspects in your custom design:
Cabin fabrics, cabinetry and Corian surfaces
Electronic positioning
Hull and outboard setups
Interchangeable graphic color selections
Upholstery base, piping and accent colors
At Formula Boats, we aim to surpass all your expectations and take pride in our customer-oriented services. We build for you, not the masses, with our personalized and legendary line of boats.
Living Aboard With a Customized Boat From Formula Boats

You can rely on Formula Boats for standout products as you make the transition to living aboard. Our experts can engineer powerboats to your exact specifications in our 575,000 square-foot manufacturing facility. We work to deliver a gratifying experience on the water through superior quality and service.
When you're searching for the ideal boat to live on at sea, we have the customization you demand. Browse our line of powerboats or contact our dedicated team of professionals to learn more today.