Owning a boat is one of life's great pleasures. You can spend time with friends and family out on the water. If you are a first-time boat owner, look for boat ownership guides and resources to help you get the most out of your boat.
This boat-owning guide for dummies is filled with boat ownership tips for all boat owners, new and old.
Before You Boat
Once you have your boat, you may be tempted to start enjoying your boat immediately and head out on the water. Before you do that, there are two crucial things you need to take care of — boat insurance and proper equipment. Both are essential to safe and careful boating, allowing you to enjoy your time on the water as much as possible.
Boat Insurance and Registration
Boat insurance can help you cover the cost of any damages to your boat, other boats and even waterways in the case of spilled fuel. In some states such as Utah, boating insurance is required for all boats except airboats or boats with less than 50 horsepower. You can speak to your current insurer or broker to find out if they offer boat insurance or search for boat insurance specialists.
Beyond the typical insurance considerations like the cost of your boat and its condition, several other factors can influence your boat insurance costs. These additional factors include engine type, your boating experience and anchorage location. The insurance you need for a powerful marine boat will differ from a family boat used on lakes and rivers.
There are a few crucial elements you need to consider regardless of how you are planning on using your boat:
Property damage coverage: This coverage should include damage to your boat, other boats and even boating infrastructure such as piers.
Fuel spill coverage: If you spill fuel or your boat sinks and leaks fuel into the water, this coverage can take care of the cost of cleanup.
Injury coverage: In the case of an accident, you need to have injury coverage for yourself, your passengers and any third parties.
Towing fees: If you are stuck out at sea or on any other waterway and need to be towed, this can cover the associated costs.
Trailer coverage: This is crucial for any accidents while your boat is on the road. Check if your auto insurance can cover this or if you need to add it to your boat insurance.
Equipment and personal belongings: This is crucial if you have special fishing or water sports equipment. You also want to make sure any cell phones or valuables lost overboard are covered.
You may also need to register your boat before you can hit the waterways. The registration regulations can vary by boat type depending on your state, so check the local requirements.
Boat Equipment
Before going out onto the water, the next step is to kit your boat with all the critical equipment. Every boat will need the appropriate safety equipment. There are also other things to consider, including tools and personal items. Also, how you use your boat will dictate what you need. If you are buying a boat to live on, you will need far more equipment than if you are going on day trips.
Here are a few things you should have onboard your boat:
Safety and emergency equipment: This includes life jackets, flotation devices, a first aid kit and visual flares, to name a few.
Tools: Ropes, dock lines and anchors are crucial for safe docking. Other tools like wrenches, screwdrivers and duct tape may be needed in emergencies.
Personal items: Depending on the length of your trip and what you are doing, you will want to stock up on things such as towels, food, cleaning cloths, extra clothes, blankets and seasickness medication. This also includes any boat sport or fishing equipment you might need.
Creating a checklist of what you need on your boat is a good idea. Check the list before you go out to ensure you have everything you need. If you are using your boat for more than one purpose, create a list for each use so you have the right equipment, whether you are fishing or going for a day trip.

Ongoing Boat Care
Once you start taking your boat out onto the water, you must take care of it to ensure it remains in the best condition. Your boat's maintenance, storage and how you trailer it are essential to keeping it safe and protected.
Maintenance
Regardless of how careful you are on the water, your boat will have a few scratches and dents. General wear and tear from use will also affect your ship's engine, paint and your boat's interior. Taking care of your boat will help you protect your investment and ensure minor issues are dealt with before they become more significant.
Create a complete maintenance schedule that includes everything from cleaning your boat to taking care of your propellers. Factor in what your boat is made of, the type of water you will use and how you will use it when creating your maintenance plan. Remember to create a year-round program that considers care for every trip and off-season boat care.
Storage
Storing your boat is a significant part of keeping it safe and protected from the elements. Where and how you store your boat will depend on a few things, including how often you use it, its size and your budget. Your region's climate can also play a prominent role in how you store your boat.
There are a few storage options to choose from:
Water or wet storage: You can store your boat at a marina or harbor. In temperate climates, you can keep your boat on the water year-round. In colder regions, you must take additional precautions to winterize and protect your boat or store your boat on land during winter.
Dry storage: Dry storage involves covered areas on land to store your boat. These facilities typically have a roof to protect vessels from the elements. Boats can be safely stacked.
Indoor storage: Because indoor storage offers the most protection, it can also be the most expensive storage option, especially if you cannot use your garage. It can also be challenging to find indoor storage facilities for boats.
Always check if you can use your garage to store your boat. If you need to choose a marina or other options, take the time to research all the costs to avoid any surprises. If you are only storing your boat somewhere part-time, check availability a few weeks or months in advance to guarantee your storage place.
Trailering
Being able to trailer your boat allows you to visit new waterways with friends and family. It is also crucial for moving your boat between storage places. If you are a first-time boat owner, trailering your boat is a new skill you will have to learn to tow your boat safely.
One of the essential parts of trailering is choosing the right vehicle. First, assess the weight of your boat and your current vehicle's tow rating. If your boat, fuel and equipment exceed your vehicle's tow limit, you may need to purchase a different car. Try to do this as soon as possible to give yourself time to find the right vehicle.
Even if you have experience towing or trailering other equipment, consider taking lessons from your local boating association or a more experienced boat owner to learn the basics of boat trailering. Also, remember to add your trailer to your maintenance schedule to guarantee a safe trailer experience.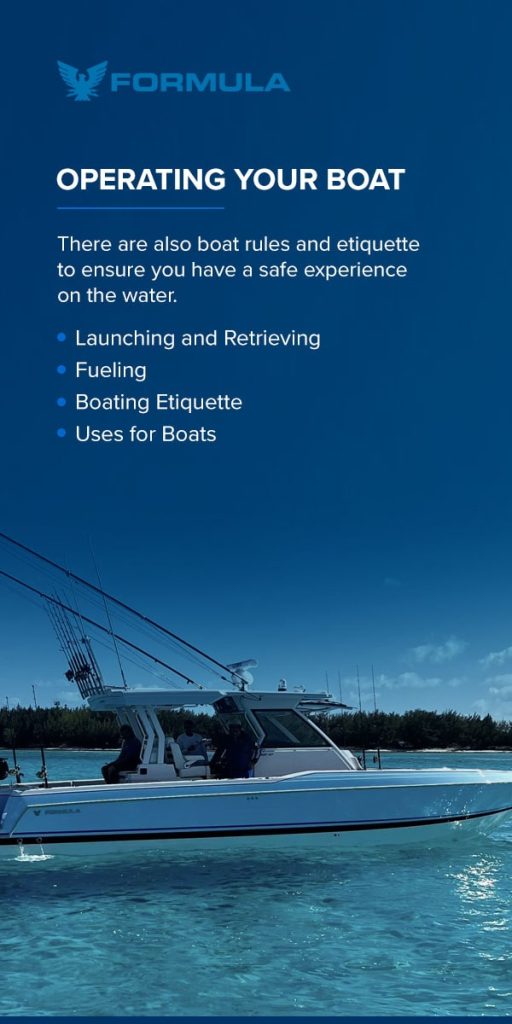 Operating Your Boat
Knowing how to operate your boat extends beyond turning it on and off. You must also understand how to fuel your boat and launch and retrieve it. There are also boat rules and etiquette to ensure you have a safe experience on the water.
Launching and Retrieving
Knowing how to launch and retrieve your boat safely is a significant part of boating. It is how you will get your boat in and out of the water if it is stored on land. You can practice maneuvering your boat and trailer into position at home or in an empty parking lot. Mark out a boat ramp on the ground with chalk and practice getting your boat and trailer into position. Practice pulling the winch and safety chain off.
Launching will require you to lower your boat into the water. Once it is far enough down the ramp, you can disconnect it from your trailer and push it further into the water. You can move your vehicle to a safe parking spot and enjoy boating. Retrieving is very similar to launching. Once your boat is connected to the trailer winch, you can turn off the engine and pull it up onto the trailer. Ensure your boat is secured before driving away.
A boat ramp can get busy during boating season, so make sure you only launch and retrieve your boat on it. Avoid taking up time with conversations and other preparations while on the ramp.
Fueling
When you buy your boat, ask the dealer what fuel you need. You can also check the owner's manual. Then, only put that fuel in your boat! This is important as using the wrong fuel in your boat may affect the engine's performance and cause parts to fail, especially if the gas has a high level of ethanol. It is a good idea to stick to E10 fuel as it has a lower ethanol percentage than E15.
Find out which gas stations stock the fuel you need or check with your marina. You can also ask the dock fuel operators more about how to pump fuel into your boat and what gas you need. Check with gas station attendants or dock fuel operators that you are pumping the right fuel.
When refueling your boat, avoid spills as much as possible, particularly if you are on the water. When refilling your boat on the water, turn off your boat and all electronics and ensure anything flammable is far away from the fuel tank. Get the fuel canister as close as possible to the tank to prevent sparks. Fuel expands when heated, so leave space for this expansion and only fill your tank 90%. Always have an absorbent pad or rag nearby to clean up any spills.
Boating Etiquette
There are a set of unspoken boating rules that most boaters need to follow. Many of these rules guarantee that every boater has a safe and fun time on the water. Here are a few boating basics to keep in mind:
When fueling at a fuel dock, pay and move out of the way as soon as possible. If you need to buy extra fuel, park elsewhere before going inside.
When entering an anchorage, follow how other boats are tying off, how much anchor line they are using and the distance kept between boats. This ensures you move the same way when the current or wind changes and can prevent collisions.
When in a harbor or marina, respect your neighbors. Avoid loud noises such as generators or music after hours or early in the morning. Follow the marina speed limit and keep your speed low.
Drive slowly through an anchorage site as people often swim and snorkel around these points.
Keep an eye on your wake if you have a bigger boat to avoid jostling or moving smaller boats too much.
Respect the environment and keep all trash onboard. You may be tempted to throw organic waste like leftover food or bait into the water, but only do this when you are far offshore.
Only use the very high frequency (VHF) radio channel 16 for hailing and distress signals. If you need to continue the conversation, switch to another frequency. Keep the radio out of reach of children as false distress calls are against the law.
Be safe and responsible. Take the time to learn how to be safe on the water, including who has the right of way, rescuing someone who has fallen overboard and what to do if you run aground.
If you'd like to learn more about boating etiquette, please check with your local boating authorities or clubs. They may have courses or seminars on the spoken and unspoken boating rules that will ensure you are safe and responsible while boating.
Uses for Boats
Buying a boat is a considerable investment but it is worth it. You and your family can get a lot of enjoyment out of your boat. There are several ways you can use a boat throughout the year. Here are a few ways you can use your boat:
Fishing
Tubing
Water skiing and boarding
Cruising and camping
Day trips
Trips to view marine or other water animals
The best way to make the most out of your boat is to consider your lifestyle — are you planning to use your vessel at sea or on freshwater systems? Do you plan to use it for hobby pursuits like fishing, as a pleasure craft to host friends and family or both?
Boating Seasons
While you may want to spend as much time as possible on the water, keep in mind your region's boating season. Depending on the state, boating seasons can start between late March and early May. The end of boating season is generally between mid-September and late October. Holidays such as Labor Day, Independence Day, Memorial Day and others are some of the busiest times for waterways so plan accordingly.
Check with local boating clubs or associations for the best times to be on the water. You will want to avoid things like hurricane season and rough waters.

Looking for Your Next Vessel? Choose Formula Boats
Formula Boats offers a comprehensive range of boats ranging from cruisers to yachts. Our goal is to provide our customers with an unparalleled boating experience. We are dedicated to ensuring you have a safe and fun time boating with friends and family.
Contact our team today for your next boat or request a catalog.