Your boat is more than just a watercraft — it's your ticket to fun on the water and the best way to make priceless memories with your family and friends. That's why it's so important to protect your valuable investment and ensure you can continue to enjoy every sunny moment. No matter what kind of boat you have, having the proper insurance for your vessel is essential.
In this guide, we'll take you through some common questions and concerns about how to find the right boat insurance.
Why You Need a Boat Insurance Policy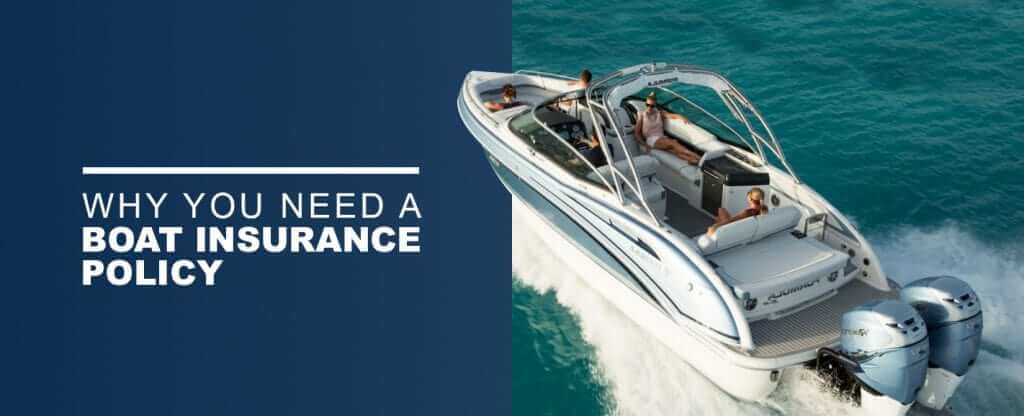 It's important you are always prepared for the unexpected. Your boat is like a member of the family, and if anything happens to it, you want it fixed and ready to go as soon as possible.
Sometimes accidents are out of your hands, so it's essential to have a backup plan — other boaters, passengers and the weather can have even the best skippers in need of a marine insurance policy. Just like how car insurance is essential on the road, no boater should be without coverage on the water.
In 2017 alone, the United States Coast Guard reported over 4,000 recreational boating accidents, totaling about $46 million in damages. Get insurance and rest easy.
Some homeowners policies will cover your boat to some extent, but the coverage is often limited — typically capping out around $1,000 or 10 percent of the amount to which your home is insured. Homeowners insurance may be enough if you have an inexpensive boat, but in most cases, it makes sense to have a separate policy for your boat for better coverage.
Contact your insurance provider for your home and review what's covered under your current policy — then you can decide if boat insurance is the better option. Also, vessel coverage conditions vary from state to state, so be sure to dive into the details for your region.
You'll need boat insurance if you own:
– A vessel that exceeds 25 mph
– A yacht
– A large sailboat
– A jet boat
– A personal watercraft like a jet ski
You probably don't need insurance for:
– Kayaks and canoes
– A boat with a small outboard engine
– Anything inexpensive
Types of Boat Insurance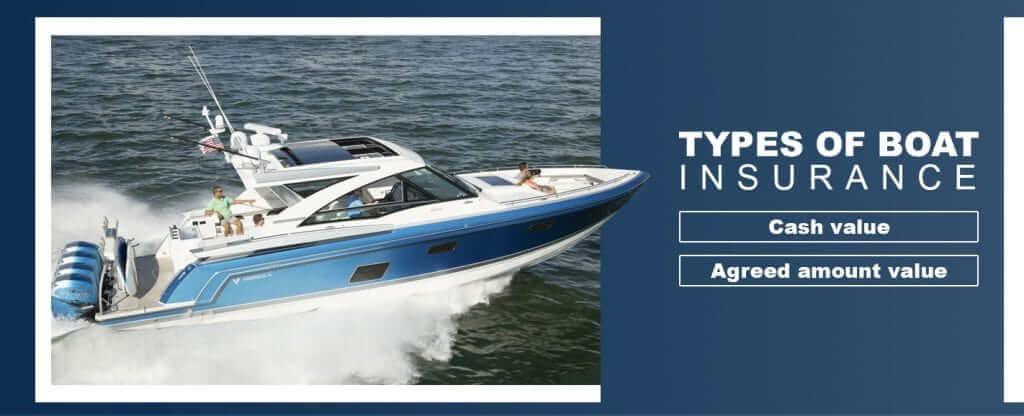 There are two main types of insurance coverage for boats:
1. Cash value: With this type of coverage, the insurance company will pay for the value of your boat or the equipment destroyed at the time of the incident. For example, if your boat were completely destroyed, the insurance company would determine its current worth and pay you for what they deem to be the market value.
2. Agreed amount value: With this type of insurance, you and your insurer agree upon the value of your boat when negotiating your policy. You'll pay more upfront, but if something gets damaged, your insurer will pay for a new replacement without taking depreciation into account.
Be sure to go over all of your policy details before you head out onto the water — you don't want to get caught uninsured in a situation for which you thought you were covered.
One essential type of boating insurance is a towing service. It's wise for any boater who plans to go out onto the ocean to enroll with one of these companies. If your boat breaks down, you can use a towing service without being a member, but it'll come with a hefty cost — sometimes up to $400 an hour — as opposed to a small monthly or annual membership fee.
What Boat Insurance Covers
Depending on your insurance policy, insurance companies will typically cover the following scenarios:
– Vessel damage: If your boat is destroyed or damaged because of a natural disaster, collision, theft or vandalism.
– Personal injuries: If someone gets injured aboard your boat, insurance may cover their medical expenses.
– Equipment loss: If permanently attached equipment like anchors or motors is damaged.
– Property liability: If you happen to damage someone else's property with your vessel.
– Passenger liability: If one of your guests drives your boat — with your permission — and damages property.
Liability insurance will typically cover anywhere from $15,000 to $300,000.
Insurance will not usually cover these situations unless you get a specialized policy:
– Wear and tear from standard use
– Defective machinery or damage caused by improper care
– Damage from large marine species like sea lions
– Damage from mussels and improper hull cleaning
If you store your boat on a trailer, you may also want to check out insurance for your trailer and other accessories.
Depending on how much you're willing to spend and what policy options you prefer, boat insurance can cover several different scenarios. Here are a few options you may want to consider:
– Focused coverage: Some insurance companies allow you to insure specific items aboard your boat that are especially valuable — this may be a useful addition to your standard policy to protect expensive equipment that typical policies don't cover.
– Consequential damage: This type of coverage protects you from wear and tear that doesn't result from an accident. Damage such as corrosion, rot or mold can make for an expensive repair bill if neglected, and in a marine environment, it's likely that some of the components aboard your boat could have these problems.
– International extension: This is essentially travel insurance for your boat. If you plan on leaving United States waters, you may need to purchase a cruising extension that expands your policy to foreign countries. As mechanical problems are likely to magnify on a long trip, we highly recommend international coverage if you plan to take your boat across borders.
– Salvage: Make sure your insurance policy covers marine salvage. If your boat becomes disabled in some way and needs more than just a simple tow, you may have to call a salvage company. They often will take a percentage of your vessel's value as payment, which can be very expensive, depending on your boat. Standard insurance policies don't always cover this, so be sure to ask your agent.
– Underage operators: Letting young ones take the wheel is a great way to introduce them to boating. However, if they're under the age requirement for legal operation, you may not be covered for any damage they may cause. The age requirements to drive vary from state to state, so be sure to check the minimum age before you hand over the helm.
Be aware of your layup periods. If you take your boat out during one of your agreed-upon layup periods where your insurance is suspended, you won't be covered.
Insurance companies will likely require a marine inspection by a certified surveyor to determine the condition and value of your boat. Even if your insurance company does not require this, it's still a good idea to get an inspection to make sure that your vessel is fully-functional and safe before you head out onto the water.
Boat Insurance Costs
How much you'll pay for your insurance depends on your vessel and the amount of coverage you want. The amount will increase with the size, horsepower and value of your boat and can range anywhere from $300 to thousands per year.
Depending on what deductible you choose, you'll be responsible for paying a portion of your insurance check if you make a claim. Typical policies have deductibles around $250 for property damages, $500 for theft and $1,000 for injuries and medical payments. However, if someone makes a claim against you, you will not be responsible for paying a deductible.
Besides the foundational factors above that determine the cost of your insurance, your rate may vary depending on the following:
– Type of vessel: Your insurance cost depends on the type of vessel you own. For example, boats with diesel engines and sailboats are less expensive to insure because they're less likely to have issues than something like a gasoline-powered speedboat.
– Navigational range: Usually, the larger the area of operation for your boat, the higher your cost for insurance will be. Be sure to know the range for which your boat is covered — some insurance policies only cover you for a specific area, and if you venture beyond those borders, your insurance isn't valid. Be sure to get a policy that includes your area of operation and leave yourself a little room.
– Frequency of use: The more you take your boat out, the more your insurance company is likely to charge you. If you only go out a few times a year, it will be much lower than if you go fishing every weekend.
– Auto insurance record: The better your driving on land, the better your driving on the water, at least according to insurance companies. If you have a sterling driving record, this will may help you secure a lower insurance rate.
– Age and gender: Your gender and age affect your premium, just like with auto insurance. Insurance companies tend to give lower rates to women over the age of 27.
– Additional coverage for family members: If your teenager will be using your boat, adding them to your insurance policy will likely raise your premium.
– Past insurance claims: The fewer insurance claims you've made in the past, the better you'll look to new insurers.
– Where you live: If you live in a region with more natural disasters like hurricanes or rough waters, your insurance company will charge you more due to the increased chance of damage to your vessel.
– Your credit score: Some insurance companies will use your credit score to determine your likelihood of getting into a boating accident. While it may sound ridiculous, it's been statistically proven that people with higher scores are less likely to be involved in an incident.
How to Pick the Best Boat Insurance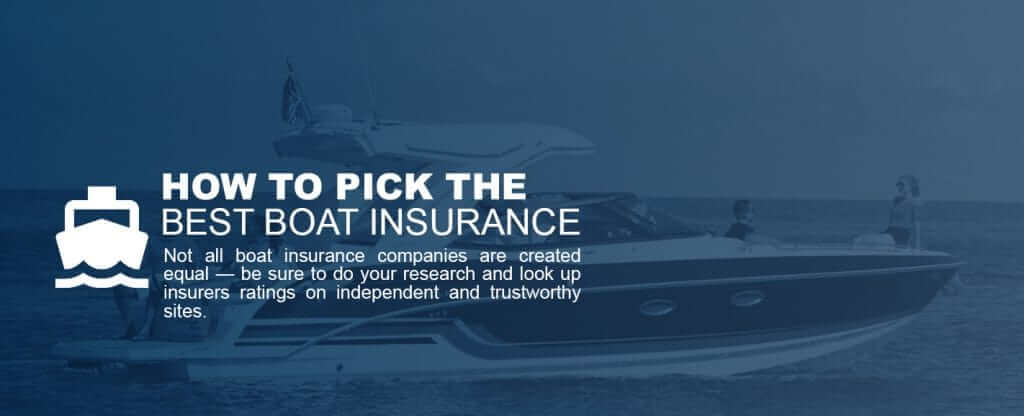 Not all boat insurance companies are created equal — be sure to do your research and look up insurers' ratings on independent and trustworthy sites. Also, be sure not to buy a policy that covers more than you need — the most extensive policy may not be necessary. Get specific and itemize to make sure you're fully covered for the right price.
It may help to ask your boating friends which insurance carrier they use and what kind of policy they have. It's also less intimidating than talking to an insurance representative — your friends aren't trying to sell you anything. It also helps to hear about any situations in which they thought they were covered but weren't as well as their overall satisfaction with their insurance.
Another good way to choose an insurance company is to see what discounts they offer. Besides their quote for your annual cost, ask about any discounts they may be able to give you. Companies sometimes charge less based on a few things:
– If your boat has a diesel engine
– If you have extra safety equipment onboard in addition to that required by the United States Coast Guard
– If you have your captain's license or have taken any boating safety courses
– If you have a good driving record and no history of accidents
– If you have other policies with the same insurer
– If you have ship-to-shore radios
Where you use your boat may also qualify you for extra discounts. If you use your boat exclusively in freshwater, it's generally cheaper than a saltwater-exclusive vessel because of the wear saltwater causes and more hazardous ocean conditions. Discuss with insurance agents before purchasing a policy and see if they'll give you a discount for your operation range and how you use your boat.
If you don't use your boat for a portion of the year, your insurance provider will often allow for a suspension of your insurance while your boat sits in storage — or at least a reduction to a lower form of coverage for that period. You may be able to increase your savings if you're willing to increase this lay-up period in which your boat isn't in use. If you only use your boat a few days during some months of the year, it may be worth the reduction in price.
You can research your insurer's credibility at A.M. Best. They provide a third-party judgment of insurance agencies, including their financial strength and creditworthiness. Another good place to look is through online state insurance regulatory agencies.
About Formula Boats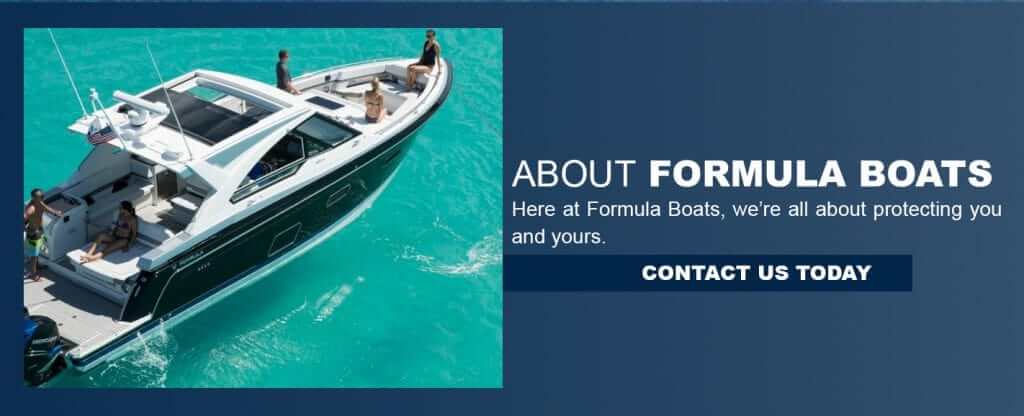 Here at Formula Boats, we're all about protecting you and yours. That's why we build only the highest quality watercraft and do our best to equip our customers with the knowledge to safely enjoy boating to the fullest. A family company since 1976, we take personal pride in every boat we sell because we know our customers use them to make precious memories for years.
If you've thought that ultimate functionality means a sacrifice in the style of a boat, think again. Formula is world-renowned because we simultaneously push the limits of performance and beautiful design. We don't settle, and neither do our customers. Don't hesitate to contact us today to request a catalog or speak to one of our friendly staff.