One of the most fun and relaxing recreational activities to enjoy at any age is boating. There's nothing like spending the day out on the water and enjoying the sunshine with your family or friends. Taking in the fresh air and looking out at the beautiful scenery is a major perk of boating.
The best part about going on a boat is the wide variety of activities to choose from. Whether you're looking for an adventure or to unwind and chill on the water, there is a boating activity for everyone.
What should you do on a boat all day? If you're looking for easy day trip boat ideas, this guide offers some fun suggestions. Learn about all the exciting and relaxing boat activities that appeal to many people and make boating fun.
15 Fun Things to Do on a Boat
If you're looking for something to do on your next boat outing, try out one of these 15 things to do on a boat trip.
1. WATER SKIING
Water skiing, the old-school watersport that has been around for nearly a century, is a popular activity across generations. This activity involves a skier, water skis, a rope and a boat. The skier stands on their skis, holds onto a rope attached to the back of the boat and skims across the water as the boat drives. Riders can use two skis or a single ski, also known as slalom, depending on their experience.
Water skiing is a thrilling activity for any body of water. Whether your boat is on a lake, river or ocean, you and your friends or family can put on a pair of skis and experience this fun and popular watersport. Water skiing does require some athleticism and strength to stand yourself up once the boat starts moving. You'll get better with practice and possibly learn some cool water skiing tricks!
2. FISHING
An activity that is great for boat trips in either freshwater or saltwater is fishing. A fun fishing day doesn't require you to venture far offshore. You can cruise around on your boat until you find a nice spot to anchor or cut the engine and cast out your bait.
Fishing is a fun boat activity that can be both relaxing and energizing at the same time. When you finally get a bite after waiting patiently, your adrenaline starts flowing as you reel in a fish.
Fishing on a boat is also a fun activity for a group of you and your friends or family to enjoy together. You can cast out your lines and then sit back and chat until a fish bites. Whether it's just for fun or you're catching your next tasty dinner, it's a great boat activity to try.
3. SUNBATHING

For the person who appreciates maximum relaxation and enjoys warm weather, sunbathing is the perfect thing to do on a boat. While you can easily tan on a lounge chair by the pool, beach or lake, laying out on a boat is a particularly relaxing experience. You can feel the motion of the waves, soak in the gorgeous views and enjoy the breeze off the water.
There are plenty of locations you can sunbathe on your boat. You can lay on the seats, grab a float or tube and tan out on the water, or lay in the bow if your boat is a bowrider.
If you or your boat guests are more fond of a relaxing activity and you want to enjoy the sunshine, put on your sunscreen and get ready to relax in the sun on your boat.
4. SWIMMING
Days out on the boat can get warm, especially during the spring and summer months. A great way to cool off is going for a swim off your boat.
Swimming is a fun boating activity for families, friends and anyone that enjoys being in the water. Plan a day to drive your boat out to a nice location on the lake, river or ocean with all your swim accessories like goggles, floaties and life vests. It's a great way to spend your day and is a great use of your boat. You'll have fun and get some great exercise in your day while you swim. Boats are excellent for entertaining, and having a swim day is great for boat guests of all ages.
5. SNORKELING
Take your swimming trip up to the next level and go snorkeling on your next boat outing. Snorkeling is a fun way to immerse yourself in the underwater world and explore the different creatures and plants that live in the water. You'll find different water animals and organisms depending on the body of water you take your boat on. In the ocean, you might find various marine life like fish, coral reefs, seashells and turtles. In a lake or river, you'll find fish, salamanders, rocks, crayfish and more.
To enjoy a fun day of snorkeling off your boat, you'll need a diving mask and a snorkel. The snorkel is the tool that helps you breathe while your face is underwater and you look at all the sights below the surface. Some optional equipment include a wetsuit and fins. The wetsuit is helpful in colder water, and the fins help you swim longer distances.
6. WAKEBOARDING
Taking your boat out to enjoy some thrilling watersports is one of the best ways to enjoy a boat day. If you want to try out a watersport other than water skiing, wakeboarding is a fun option for people looking to stay active on their day out on the boat. Wakeboarding requires the same process of holding onto a rope that's attached to the boat. Instead of water skis, you'll strap yourself into a wakeboard and glide behind the boat as it tows you.
7. TOWABLE TUBING
If you're searching for a fun family boating activity, take everyone out on a fun tow-tubing adventure. You can find towable tubes in many shapes, colors and sizes. They hold anywhere from two to four people and make for a fun group boating activity.
Like other watersports, you tow the tube behind the boat, and the people in the tube hold on as they splash and glide across the water. The boat captain and the tube riders can make the experience as intense or as relaxing as they want. Little kids may want to go for a leisurely ride, while older kids or adults may want to go fast and enjoy the thrill. This activity is exhilarating and a great activity for those looking to get their adrenaline pumping.
8. WATCHING A MOVIE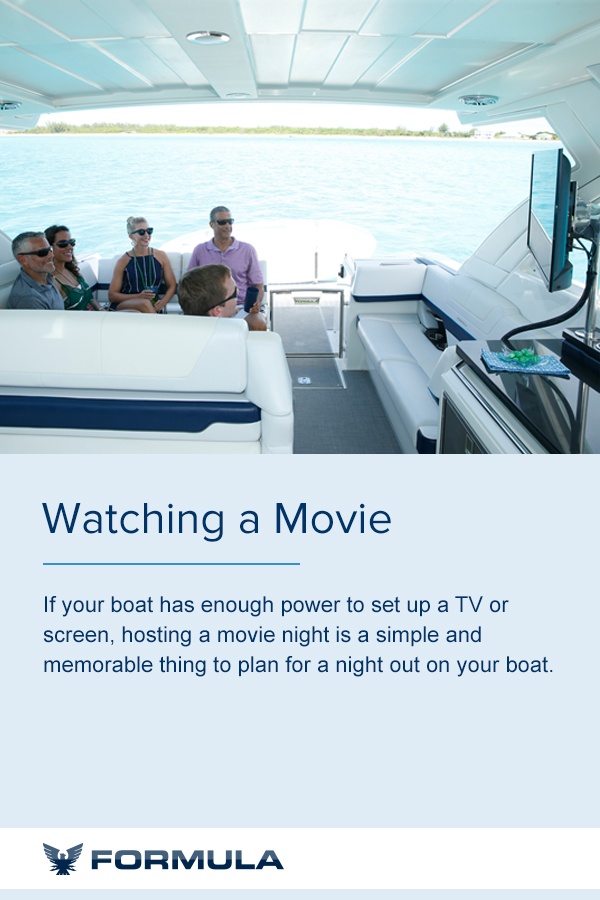 If you're planning an evening trip on your boat and want to unwind with your friends or family, host a movie night on your boat. If your boat has enough power to set up a TV or screen, hosting a movie night is a simple and memorable thing to plan for a night out on your boat.
You can bring a DVD player and some of your favorite movies to host a movie marathon, or you can stream your favorite movies if you have internet access on your boat. Grab some blankets, popcorn and drinks and enjoy a movie from the seats on your boat.
A TV is a fun thing to have on a boat for movie nights or any gathering on a boat. Another gadget to liven up your boat trip could include a waterproof speaker for listening to music.
9. STAND-UP PADDLEBOARDING
A wakeboard has some similarities to a snowboard. Although the boards and applications are different, some of the logistics compare to snowboarding. On a wakeboard, both of your feet are on the same board. You'll position your body to the side and balance yourself similarly to riding on a snowboard. Once you get the hang of it, wakeboarding is a fantastic way to spend a day out on the boat.
10. PLAYING GAMES
Are you looking for more ways to make boating fun for friends and family? Enjoy time on your boat by bringing some fun board games that everyone can enjoy. After a long day of swimming, enjoying watersports or sunbathing, bringing out a board game to enjoy as a group is a fun way to pass the time into the evening. Bring some family-friendly board games for little kids like Chutes and Ladders, Candyland and Go Fish, or find some fun and more challenging games for adults like Scrabble, The Game of Life and Monopoly.
Games are also great for when you take your boat out on a cloudy day, or it's a little cooler outside. You can still have a fun time on your boat without getting in the water.
11. READING A BOOK

For those who appreciate the relaxing vibes of being out on the boat and want to just chill under the sun, reading a book is one of the best solo activities for a boat day. One of the best locations to read a book is by the water. Whether you're sitting on the beach, a boat dock or the bow of a boat, relaxing with the beautiful scenery around you makes diving into a good book that much more enjoyable.
Make sure to pack a book for your next boat day and experience the peaceful sounds of the water as you indulge in a good read.
12. BOATGATING
If you're looking for a party, take yourself and your friends out on your boat to go boatgating. Similar to tailgating, boatgating involves hanging out and getting together with other boats to enjoy some food and drinks on the water. Although it's often associated with the sports world, it is also another way to describe hanging out on the boat, playing music and having a great time.
You can find bays or beaches in your area that are popular for these types of hangouts. If you're into the party scene and want to have a fun time on the water with friends, bring some food and a speaker, pack your cooler and try out boatgating for a day.
13. CAMPING
If you're looking for a weekend getaway, plan a boating trip to a campsite. Camping is a great way to get a change of scenery and take in the beauty of the outdoors.
You can dock your boat at a campsite and spend the weekend fishing, roasting smores, hiking and enjoying plenty of other outdoor activities. Before you head out, make a packing list of everything you'll need to bring on your boat for a successful camping trip. Important items like water, food, sleeping bags and a tent are must-haves for a boating camping trip.
14. KAYAKING
Some fun boat accessories that you can bring with you on your day out on the boat are kayaks. While kayaking, you can explore your shore up close and get in some nice physical activity.
Kayaking is fun as a solo activity or for few people. If you have a two-person kayak or another one-person kayak, you can coast along the water with a partner and enjoy your surroundings.
15. COOKING
If you have the tools and equipment on your boat, cooking a nice meal is an excellent activity for a boat day. Whether you plan a romantic evening with a significant other or host a get-together with friends or family, cooking on a boat is a unique experience for your guests. It doesn't have to be an elaborate meal — something simple can impress your boat guests and make their trip memorable.
About Formula Boats
If you're searching for the perfect boat to host your friends and family and have great experiences on the water, Formula Boats offers excellent vessels for cruising the water. Formula Boats is a family-owned company that provides trendy and luxurious boats to make your boat days and boating activities even better. With a large selection of models, you can find the perfect boat to take out on the water. If you're looking for a boat that provides a noticeable difference in operation and design and a better way to enjoy memorable moments with the people you care about, Formula Boats is for you.
Contact Formula Boats Today and Request a Catalog
If you're looking for a high-quality and luxurious boat that provides a wonderful space for all your fun boating activities, contact Formula Boats. You can request a catalog to view all our Formula Boat models.