Finding the best boats for watersports is a balancing act. Yes, the boat's purpose is likely primarily to entertain, but probably in more ways than merely participating in watersports. So, you have to balance your watersport with other factors, like the number of people you like to have with you on the water, what body of water you boat on and, of course, measurements and cost.
Best Boats for Watersports: Things to Consider
There are always several things to consider when you're purchasing a boat for watersports. We've listed our top five below — wake, number of people, measurements, the body of water and cost — along with some insight into how each of these will affect the boat you choose.
WAKE
All watersports revolve around one thing — the wake. The type of wake that is ideal for each watersport — waterskiing, barefoot waterskiing, wakeboarding, wake surfing, tubing — varies. There are a few characteristics of a boat that shape the wake, including length, power/speed and deadrise angle.
A wake surfer is looking for a deep wake that mimics waves. For this type of watersport, you'll want an engine located toward the back of the boat that creates a larger wake. The only concern with weight for a wake surfer is to make sure the engine has plenty of horsepower to haul the size of the boat while creating that deep wake.

NUMBER OF PEOPLE
While there are certain types and sizes of boats that work best for different types of watersports, that's not the only factor to consider. If a smaller boat is best, but you frequently go out with a group of family or friends, you may need to opt for a bigger boat. After all, if you have a group — what fun are watersports without your crew? Your focus should be on finding the best sports boat, but don't lose sight of the basics — like accommodating a certain number of people. Keep in mind, though: More people means more weight, which can ultimately lead to a deeper wake — an ideal situation for a wakeboard or wake surfer, but less than ideal for skiers and tubing.
MEASUREMENTS
In addition to considering the number of passengers, you also need to be able to store and transport your boat. If you're going to keep your boat in a garage, what are the measurements? How much space do you have? It's not just length and width — you'll have the height of the tower, too. Usually, the tower will collapse for storage, but you'll want to know what that entails and what the height is when the tower is both extended and collapsed.
BODY OF WATER
Will you be cruising on a small lake with smooth water, or an endless, rough sea? Believe it or not, it matters. As a rule of thumb, larger boats are a better fit for rough water — whether that roughness comes from waves or other boats. In addition to size, the body of water also has an effect on the type of engine your boat has.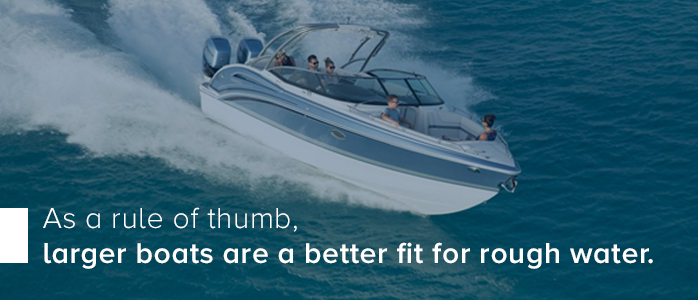 COST
As with any large purchase, there's always a budget driving the decision. Will you pay for the boat in cash? Will you need to take out a loan to help you with the balance? Do you have an absolute maximum amount you want to spend? These are questions you need to have answered before you begin looking for specific models.
At Formula Boats, we have an online tool that gives you the opportunity to build your boat the way you want it and then gives you the cost. This way, you can see what you can expect to pay, and add or remove options to see how it affects the price. Of course, a dealer is always able to help answer specific questions about features, but this online tool is a great place to start.
Formula's Best Bowriders for Watersports
Once you've considered each of these factors, you're sure to have a better idea of what you're looking for — now you're ready to start looking at specific boat models. At Formula Boats, we have selected and featured our best bowriders for watersports below, along with specs and a brief description of the features you'll find in each.
240 BOWRIDER
Length: 24 feet
Max beam: 8 feet, 6 inches
Bridge clearance:

Sport arch: 7 feet, 8 inches
Samson Sports Razor Wakeboard Tower: 8 feet, 3 inches

Deadrise: 20 degrees
The 240 Bowrider is Formula's smallest model, compact enough to minimize weight and maximize your watersport experience. Complete with the Samson Sports Razor Wakeboard Tower, this is one of the best sport boats. The tower has two rotating wakeboard racks for storage, a swivel-head rope mount, two halogen tower lights, two amplified speakers and a three-lens mirror. These features combine to turn this boat into an ideal solution for watersports. The integrated swim platform gives extra space for you and your friends to prepare for a full day on the water. There's also additional storage in the floor for skis and wakeboards.
Choose from single engines ranging from 250- to 430-horsepower packages from Mercury MerCruiser or Volvo.
Formula's new 240 Extreme Sport (XS) model takes the 240 Bowrider model and adds a forward-facing drive from Volvo. What are the perks of this forward drive? It's located underneath the hull of the boat, moving the props underneath the boat and away from the rider — similar to an inboard prop. It also pushes exhaust out into the water, rather than into the air behind the boat and into your face.
270 BOWRIDER
Length: 27 feet
Max beam: 8 feet, 6 inches
Bridge clearance:

Sport arch: 7 feet, 9 inches
Samson Sports Razor Wakeboard Tower: 8 feet, 7 inches

Deadrise: 22 degrees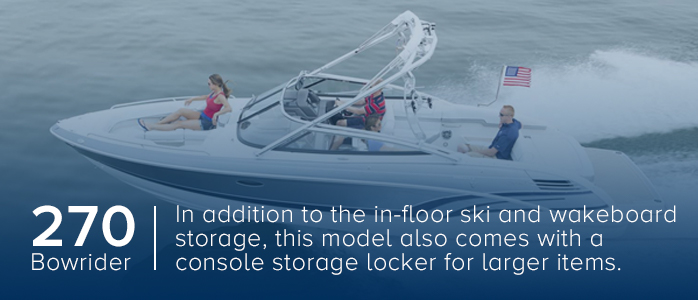 Formula's 270 Bowrider brings the hull styling and amenities of larger models and the family-friendly design of smaller bowriders. In addition to the features found in the 240 Bowrider, this larger version comes with some more storage and even more options for seating — without losing the versatility. Modular bow seating gives you the ability to arrange and rearrange the seats and armrests to accommodate the number of people you have with you on the water.
You'll find a more spacious head compartment furnished with a portable head, with the option to replace it with a porcelain unit with a 13-gallon holding tank and vanity with molded sink. It also takes storage to the next level with a built-in under-seat cooler and trash receptacle. In addition to the in-floor ski and wakeboard storage, this model also comes with a console storage locker for larger items.
Choose your single-engine offering, ranging from 300- to 430-horsepower packages by MerCruiser or Volvo Penta.
Formula's new Extreme Sport (XS) model is also available for the 270 Bowrider model. It adds a forward-facing drive from Volvo. What's the benefit of having a forward drive for watersports? Like the 240 Extreme Sport model, the props are located underneath the hull of the boat and away from the rider.
290 BOWRIDER
Length: 29 feet
Max beam: 9 feet
Bridge clearance:

Sport arch: 8 feet 2 inches

Deadrise: 22 degrees
Formula's 290 Bowrider capitalizes on everything in the 270 model — in this model, you'll find a large, private head, improved bow functionality, a large aft sun lounge and a sound system upgrade.
The large, private head comes standard with a porcelain unit and a 22 1/2-gallon holding tank with dockside pump out. A superior American cherry wood grain-finish flooring provides functionality while maintaining the appeal.
The bow section keeps the convenient modular seating. Filler cushions and convertible seat backs give you the ability to create the ultimate aft-facing sun lounge for relaxing downtime between the watersport excitement.
The stereo features four 150W marine-grade speakers with a 600W stereo amplification — the polished stainless steel accents and separate tweeters make it an impressive sound system for any crowd. Choose from a selection of engine packages from both MerCruiser and Volvo to power your 290 Bowrider.
310 BOWRIDER
Length: 31 feet
Max beam: 9 feet, 6 inches
Bridge clearance:

Sport arch: 8 feet, 8 inches

Deadrise: 22 degrees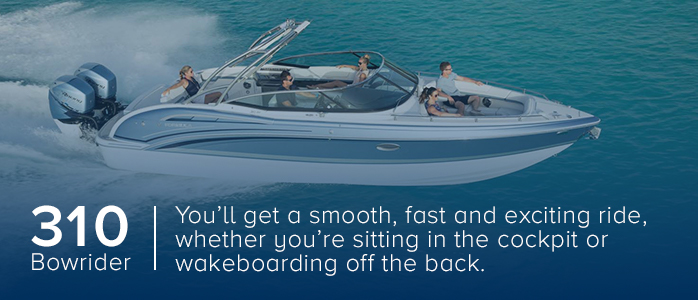 Just a couple of feet longer and half a foot wider than the 290 model, Formula's 310 Bowrider takes it up a notch. This boat features a true helm command station, complete with Ritchie® compass, Livorsi® illuminated instrumentation, Garmin® 547 GPS color chartplotter and a digital depth sounder, just to name a few.
The additional length and width of this boat shows in the cockpit seating, complete with seating for several of your friends and a table you can use to keep everyone nourished between watersports. The wet bar and refrigerator make storage for those snacks and beverages easy.
In this model, the head compartment features a VacuFlush® unit and a sink, as well as a handheld shower.
Power your 310 Bowrider with Volvo or MerCruiser gas or diesel power — choose from twin 300- to twin 430-horsepower engine. Combine any of these engines with the deep-V hull design, and you'll get a smooth, fast and exciting ride, whether you're sitting in the cockpit or wakeboarding off the back.
330 CROSSOVER BOWRIDER
Length: 33 feet
Max beam: 10 feet, 3 inches
Bridge clearance:

Sport arch: 9 feet, 1 inch

Deadrise: 21 degrees
While this upscale boat is still a bowrider, it was designed for those who are primarily looking to host family and friends and enjoy some recreational watersports in the process. This model features a cabin — the primary distinguishing factor between this crossover model and our other bowrider models.
Convertible seating and adjustable backrests make all-around conversation and watersport observation easy. It's complemented by an expansive, lighted in-floor lazarette that gives you plenty of room for storage — including all your watersport gear. The deep V hull provides a stable, smooth ride, ideally matched with powerful twin MerCruiser or Volvo engine packages, giving you the power you need to haul your family and friends.
This large, luxurious boat even comes with comfortable overnight capabilities — the cabin offers a full six feet of headroom with an L-shaped lounge and a bathroom. Get the FX series, and you'll benefit from even more upgrades — a high-performance engine, carbon-fiber accents, oversized gauges with chrome bezels, blue LED backlighting and wood-grain vinyl decking on the swim platform and transom entry.
Before You Buy
There are a lot of factors to consider, and in the end, while we can make some recommendations based on specifications and features, it's ultimately up to you to decide which boat will be best for your situation.
Once you've had a chance to do all your research and look at a few different boats, you'll find the one. It can be tempting at that moment to sign on the dotted line, but since this is a big, important purchase, we recommend resisting the urge to sign the paperwork as soon as you see it in the showroom and instead:
Take it out on the water. It may be a little more complicated than taking a car for a test drive, but the dealer should be willing to let you take it for a spin. If they don't offer it, ask. This is a big purchase for you, and regardless of how many times you review the specifications, it's important to know if it performs — especially when it comes to having the wake you want for your watersports.
Read the warranty. It sounds boring, but resist the urge to gloss over the fine print — instead, be proactive about asking for a copy to review before you make the purchase and read it. How long does the warranty last? What does it cover — parts and labor? Or just parts?
Learn the ropes. When a dealer delivers your boat, he or she should also be educating you on some of the basics. Clarify up front what the dealer reviews with customers when he or she delivers your boat. It's common for a dealer to review trailering and docking, as well as turning around while picking someone up, putting the boat on a lift and how to take on rollers and water.

Pausing to make sure you have a chance to take your boat for a test drive, reading through the warranty and asking what instruction the dealer will provide upon delivery helps manage everyone's expectations. Before you make the commitment, it's essential to have all the information regarding your new boat.
Build a Formula Boat for Watersports
At Formula Boats we know the best boats for watersports are tailored to you — whether it's a smaller or larger size, a more powerful engine, specific colors or additional options, we can do it. Once you have an idea of the model you're interested in, build it with our online tool and get a price immediately. You'll see the manufacturer's suggested retail price, in addition to the promotions we offer at our Formula dealers throughout the United States.
Once you've had a chance to build your boat online, contact us with any questions you may have regarding your needs and our watersport boat models. We understand you may not yet have all the answers you need to decide on a boat, and we can help.