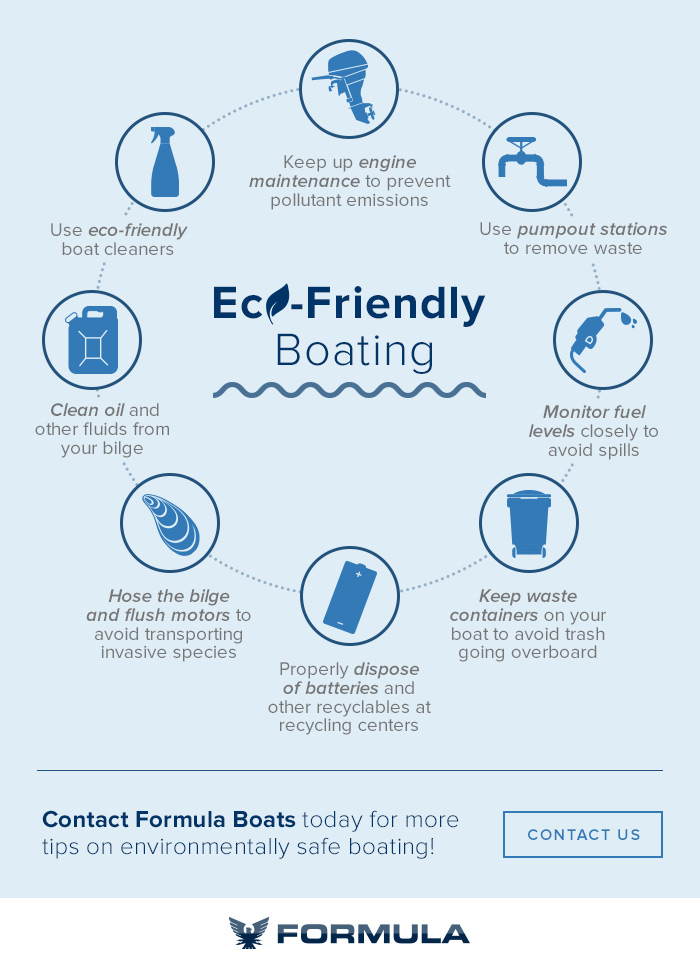 As everyone knows, the buzzword these days is "green." You can't read a newspaper or turn on a television without hearing some reference to it. While we may get a little worn down by the constant buzz of "green," I've got to admit that it makes sense when it comes to being a boater. Boaters are some of the biggest beneficiaries of enjoying the outdoors and a clean, pristine environment, so it's in our best interests to do out part.
Being a responsible, environmentally-friendly boater is imperative to demonstrate that we care about our waterways. Here are some ideas for you to begin:
Keep a Waste Receptacle on Board Your Boat
All Formulas have a place to put your trash. Use liners for waste containers so you can just carry the trash to the bin on the dock without having to drag the container back aboard. And stow a few of these plastic bags from the grocery around the cockpit so passengers will be encouraged to secure trash immediately. If trash is rolling around the cockpit, odds are it will end up in the water. A six-pack ring could endanger wildlife, or a plastic bad might clog a water intake, ruining someone's day.
Recycle When Possible
You can recycle the obvious, such as aluminum cans and plastic bottles, but make an effort to do more. There are a lot of batteries on a boat these days, from the deep-cycle monsters that run your systems to the little guys operating your stereo remote. All can be environmental hazards if not disposed of properly at a recycling center. And ask if your service department recycles things like old oil and shrink-wrap.
Start at the Dock
Keep your bilge clean! You will get water in your bilge–from washing, from weather–and that water will, sooner or later, be evacuated by your bilge pump into the open water. If there's oil or any other fluid down there, it's going to go out, too. If there's a problem, get an absorbent pad and clean it up. And if it's ongoing, rectify it. Your neighbors in the marina will thank you.
Watch Your Fuel
Fuel spills are a nasty business, so be vigilant. Monitor tank levels as you fill up and be ready to stop the pump. Keep an absorbent cloth at hand to deal with any overflows, as well. It's good for the environment, and you can avoid a fine, too. Also, conserve fuel when possible. Keep the hull clean to improve efficiency and reduce weight. Store gear you don't need in a dock box, and if you don't have a have full fuel and water tanks, fill to the level you need with a prudent reserve. A lighter boat means better fuel economy.
Right in Tune
An engine that is not tuned properly is wasteful and dirty. It will not burn efficiently and will cause your fuel usage to go up and your range to go down, all the while emitting unnecessary pollutants. This includes auxiliary power, such as generators. And pay attention to the entire drivetrain. You want as much energy as possible converted to thrust, and a beat-up prop won't do the job. Keep a regular maintenance schedule and follow it. You will end up saving money and resources.
Use Pumpout Stations
There are times when it is acceptable and prudent to pump your holding tank overboard, but those are when you're offshore. Far offshore or on an inland body of water, use the pumpout station.
Careful Trailering
A big concern these days is invasive species. If you trailer your Formula from one body of water to another, you can unwittingly transport unwanted marine life. When you get the boat out of the water, take a minute to hose out the bilge, flush the motors and spray down the boat and trailer.
Green Cleaning
When you clean you boat, use environmentally responsible cleaners. You can find a list of cleaning materials approved by Green Seal (an independent, nonprofit organization whose mission is to promote environmentally responsible products) at www. greenseal.org/findaproduct/cleaners.cfm. And there are all sorts of places to find cleaning procedures using common, non-toxic household items such as vinegar, lemon, baking soda and so forth to tackle everyday cleaning chores–and many times, they do a better job than that store-bought stuff (if you have an idea you'd like to share, write me at scotts@formulaboats.com).
Share Your Love of Boating
It's as simple as this: teach others to value the environment. You can share your passion for boating and the worth of beautiful, clean water to your children, grandchildren, friends, passengers and neighbors. Passing on concern for the water and shoreline you use is the best way to ensure its legacy.