Although some of us may want to be on the water every day, weather and life have other plans. If you're ready to join the 12 million registered boat owners in the United States, you may have some questions about where to store your boat.
When you have to store your boat for short or long periods, there are several different ways you can do it — it all depends on where you live, your budget and what storage options are available to you. It also depends on the method of storage you prefer as well as whether you're looking for short-term storage or winter storage for several months.
In this quick guide, we'll go over some of your boat storage options and help you find the one that's best for you.
Storing a Boat Outside
Probably the most popular choice across the United States is to keep your boat outside. Boat owners choose this option if they plan on going long periods without using their vessel and because it's the most cost-effective. Let's get into the types of outdoor boat storage and their pros and cons.
1. PARKING YOUR BOAT ON YOUR PROPERTY
If you have room on your property and your homeowner's association allows, some owners choose to store their boats at home on a trailer. It makes it easy to work on your boat, and you don't have to drive to a storage facility to pick it up.
It's not for everyone and not best for every type of boat, though. Unless you have a small boat or a large piece of property and space from neighbors, you'll probably want more room.
Pros
You don't have to pay storage fees.
Getting to your boat is easy, and you can hitch up quickly.
You can keep an eye on your boat yourself.
Cons
Neighbors and homeowners associations may not allow this option.
Your boat is still outside and exposed to more elements than indoor storage.
If you live in a high-traffic area, your boat could be at risk of burglary.
2. OUTDOOR BOAT STORAGE AT A SELF-STORAGE FACILITY
If you're lucky enough to live in an area where winter never gets too harsh, you may want to opt for an outdoor self-storage facility to store your boat. They're usually the most cost-effective option and still offer better security than storing your boat on your property.
Pros
These facilities are the most cost-effective, especially for larger boats that would otherwise have high slip fees.
Security systems and guards help dissuade people from messing with your boat
Cons
Even with a good cover, your boat will still be exposed to the elements to some degree.
These facilities can sometimes have rodent problems, and curious raccoons and mice can make themselves at home in your boat during the offseason.
3. COVERED BOAT STORAGE AT A SELF-STORAGE FACILITY
A step above completely exposed storage facilities, covered storage lots are still accessible and allow you to keep your boat more protected from the elements. These facilities can usually accommodate boats of all sizes and are also a good choice if you have limited space on your property.
While they're still technically outdoors, these types of storage offer structural shelter from sun and rain and are a good in-between option for those looking for a little more protection.
Pros
More protection from outdoor conditions than only your boat's cover.
Most facilities have a surveillance system, and your boat won't be exposed to as much foot traffic as in a neighborhood.
These types of facilities can be less expensive than entirely indoor boat storage options.
Cons
Without full indoor storage, your boat is still somewhat exposed to outdoor conditions.
These types of facilities are not everywhere, and there may not be one close enough to where you like to boat to be worth the other benefits.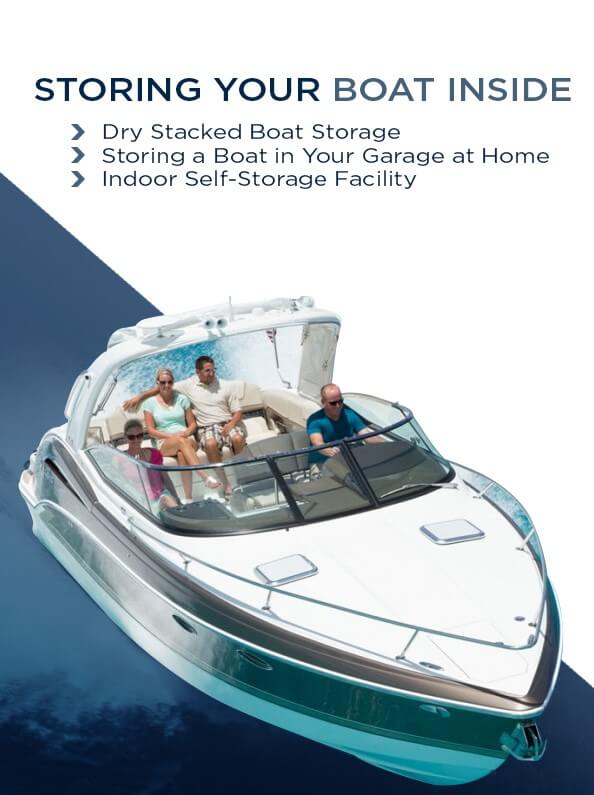 Storing Your Boat Inside
While the cost of storing your boat inside is going to be more than outside options, it may well be worth it to protect your boat. Depending on the harshness of your area's weather, the cost you save in other maintenance because of outside storage could make up for the difference in price. Let's take a look at the different kinds of indoor storage and their pros and cons.
1. DRY STACKED BOAT STORAGE
Stacked storage warehouses keep your boat inside and filed away for safe-keeping. They store several boats in their facilities that are stacked and moved with a series of lifts.
While your boat isn't as accessible as it would be in self-storage, if you call ahead, these facilities are usually able to have your boat ready to go by the time you get there.
Although covered facilities protect from the outside elements, some may still experience freezing temperatures, which means you still have to winterize your boat before storage.
Pros
Your boat is completely protected from outside conditions like UV rays, wind and rain.
Warehouses have good security, and the stacked style of storage prevents thievery.
You don't have to worry about maintaining your trailer through the winter.
It's more cost-effective than keeping your boat in the marina.
Cons
It's more difficult to access your boat, and if the warehouse is busy, you may have to wait.
Some facilities limit the number of times you can access your boat a month.
It can be challenging to find a dry stacked facility in your area.
2. STORING A BOAT IN YOUR GARAGE AT HOME
This one is only an option with smaller boat models, of course, but if you have the organizational courage and the ability to do it, it's a great option. Not only do garages provide the best accessibility and convenience for working on your boat, but the warmth of an attached garage can also help reduce the risk for wintertime freezing problems.
Pros
You have easy access and maintenance through the winter and periods of non-use.
Storage is free.
Your boat is protected from freezing temperatures.
Your boat is sheltered from UV damage, wind and rain.
It's easy to hook up your batteries to a trickle charger.
Your garage is more secure than other outdoor storage options.
Cons
It limits your garage space for other vehicles.
It can make entry and exit from the garage difficult.
3. INDOOR SELF-STORAGE FACILITY
Warehouse-style storage facilities are excellent options if there's one in your area. While they tend to be more expensive than the racked storage system — because they can fit fewer boats per the amount of space — the convenience and ease of access may be worth it.
Note — If your boat isn't too big, you may be able to keep it in an individual storage unit instead of a warehouse-style facility.
Pros
It's easier to find this type of facility compared to some of the other types.
You can access your boat whenever you want and don't have to rely on the storage crew to get it.
Security for these facilities is better than outdoor self-storage options.
Some of the higher-end facilities have climate control for combating winter temperatures.
Cons
These facilities are more expensive than other self-storage options.
Sometimes, limited space may make getting a spot for a large boat difficult.
A facility's distance from the water can make for added time when taking your boat out for the day.
Storing Your Boat in the Water
For short-term storage and ease of use, there's no better option than keeping your boat in a marina slip. You can head down to your boat on a whim and take it out for a few hours or a few minutes, and you won't have to deal with pulling it out of storage or using the launch ramp.
In-slip storage can be a viable option for winter, too, if your region doesn't get below freezing. But, your boat will need regular attention and exercise through long periods of disuse to keep its systems functioning well.
Most slips are priced based on their length, and some can be quite costly depending on where you live. But if it fits into the budget and climate, we highly recommend this option to maximize your use of your boat.
Pros
You don't have to deal with a trailer and launching your boat.
You save time not driving to the storage facility.
Most marinas offer electrical hookups to keep your batteries charged and healthy.
You can hang out on your boat in your slip for pre-voyage and post-voyage fun.
Cons
Your boat is exposed to elements like wind, rain and UV light.
Your boat will require routine maintenance and exercise.
Renting a slip is often a more expensive method of storage.
Security measures are present but often not as good as indoor storage.
You have to protect against birds and other marine life.
In-water boats require hull cleanings for algae and barnacles.
Storing Your Boat on a Slip Lift
If you like the idea of your boat being ready-to-go at your slip but may not want to head down to check on it very often, you may want to consider a boat lift. Lifts raise your boat up and out of the water to minimize some of the problems that come with in-the-water storage.
Lifts aren't viable on every kind of dock and aren't allowed in some marinas. But if it is permitted, you may want to consider it as a way to protect your vessel.
Pros
The same benefits as keeping your boat in a slip without algae and barnacle growth.
Cons
Installing a lift can be expensive.
Lifts aren't suitable for intense wind and weather climates.
Storing Your Boat With a Marina Lift Company
Some harbors have lift storage facilities that will store your boat in the marina. This is a great option to use for long-term storage and easy transfer back to your slip once the off-season has ended.
They often provide some type of coverage but are often not enclosed storage facilities, so you'll have to protect your boat accordingly.
Pros
It's easy to transfer your boat from the slip into storage, as you don't need a trailer.
Your boat comes out of storage and goes right back into the water for minimal downtime.
You avoid the barnacle and algae buildup on your hull from storing your boat in a slip.
Cons
The facilities are often partially exposed, so your boat is not fully protected.
In-marina lifts are more expensive than other inland options.
Boat Storage Tips
Now that we've covered the typical types of boat storage, here are a few easy tips to help your boat smoothly transition from storage to use and vice versa.
Short-Term Storage
Your routine for preparing your boat for short-term storage can either greatly increase your boat's longevity or the opposite. If you follow a few easy steps every time after you get done with a day on the water, your boat will continue to run and look nice for a long time:
Always Rinse Your Boat After Use — When saltwater dries, it forms salt crystals that can actually damage the surface of your boat if touched. A freshwater rinse prevents these crystals from forming and keeps your boat looking great.
Flush Your Engine — After saltwater use, you always want to flush your engine to prevent corrosion.
Cover Your Boat — Even if it's just for the rest of the day, it's always a good idea to cover your boat to protect your upholstery and other components from damaging UV rays.
Long-Term and Winter Storage
If you're lucky enough to live somewhere that has mild winters, you may be able to get away with storage methods that others can't. But if you're putting your boat away for the winter, there are a few things you should do to protect your boat's mechanical systems — specifically if you live somewhere that experiences sub-zero temperatures:
Winterize Your Systems — The main task for preparing your boat for winter is to remove the freshwater in all of your boat's systems and replace it with potable antifreeze — it prevents ice from forming and damaging components.
Get a Good Cover — Wind and rain can batter your boat if you decide to store it outside for the winter. A tightly-fitting cover is the best defense to protect your boat. You may also consider getting your boat shrinkwrapped for the winter — it's stronger than typical covers and is impervious to rain and wind damage.
Protect Against Moisture — If you're ever going to store your boat for an extended period, you need to make sure there isn't any lingering moisture in the interior. Mold and mildew can form, and you'll have to deal with them after storage.
No matter what storage type you choose, make sure it's convenient for you, and always make sure your boat is properly protected and ready to get back to warm weather fun.
About Formula Boats
Formula Boats has been a family company since the Porters started running things in 1976 — that's why we take business personally and want our customers to maximize their boating joy.
When you buy a Formula boat, you become a part of our family, and we want you to feel that way when you work with us.
We produce nothing less than the best because it's what we want when we go out on the water. When you don't cut corners and don't settle, you end up with a functional, beautiful boat that's built to last.
If you have any other questions about where to store your boat or would like to speak to one of our friendly staff about our models, please contact us today