Owning a boat is a great way to enjoy the outdoors and create memories with family or friends. Whether you're looking to buy your first boat or are ready for an upgrade, buying a boat is a big investment, and you want to avoid buying the first boat you see. You need to make sure you're finding the best boat for your needs.
So, how do you know what boat is the right boat? The answer will vary for everyone, but with the help of our beginner's guide to boat buying below, you can go into the buying process more informed and confident.
New vs. Pre-Owned
First, you must decide whether you want a new or used boat. While buying a new boat is recommended, it may not always be realistic.
A quick overview of new boats:
Updated technology
No damage or malfunction history
Warranty protection
More options
Higher cost
A quick overview of used boats:
Lower cost
Proven to be durable
Can research the reviews made over the years
Need a marine survey
Potential previous damage or misuse
New Boats
One of the most obvious benefits of purchasing a new boat is the boat is in pristine condition. You will be its first owner, which means there was no one before you to damage, scratch or wear down the boat. Also, buying new means your boat will have the most current and updated technology, motor and design.
Another benefit of buying a new boat is you are not limited in the types of boats available. You can shop from a wide selection to find the one that fits your needs. You may even be able to customize your dream boat.
New boats also come with a warranty, so if you experience malfunctions, you can feel at ease knowing the cost of your repairs is covered. Just inform your boat dealer, and they will work on fixing your issues.
Pre-Owned Boats
Peace of mind and quality insurance comes at a higher cost. If you're looking to save money, a pre-owned boat may be a better option. Since pre-owned boats are older models, you can also research how the model has held up over time, and there is likely to be a lot of information available about the boat's performance.
When shopping for used boats, remember that the boat selection is limited. While there is a large market for used boats, the style of boat you are looking for may not be for sale. You may have to look for a different boat option or wait an extended period to finally find the boat you want.

Another downfall of pre-owned boats is the possibility of getting scammed. A seller may not always be honest, which can leave you with a boat that has a lot of issues. When looking at used boats for sale, you have to wonder why someone wants to sell their boat. Before agreeing to buy a used boat, it is best to have an official inspection, also known as a marine survey, done so you can feel more confident the boat will perform how the former owner says it will.
Whether you go the new or used route is entirely up to you and your boating needs. Once you know what market you are looking at, you can do some brief background research and find what boat options are available.
Size
Next, you'll need to consider the boat size you're looking for. Of course, boat size affects the overall price, as a bigger boat will cost more money. However, boat size is about more than just how much the boat will cost.
Things to consider when choosing a size of the boat include:
Where you will use the boat: Do you plan to use your boat on rivers or lakes, or are you looking to boat on the ocean or sea? For ocean and sea boats, you'll want to opt for a bigger size to handle unpredictable water.
What you will use the boat for: The recommended boat size will change depending on the activities you plan to use your boat for. Are you looking to fish, engage in water sports or cruise around? You'll also want to consider how much space you will need to leave for necessary supplies.
How long you plan to spend on the water: Will you be on your boat for just a few hours, or do you plan to be out all day? Will you ever need to sleep on your boat? The longer you plan to be on your boat, the bigger you may want it to be so it can hold more amenities and make your boating experience more comfortable. You will want to make sure your boat has a cabin and other necessities if you plan to stay on your boat overnight.
The number of people who will be on board: At some point, you will want to be able to bring other people onto your boat. If you plan to only have a few people on board at a time, a smaller boat may be ok. But, if you're looking to host a group of friends or take a family outing, you'll want to make sure your boat is big enough to safely and comfortably fit everyone.
One of the most common first-time boat buyer mistakes is purchasing the wrong size boat. You'll want to get a professional opinion from a reputable boat dealer. Discuss your intended uses, and they can help you find the boat size that perfectly accommodates your needs.
Intended Use
The way you plan to use your boat will affect the kind of boat you need. Do you plan to use your boat for water sports? What about fishing? Are you looking for a sailboat or a motorboat? The answers to all of these questions will help guide you in finding your perfect boat.
First, determine if you are looking for a sailboat or motorboat. The main difference between these two styles is the power source. Sailboats rely on the wind and a system of sails, while a motorboat uses an engine. If you're looking to do some quiet fishing or want to enjoy a calm day on the water, a sailboat may be excellent for you.
Motorboats also give you more power and control, which is perfect if you're looking to use your boat for water sports or you want a boat that's easier to handle. Motorboats are ideal for people who want to sit down and drive a boat instead of actively adjusting its sails.
You will also want to consider your own boating skills when boat shopping. Do you have beginner, intermediate or advanced boating skills? You want to feel confident you can use and handle your boat. If you have advanced boat skills, you can consider buying a boat model with more advanced and sophisticated technology.
Another aspect to consider is where you plan to store your boat. Will your boat be docked year-round, or do you plan to store it somewhere else? If you need to transport your boat, you will also need to consider how your car will handle towing and what type of trailer you will use to haul your boat.
Cost
Even if you score an amazing deal, purchasing a boat is a huge financial commitment. Owning a boat is fun, but you must be fully aware of the costs associated with being a responsible boat owner.
The first cost comes with purchasing the boat. Will you be paying in full upfront, or will you need financing? Many people choose to finance.
Financing can be done in three ways:
Your boat dealer arranges financing.
You take out a loan with your bank.
You get a loan from a lender that works with marine financing.
Getting approved for a boat loan is similar to getting approved for a car loan. Lenders will consider your credit score, debt-to-income ratio, net worth, job stability and homeownership stability. Even with financing, you may still need to pay a down payment. Down payments tend to be around 10-20% of the total loan amount.
Once you are approved for a loan and purchase your boat, you will make monthly scheduled payments to pay off your loan. Expenses on top of your monthly payment include:
Maintenance: Keeping your boat in top condition is important and requires some investment. Maintenance can include washing, cleaning, servicing and detailing.
Gas: On average, gas prices are higher at a marina dock than they are on land. Fox Business reports that the average cost to fill up a boat in 2022 is $600, but the amount can fluctuate depending on your boat size and how fast you like to go.
Dry docking: To keep your boat performing its best, it is optimal to store your boat outside of water. You will need to pay for a space to store your boat and a boat lift to remove your boat from the water safely.
Cleaning: You can get your boat cleaned professionally, or you can take on cleaning yourself. However, cleaning yourself is not always cheaper, as you'll still need to purchase boat-specific cleaning supplies. How often and how deeply you need to clean depends on your location and how often you use your boat.
Insurance: Your insurance payment will depend on a few factors like the type of boat you own, the age and condition of your boat and your location. Typically, insurance is around $200-$500 a year or 1%-5% of the boat's value for extra large or expensive boats.
Winter storage: Storage costs will vary depending on your location and boat size. Price will also vary depending on if you choose to store your boat inside or outside.
Storage
You want to ensure you are properly taking care of your boat to keep it running the best it can and get the most out of your money. One of the best ways to keep your boat in good condition is through proper storage.
Three common boat storage options include in-water storage, outdoor dry docking and indoor dry docking. How you choose to dock your boat is up to you, but dry docking is recommended, especially if you live in an area with harsh winters.
In-water storage is a good option if you live in an area with very mild winters or if you are able to completely winterize your boat. Winterizing a boat has many steps, including finding a durable, tightly-fitting cover and replacing any water in the boat's system with antifreeze to prevent ice formation.
Dry docking removes the boat from the water and stores it on land either indoors or outdoors. Outdoor dry docking is the cheaper option, but you will want to make sure your boat is properly covered to protect it from any weather. You can either dry dock your boat at an outdoor boat storage facility or in your yard if you have the space. You will want to ensure your boat is properly secured by a fence, security cameras or another security measure.
Indoor dry docking is the most expensive option, but it also provides your boat with the most protection and helps extend the life span of your boat. Storing your boat indoors ensures it is completely protected from any damaging weather. Finding a storage area with enough space available may take time and effort. If you have a garage, you could indoor dry dock your boat yourself by storing your boat inside your garage.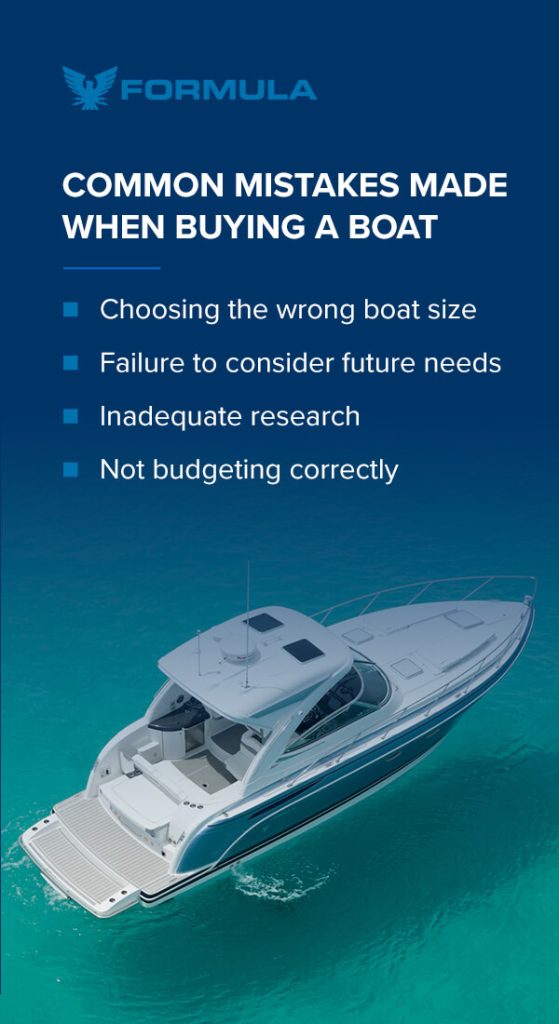 Common Mistakes Made When Buying a Boat
If you're new to boating, you may need to know what questions to ask or consider when buying a boat. Common first-time boat buyer mistakes include:
Choosing the wrong boat size: Purchasing a new boat is exciting, but don't let your excitement lead you to buy a boat that is too large for your needs. Consider your boating skills and what size boat you truly need. A large boat requires more maintenance and may require more experienced boating skills. However, you also want to avoid buying a boat that is too small if you plan to have others join you on your water.
Failure to consider future needs: As mentioned before, a boat is an investment. You will likely have your boat for years, so you want to buy a boat that can meet your needs now and continue to meet your needs in the future. Thinking about how you plan to use your boat and considering how you will want to use your boat in a few years can help determine which boat styles you should and should not buy.
Inadequate research: You want to enter the market as an educated buyer. Especially if you are looking at used boats, you need to know what to look for when boat shopping to ensure you get the best deal. Taking the time to research will help you feel confident in your purchase.
Not budgeting correctly: Remember, owning a boat is more than just the monthly payments. You need to ensure you can afford all maintenance, cleaning, insurance, gas and docking fees. Consider these fees when budgeting for your boat so you can plan manageable monthly payments.

Explore Formula One Boat Options
Are you ready to become a boat owner? Explore our large collection of high-quality boats and find the perfect boat for you. With customization options available on all of our new boat models, you can feel confident your boat will cater to all your personal needs. If you're looking to buy used, our pre-owned boat inventory offers high-quality used boats at affordable prices.
Start enjoying luxurious boating fun today by shopping our online catalog or finding a Formula Boats dealer near you.