When hurricane season is upon the Atlantic Ocean — from the beginning of June to the end of November — it's better to find yourself prepared for the worst when it comes to protecting your boat. Knowing and implementing the best practices to protect your boat during a hurricane can help ensure your ship survives the harsh winds and rain. Beyond the obvious things like stripping the boat of its sails, Biminis and other components that create windage, there are other aspects that can help preserve your investment.
Formula Boats devised a guide to help you learn how to secure a boat during a hurricane. Preparation is key to minimize vessel damage and potential injuries.
How to Prepare Your Boat for a Hurricane
Preparing your boat for a hurricane takes more than a few precautions and extra lines. From creating a natural disaster plan and using longer lines to replacing an old dock and moving the boat, you can follow our multi-step guide to use the correct methods of protecting your boat.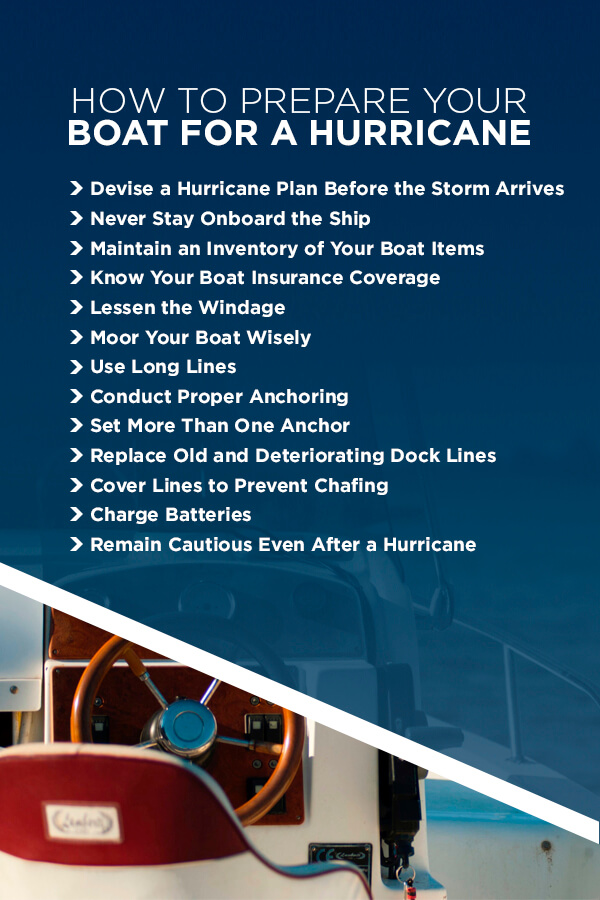 1. DEVISE A HURRICANE PLAN BEFORE THE STORM ARRIVES
If you live in a hurricane-prone area, make a plan now instead of waiting for the disaster to occur or for warnings to start. When you develop a preparation plan, you'll want to review your dock contract. It may require you to leave the marina when a hurricane strikes. Does the marina have a hurricane plan in place? Do you know how to keep your boat safe? Create a comprehensive plan in advance and stay educated via a storm tracker.
2. NEVER STAY ONBOARD THE SHIP
It may be common sense but never stay on a boat during a hurricane. With hurricane winds that can range from 75 to more than 160 mph, you can put your life at risk when staying on board.
3. MAINTAIN AN INVENTORY OF YOUR BOAT ITEMS
It's smart to keep a list of personal belongings and valuable items that are on your boat. Along with an inventory, take updated photos to remember what you have and where. If damages occur and things get lost, you will have a record for insurance purposes.
4. KNOW YOUR BOAT INSURANCE COVERAGE
Do you know the coverage of your insurance policy? What's in your marina contract? Keeping track of the various insurance coverages and contracts you're under is vital. Store documents like the insurance policy, photos, registration, an equipment list and lease agreement in a safe place like a storage facility to help keep you on track after the storm.
5. LESSEN THE WINDAGE
One of the first steps you can take to prepare your boat for a hurricane is to remove any canvases like the Biminis and cockpit covers.
6. MOOR YOUR BOAT WISELY
If you decide to moor your boat in water, try to do so in an area where the waves have the least amount of distance to buildup. For example, places like canals are great because you can run the lines on both sides of the boat, helping it not crash into the sides of the dock. It will also help protect the boat from a range of wind angles because storm winds can deviate.
7. USE LONG LINES
Implementing longer lines will help your boat rise and fall with the storm surge if mooring your boat to a fixed dock or piling. Lines that are too short can break or cause the piling to lift out of the water. Make sure to measure the pilings to certify that they're higher than the anticipated surge. If the pilings are shorter, your boat can lift off and float away. You will also want to tie the boat with the bow facing the predicted wind direction.
8. CONDUCT PROPER ANCHORING
The best anchor types to use when anchoring your vessel are helix because they screw into the seabed. They hold better compared to deadweight and mushroom types, almost guaranteeing that your boat won't move during a storm.
9. SET MORE THAN ONE ANCHOR
When anchoring your boat, you will want to select a location with as little fetch as possible to reduce the size of the waves. You can use two or even three anchors. You can set two anchors in a line connected with a chain, or you can place them in multiple directions. As a third option, set three anchors.
10. REPLACE OLD AND DETERIORATING DOCK LINES
Relying on old dock lines with rotted materials will do you no good in a hurricane. You will want to get rid of the worn dock lines that have lost strength over time. To form a sturdier placement, use nylon lines that are larger than what you normally use. Installing chafing gear will also help reduce the risk of your lines breaking. Other things to use include dock lines with a thimble spliced to the end, mooring compensators or snubbers.
11. COVER LINES TO PREVENT CHAFING
Wrap all your lines by installing tape, rubber hoses or rags where the lines feed through the chocks. Other protective installations include fenders or fender boards to protect the boat from hitting against other boats, the pier or pilings.
12. CHARGE BATTERIES
Make sure you charge the batteries to ensure the automatic running of bilge pumps. You can even add backup batteries, and we advise you to shut off other devices that consume electricity before the hurricane.
13. REMAIN CAUTIOUS EVEN AFTER A HURRICANE
Boat hurricane preparation even involves being cautious after the storm. Electrical wires could still be hot, and stray electrical currents from outlets can be present underwater along with shore cords. The possibility of a damaged ship system means you should never enter the water.
Check for leaks of natural gas and propane, and investigate the mooring pendants and dock lines before driving the boat again. When the boat is in excellent driving condition, make sure there is no debris in your way or wait for the local authorities to clear the waterways.
Arranging hurricane plans before the storm reaches your shores will help keep your boat in excellent condition. Know your best options and implement your strategy as soon as you hear of a hurricane. Sticking to the above suggestions will help keep you and your vessel safeguarded.
Where to Store Your BoatDuring Severe Weather

If you're looking to protect your boat during a hurricane, our experts at Formula Boats can help you determine which way is best. While there is no magic wand that will deviate the storm, you can store your boat properly during inclement weather.
1. TRANSFER YOUR BOAT TO LAND IF POSSIBLE
Storing your ship on high ground will help avoid rough surges. Boats stored ashore are more likely to survive than those in the water, especially smaller boats that are more vulnerable to heavy rain and wind. If you can tow your boat or put it on a trailer, move it to a safe location and far from waves and trees. Remove any electronics and the drain plug.
While the word "ashore" in some areas may mean a few feet of water, we mean on the ground. If you plan on hauling a boat inland and to high ground, make sure to coordinate the move with your marina in advance. When moving the vessel, locate the jack stands on the hull, and chain the jack stands together to keep them from spreading apart. If the jack stands are on soft ground, set plywood underneath to keep the boat from sinking.
However, jack stands aren't the most reliable solution because the wind can work the stands out of their positions, causing the boat to tip over. It can lead to cracked hulls and shattered bulkheads. Use jack stands as a last resort.
If you have to stay in the marina, doubling the lines or using spring lines is helpful. If you're on a mooring, make sure the mooring can withstand the load of your boat. However, you should avoid storing boats in marinas protected by a low seawall. When the water rises above the wall, it can cause catastrophic damage to your boat, so your best bet is to store your boat ashore.
2. USE HELICAL ANCHORS ON LAND
If you can move your boat to land, use a helical mooring. The anchor screws into the ground and offers incredible holding power. Specialized equipment installs the anchor, and it's a technique that reduces damage to boats.
3. CHOOSE A MARINA WITH FLOATING DOCKS
If your only option is tying a boat up for a hurricane in the marina, rely on floating docks and tall pilings. When you keep your boat in a floating dock, it can rise and fall with the changing tides without placing stress on the lines. Fixed docks can cause damage.
But make sure to avoid floating docks with short pilings. They are less likely to accommodate the varying surges of a hurricane. Today, many boats have wider beams while marina slips have stayed the same. If you have a tight slip, securing it to the dock lines will be difficult. Too much slack in the lines can allow the boat to wreck into pilings, but too little slack will impede the boat from rising and falling with the water. One solution can be to use longer lines and tie them to pilings farther away, or move the boat to a wider slip.
4. RELY ON MODERN DOCKS AND GOOD MOORINGS LINES
Old dock lines can lose strength over time from UV deterioration, salt, dirt and repeated stretching. You should also stay away from storing your boat on a lift or hoist. High damage can occur from lifts because boats can blow off, bunk boards can break and boats can grind against motors. Boats can also run into pilings or fill with water and collapse the lift.
5. STORE BOATS IN DRY-STACK STORAGE AREAS
Storing your vessel in dry-stacks is one of the best solutions if you want to avoid hurricane damage. The storage areas can withstand high winds and protect your boat from the elements.
The Importance of Boat Insurance

While many states don't require boat insurance coverage, some organizations like your marina or bank may require it. When you invest in boat insurance, the bank is the lienholder of the policy, meaning if there are any loss payments, the bank will be the co-payee on the check. Many marinas also need proof of liability before they accept your contract.
Unfortunately, a homeowner policy won't work to cover your boat. Homeowner policies also don't have the proper provisions to cover various losses of a boat.
Boat insurance is specific in covering things like salvage, pollution liability and wreck removal. A policy can also include litigation coverage, which helps protect you from being sued. For example, if you take someone on your boat and they happen to get hurt, they can sue you. This is where litigation coverage can come in, giving you a defense attorney and paying for any damages you owe.
Insurance will protect your investment in more cases than a hurricane, too. Fires, vandalism, sinking and other instances will be covered. But how do you know how to choose the right policy? An all-risk policy has consequential-damage coverage that covers losses such as fires, sinking and failed parts. It can also protect you against a range of accidental causes like vandalism, lightning, theft, sinking and grounding. You can even look for a policy that covers your personal items.
You will also want to think about non-emergency towing coverage. Common recreational marine policies allow you to insure a boat if you experience total loss for the boat's agreed value. The more valuable the boat is compared to your total assets, the more coverage you'll want to get.
Or, you can get the bare minimum boat insurance to cover the basics. The liability-only policy doesn't insure physical damage to a ship but provides a specific amount of coverage for liability if you get in an accident. Plus, it protects you from uninsured boaters. At least get this option if nothing else. Even a small boat can injure people and damage other boats. If you're responsible for injuring someone, insurance can help cover medical bills and legal fees.
Liability policies with no hull coverage are often less expensive than a full-coverage option. However, boat insurance is generally flexible, so you can tailor the solution to match your needs.
Find Uncompromised Quality at Formula Boats

If you want to protect your boat from a hurricane, you must take the proper precautions and plan in advance. Formula Boats is a family-owned business where we uphold 60 years of continuous advancements in marine manufacturing. Our boats are world-renowned for stunning styling, advanced engineering and fine-tuned designs. Recognized as a premier powerboat company, Formula has a constant evolution of vessels and devote our time to responsive and customer-oriented services.
With authentic craftsmanship and insistence on excellence, we build for you, not the masses. If you're looking to upgrade to one of our high-end powerboats, check out our various models online or find a Formula dealer near you. You can also reach out to us online for more information.