Are you wondering what food to bring on a boat trip? If so, we got you covered. Our recipes are easy to transport or whip up on-board. Several of our recipes are complete meals in a single dish for easy cleanup. Plus, we've incorporated tons of tropical and sea-inspired flavors to suit the mood.
To make the most of your voyage, you need to maintain your energy levels. Hearty meals and healthy snacks in between will keep you going until the sun sets into the horizon. For this reason, we're excited to share our favorite recipes brought to you by Formula fans — with a few of our own in the mix.
Boat-Friendly Brunch Recipes

Brunch is all about combining the tasty flavors of breakfast and lunch and enjoying it with friends and family. What better way to savor a cheerful brunch than on your boat? Here are some delicious brunch recipes that will fuel your day of boating joy:
SOUTHWESTERN BRUNCH

Could breakfast ever be complete without eggs? Todd and Mandy Dageford, owners of a 37 Performance Cruiser, "Tupelo Honey," know the importance of starting the day right with eggs. The Dagefords impressed everyone at the Erickson Marine Rendezvous with the jazzy brunches they created in their cockpit each morning.
Mandy whipped up a bold and hearty huevos rancheros dish on Sunday, complete with homemade salsa and sausages. These late-breakfast treats are sure to be a big hit with your hungry crew. There are many variations of huevos rancheros, and this represents just one style of preparation. This recipe lets you cook up a storm with an on-board microwave.
Ingredients: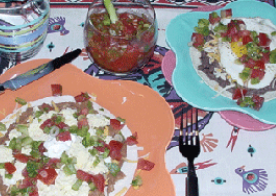 One 16-ounce can of refried beans
3 cups salsa, your favorite brand or homemade
1 dozen small corn or flour tortillas
1 dozen eggs
12 ounces shredded cheese of your choice
Sour cream, to taste
Directions:
Warm the beans, salsa and tortillas in the microwave. Cover to keep warm. Prepare the eggs however you prefer: scrambled, poached or sunny-side up, using a microwave, a microwaveable egg cooker or a traditional frying pan.
While the eggs are cooking, assemble the tortillas. Spread a spoonful of the warm beans onto each tortilla. Top with approximately one ounce of shredded cheese. Place an egg and a spoonful of salsa on top. Serve immediately with extra salsa and sour cream on the side.
BELGIAN WAFFLE BRUNCH

The Dagefords also know how to throw together an elegant Belgian waffle brunch. They know Formula owners are always looking for quick and easy ways to make delicious food on-board.
Aunt Jemima pancake and waffle mix is the secret "easy" ingredient for these Belgian waffles, while an electric waffle iron makes cooking a snap. Garnish the waffles with fresh berries, like strawberries and blueberries, your favorite syrup, a pinch of powdered sugar and whipped cream — and you can call your boat a brunch cafe with an engine.
Festive mimosas are the beverage of choice for this brunch. They are easy to create with a carton of freshly squeezed orange juice and a splash of chilled club soda, ginger ale or champagne — if you're spending the morning at the dock.
NON-ALCOHOLIC MOJITO
Brunch on the water calls for refreshing non-alcoholic beverages so you can safely cruise and enjoy great drinks with your meal. We have a simple non-alcoholic mojito recipe inspired by Hemingway's favorite boating beverage. The following recipe uses fresh ingredients you may already have on your boat.
Ingredients:
1 lime, cut into eight sections
1 to 2 teaspoons sugar
Fresh mint leaves
Ice
Club soda
Directions:
Squeeze a wedge of lime into the bottom of an empty glass. Add one to two teaspoons of sugar and stir well. Add about six mint leaves and muddle or bruise the leaves with the back of a spoon to release the oils. Fill the glass with ice and then club soda. Garnish with another wedge of lime and a sprig of fresh mint.
Best Boating Recipes for Lunch

Lunch is the time of day when hunger starts to roar, especially if you're in between water sports. A midday meal on the boat can be a great way to unwind and refuel. Here are some mouthwatering lunchtime recipes to give you an afternoon boost.
SHIRLEY'S SEAFOOD PASTA
If you want to enjoy a delicious lunch with your boating companions, consider sharing a seafood salad, like this one from Shirley and Barry Webber. The Webbers have been proud owners of Formula boats since 1980 and feel part of the Formula family. Below is a recipe for Shirley's Seafood Pasta Salad, which Shirley says, "gets raves when served to guests we take out on our 370 SS 'Second Wind!'" Thanks, Shirley!
Ingredients:
2 cups small pasta shells or twists, uncooked
1/3 cup Italian salad dressing
1/2 cup light mayonnaise
1/4 cup grated Parmesan cheese
2 cups cooked medium shrimp
1/4 cup chopped green bell pepper
1/4 cup chopped red bell pepper
4 green onions, thinly sliced
2 small celery stalks, sliced
3/4 cup frozen peas
1/2 package grape tomatoes, used whole or halved
1/2 cup sliced black olives
Fresh ground pepper, to taste
Directions:
Cook the pasta and drain. In a small bowl, combine the Italian salad dressing, mayonnaise and cheese. In a large bowl, mix the pasta and the remaining ingredients. Pour the dressing over the pasta mixture. Mix well. Cover and chill overnight. Toss lightly and top with a little Parmesan cheese before serving.
Here's a tip from Shirley: If you want to make a special seafood treat, you can combine one cup of shrimp with one cup of crab or lobster meat.
CUBAN SANDWICHES

Cuban sandwiches are easy to put together, plus they don't take up too much space and they pack rich, meaty goodness with each bite. Enjoy these handheld masterpieces any day you're out on the boat, and you'll be satisfied until dinner.
Ingredients:
1 loaf fresh Cuban bread, horizontally sliced
Butter, softened
Yellow mustard
Slices of dill pickles
1/2 pound deli roasted pork, thinly sliced
1/2 pound Swiss cheese, thinly sliced
1/2 pound deli baked ham, thinly sliced
Directions:
Spread the bottom half of the bread with the softened butter. Add a layer of yellow mustard over the butter. Top with the dill pickle slices, pork, cheese and ham. Place the top half of the loaf on the sandwich and press down. Cut the bread on the diagonal to make small sandwiches. Insert a frilled toothpick in each sandwich to keep it together. Arrange the "mini" sandwiches on a serving platter and devour.
LEMON TARRAGON CHICKEN SANDWICHES
When you're out in the sun on an expanse of blue and hunger strikes, a flavorful and fresh chicken sandwich hits the spot. This one brings citrusy flavors and a protein punch to the table. Prepare these sandwiches at home and pack them in a cooler for a memorable voyage.
Ingredients:
One 14-ounce can of low sodium chicken broth
3 tablespoons fresh-squeezed lemon juice
1 tablespoon olive oil
1/2 teaspoon onion powder
1/4 teaspoon garlic powder
1 tablespoon dried tarragon
1/4 cup thinly sliced celery
Six 4-ounce boneless, skinless chicken breasts
6 small sandwich rolls
Dijon mustard
Leaf lettuce leaves
Tomato slices
Red onion slices
Directions:
Heat oven to 400 degrees Fahrenheit. In a glass nine-by-13-inch baking pan, mix the broth, lemon juice, olive oil, onion powder, garlic powder, tarragon and celery. Add the chicken breast in a single layer. Bake uncovered for 20 to 30 minutes or until the chicken is cooked through and the liquid bubbles.
Remove the pan from the oven and allow it to cool. Slice each chicken breast on the diagonal and transfer the slices and liquid to a container with a lid. Refrigerate until you're ready to assemble the sandwiches.
To assemble the sandwiches, spread the bottom half of each roll with Dijon mustard. Layer the lettuce, tomato slices, red onion slices and chicken onto the bottom half and top with the other half.
If you prefer a low-carb version, you can skip the rolls and top a fresh green salad with the chicken and a delicious goat cheese garnish.
MARINATED SIRLOIN SALAD

Another great carry-on meal to keep you going all day long is marinated sirloin salad. This versatile dish is perfect for lunch and as a nutritious pick-me-up later in the day.
Ingredients:
2 pounds beef sirloin, cut into thin strips
2 tablespoons steak seasoning
2 tablespoons butter
12 ounces portobello mushrooms, sliced
2 tablespoons olive oil
Two 7-ounce jars roasted red peppers, drained and chopped
1 cup thinly sliced red onion
1 garlic clove, minced
1 tablespoon Dijon mustard
2 tablespoons red wine vinegar
1/2 cup extra-virgin olive oil
Directions:
Toss the sirloin strips in steak seasoning. In a sauté pan, melt the butter. Sauté the mushrooms, turning to brown both sides. Remove the mushrooms from the pan and place them in a bowl. Drain excess liquid from the pan.
In the same pan, heat the olive oil. Sauté the sirloin strips to the desired doneness in small batches. Remove the pieces from the pan and place them in a large bowl. Allow them to cool.
Add the sautéed mushrooms, roasted red peppers, and red onions and toss gently. In a small bowl, mix the garlic, Dijon mustard, red wine vinegar and extra-virgin olive oil. Pour the dressing over the beef mixture and toss. Cover and refrigerate.
For a healthy lunch, top a bed of mixed greens with a spoonful of the beef salad. You can also serve this salad on top of crackers or flatbreads with goat cheese for an impressive hors d'oeuvre, or stuff it in a pita pocket for a hearty sandwich. This quick and easy dish tastes even better the second day after the flavors have blended.
CAVADAS' MEXICAN WRAPS
Wraps make an ultra-portable lunch and can be a fun alternative to a sandwich. We're lucky we have JedCavadas, a Formula fan who boats rain or shine, to share his mouthwatering Mexican wrap recipe with us. Thanks, Jed!
Ingredients:
6 ounces light cream cheese, softened
1/2 cup salsa drained, plus more for dipping
1 tablespoon chili powder
1/4 teaspoon salt
1 avocado, thinly sliced
1 tablespoon, lime juice
Eight 8-inch tortillas
2 cups fresh baby spinach
1 red bell pepper, cut into thin strips
1 yellow bell pepper, cut into thin strips
Directions:
In a medium bowl, combine the cream cheese, salsa, chili powder and salt. In a separate small bowl, lightly sprinkle the avocado with the lime juice to prevent browning.
Trim each tortilla to make a six or seven-inch square. Spread three tablespoons of the cream cheese mixture onto each tortilla. Arrange two rows of spinach in the center of each tortilla, then top them with a row of red pepper, yellow pepper and avocado.
Roll the tortillas up tightly and wrap them in plastic wrap. Refrigerate the rolls for at least one hour and up to six hours. Right before serving, slice the rolls crosswise into 1/2-inch pieces and spoon extra salsa into a bowl for dipping. Serves 10 to 12 hungry boaters.
Dinner on a Boat

Cooking dinner on a boat tastes better for some reason. Maybe it's the enchanting glow of the setting sun or the romance of cruising without a care in the world. There are many reasons boating ignites the appetite.
Whether you're dining as a couple or with a party of friends, there's something special about supper on the water. Here are delectable recipes to give your boating day a dash of flavor as you start to wind down.
GINGER LIME SESAME PORK
Your friends and family will think you docked your Formula at a Hawaiian luau when you wow them with this amazing grilled dish bursting with tropical flavors. Plan to break out the hula skirts, ukuleles and umbrella drinks as you savor the sunset, dockside on your Formula. The tantalizing aroma wafting from your grill will be sure to entice extra guests for dinner.
Ingredients:
1/2 cup roughly chopped ginger root, peeled
2 large garlic cloves, peeled
1/4 cup fresh-squeezed lime juice
1/2 cup low sodium soy sauce
1/2 cup honey
1/4 cup sesame seeds, toasted
2 to 2 1/2 pounds pork tenderloin
Directions:
To make the marinade, puree the ginger, garlic, lime juice, soy sauce and honey in a blender. Strain the marinade to remove any fibrous pieces of ginger, pressing firmly to extract all the juice. Stir the sesame seeds into the marinade.
In a non-metallic pan, arrange the pork and cover it with the marinade. Keep refrigerated. You can do this in the morning before you go boating or the night before.
Over medium heat, grill the pork tenderloin until the internal temperature reaches 160 degrees Fahrenheit. Cover with foil and let it rest approximately 10 minutes to allow the juices to redistribute before slicing. Serve with grilled pineapple slices or veggie kabobs. A side of coleslaw works well too.
TILAPIA WITH LEMON AND CAPERS
What could be more true to the boating experience than a melt-in-your-mouth fresh fish dinner?This simple yet delicious dish combines buttery grilled tilapia with lemony capers for a lightweight meal that's heavy with taste.
Ingredients:
One 4-ounce tilapia fillet
1 tablespoon butter
1 tablespoon capers
1 green onion, sliced
1 lemon wedge
Garlic pepper, to taste
Directions:
Heat the grill while you prep the fish. Place the tilapia fillet into a foil packet. Top the fillet with the butter, capers and scallion slices. Squeeze the juice from the lemon wedge over the fillet and add garlic pepper to taste. Seal the foil packet. Grill for 10 minutes or until the fish flakes easily. Serve with grilled zucchini and bell peppers or other colorful vegetables, and enjoy a complete meal.
FETTUCCINE WITH SHRIMP AND FRESH TOMATO BASIL SAUCE
Who says you can't have restaurant-quality pasta aboard a boat? Shelley Porter argues you can, and she's sent us her friend Brett's incredible dockside recipe.
Shelley was amazed to find Brett whipping up dinner on-board his Formula boat when she expected to dine in a restaurant. What she found was even better. In addition to sharing his delicious recipe, she recommends adding "excellent red wine and some mellow tunes," for an ambiance that will transport you and friends far from the hustle and bustle. Thanks, Shelley and Brett!
Ingredients:
1 3/4 cups extra-virgin olive oil
2 tablespoons chopped fresh garlic
One 6-ounce can whole black olives
3 tablespoons chopped fresh basil leaves
2 tablespoons lemon pepper
Splash fresh-squeezed lemon juice
8 whole mushrooms, quartered and stems removed
1 1/2 pounds raw shrimp, peeled
1 bunch green onions, sliced
1 pound fettuccine
3 Roma tomatoes, diced
4 ounces fresh Parmesan cheese, grated
Directions:
In a large pan over low heat, sauté the olive oil, garlic and olives. Add the basil, lemon pepper, lemon juice and mushrooms. Continue to cook over low heat.
In a large pot, boil water. Add the shrimp and cook until it just begins to turn pink. Remove the shrimp with a slotted spoon and add them to the olive oil sauce, along with the green onions. Cook over low heat.
Return the shrimp-water to a boil and add the fettuccine. Cook until al dente. Meanwhile, add the diced tomatoes to the olive oil sauce and cook over low heat.
Drain the fettuccine and place it into a large bowl. Add the grated Parmesan cheese, stirring the noodles to coat. Mix in the sauce and toss to coat the fettuccine. Add salt to taste.
GRILLED GARLIC HERB PARMESAN BREAD
Garlic bread goes well with almost any entrée. You can make this right on your boat's grill and serve it with pasta or fish as a delicious side.
Ingredients:
1/4 cup olive oil
1 clove garlic, smashed
1 teaspoon rosemary
1 baguette
1/2 cup fresh grated Parmesan cheese
Directions:
In a microwave-safe bowl, combine the olive oil, garlic and rosemary. Place a napkin on top of the bowl, and heat it at 30-second intervals for approximately one to two minutes or until hot.
Cut the bread into one-inch slices without cutting through the bottom crust, so that the loaf remains intact. Drizzle the garlic herb olive oil and sprinkle the cheese into each cut. Wrap the bread loaf entirely in foil and grill until the bread is heated through and the cheese is melted. Turn frequently to avoid burning.
Boating Dessert Recipes

Boat food doesn't always have to feature seafood, although, we won't complain if it does. Let's not forget those relaxed moments after dinner on a boat that call for something a little indulgent. If you like to end your meals on a sweet note, you won't be disappointed with these decadent and easy-to-make dessert recipes.
RASPBERRY FOOL
Enjoy an elegant and simple dessert on your boat with this Raspberry Fool recipe. Our classic sweet treat is so easy to make, with just three basic ingredients. If you're boating with that someone special, sprinkle on a little chocolate and serve it alongside a dozen roses. You've just found the perfect romantic dessert for your boat.
Ingredients:
8 ounces fresh raspberries
4 teaspoons sugar, divided
1 cup heavy cream
Grated chocolate, if desired
Directions:
Chill a bowl and wire whisk in the refrigerator. Rinse the raspberries and set a few aside for a garnish. Lightly mash the remaining raspberries in a bowl and sprinkle them with two teaspoons of sugar. Stir gently and place the bowl in the refrigerator.
Pour the heavy cream into the chilled bowl and whisk until it looks like whipped cream. Sprinkle the cream with two teaspoons of sugar and gently whisk to blend.
Place a small amount of the muddled raspberries in the bottom of two glasses or goblets. Set aside about two more tablespoons of the muddled raspberries. Gently fold the remaining raspberries into the whipped cream — do not over-blend. Carefully spoon the whipped cream and raspberry mixture into the glasses to fill them halfway. Add a layer of the remaining muddled raspberries to each glass. Top each glass with the whipped cream mixture and garnish with grated chocolate and fresh raspberries.
For extra flavor, you can add a splash of your favorite liqueur to the raspberries and a 1/4 teaspoon of vanilla extract to the whipped cream. Either way, you and your companions will surely enjoy this simple but decadent treat.
BANANA BREAD WITH A TWIST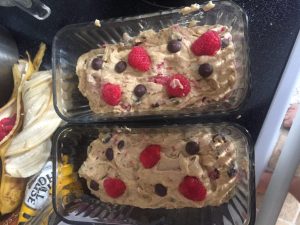 Is there anything better than dark chocolate and raspberries? If you said, "banana bread," then this recipe is for you. With banana bread, you can add just about anything, and it will turn out delicious. This banana bread includes dark chocolate and raspberries, but you can also try it with strawberries if you prefer. Bake this comforting bread before your boating day and be ready to serve up a crowd-pleaser.
Ingredients:
2 cups all-purpose flour
3/4 teaspoon baking soda
1/2 teaspoon salt
1 cup granulated white sugar
4 tablespoons unsalted butter, room temperature
2 large eggs
3 ripe bananas, mashed
1/3 cup plain Greek yogurt
1 1/2 teaspoons vanilla extract
1 cup dark chocolate chunks or chips
1 cup halved raspberries, tossed in a tablespoon of all-purpose flour
Directions:
Heat oven to 350 degrees Fahrenheit. Grease two eight-by-four-inch loaf pans. In a medium bowl, whisk the flour, baking soda and salt and set aside.
In a large bowl, beat the sugar and butter with an electric mixer at medium speed until well blended. Add the eggs one at a time, beating well after each egg. Place the banana, yogurt and vanilla extract in the bowl and beat until blended. Stir in the flour mixture just until moist. Add the chocolate and then stir in the raspberries very gently. Sprinkle a few additional chocolate chunks and raspberries on the top.
Spoon the batter into the prepared pans. Bake for 50 minutes or until the center is fully cooked. Cool for 15 minutes in the pan on a wire rack. Remove the bread from the pan and cool completely on the rack.
Slice the bread and serve to pleased boaters while you're out on the lake, bay or your other favorite boating spot.
GRILLED PINEAPPLE SHORTCAKE
If you're looking for an unforgettable dessert that combines tropical fruit with fluffy cake, take a peek at our Grilled Pineapple Shortcake recipe. This dessert looks both elegant and exotic and is so easy to make. You can whip this up while the grill is still hot from dinner and have your friends and family saying, "Aloha," to sweetness in no time. If you have a freezer on your boat, a scoop of vanilla or coconut ice cream is the perfect addition.
Ingredients:
2 tablespoons melted butter
1/2 cup brown sugar
1/2 teaspoon cinnamon
1 tablespoon lemon juice
1 fresh pineapple peeled, cored and cut into 1/2-inch thick slices
1 pound cake
1 pint fresh strawberries, sliced
Whipped cream or ice cream
Directions:
In a bowl, combine the butter, sugar, cinnamon and lemon juice. Spread the glaze on both sides of the pineapple slices. Place the pineapple slices on the grill. Over medium heat, cook for five to 10 minutes, turning once, or until the glaze melts and the pineapple is tender.
Meanwhile, slice the pound cake and place the pieces on dessert plates. Top each slice with grilled pineapple and strawberries. Garnish with whipped cream or ice cream right before serving.
OATMEAL SNACK ATTACK COOKIES
This delicious make-ahead dessert is perfect for an after-meal treat or snack and is easy to carry on board. Make these nourishing cookies during the week as your schedule allows, and you'll be all set to nibble healthily once you're on board for the weekend.
Ingredients:
2 sticks butter, softened
11/4 cup brown sugar, firmly packed
1/2 cup granulated sugar
2 large eggs
2 tablespoons milk
2 teaspoons vanilla
1 3/4 cups all-purpose flour
1 teaspoon baking soda
2 1/2 cups quick oats, uncooked
1 cup semi-sweet chocolate chunks
1 cup dried sweetened cranberries
1 cup chopped pecans
Directions:
Heat the oven to 375 degrees Fahrenheit. In a bowl, mix the butter, brown sugar and granulated sugar until well-combined. Add the eggs, milk and vanilla and blend. In a separate bowl, combine the flour and baking soda and add to the butter mixture. Using an electric mixer on low speed, mix just until blended. Stir in the chocolate chunks, cranberries and pecans.
Place heaping teaspoonfuls of the cookie dough onto an ungreased cookie sheet. Bake 12 to 13 minutes, or 10 to 11 minutes for a chewy cookie. Let the cookies cool for two minutes on the baking sheet. Place them on a wire rack and let them cool completely.
Boat Party Food Ideas
Taking a day-long boating trip is an excellent way to celebrate a special occasion. If you're planning a boat party, we have some ideas to help you get started. The following recipes are easy to throw together last-minute and are sure to please a crowd.
SHRIMP AND ARTICHOKE DIP
Shrimp and boats simply belong together. That's why we're happy to share this yummy recipe sent to us by Melanie Azar of the American Global Yacht Group and Formula dealership in Maryland. This quick and easy dip is a hit with Melanie's friends and customers in the Chesapeake Bay area. Simply prepare this appetizer the night before, refrigerate and make the following evening a success. Thank you, Melanie, for sharing!
Ingredients:
1 pound cooked medium shrimp, cut into 1/2-inch pieces
One 14-ounce can artichoke hearts, drained and cut into quarters
3/4 cup sour cream
3/4 cup mayonnaise
1 small bunch green onions, chopped
Juice of 1/2 lemon
1 clove garlic, finely chopped
Salt, to taste
Pepper, to taste
Old Bay seasoning, to taste
Directions:
In a bowl, mix all of the ingredients. Refrigerate overnight. Serve with your favorite crackers when you're ready to party.
ROASTED TOMATO GOAT CHEESE TOASTS

Entertaining on your boat is easy with this elegant yet effortless hors d'oeuvre. Just a small amount of prep work at home allows you to have fun in the sun all day and still offer delicious treats to your guests.
Ingredients:
1 1/2 pounds Roma tomatoes, cut into 1/2-inch thick slices
1 tablespoon minced garlic
4 tablespoons extra-virgin olive oil
1/4 teaspoon salt
1 baguette, cut into 1/2-inch-thick slices, or prepackaged baked toasts
6 ounces goat cheese
1 to 2 bunches fresh basil leaves
Directions:
Toss the tomato slices with the garlic, olive oil and salt. Line a baking tray with foil. Spread the tomatoes in a single layer on the tray. Bake at 300 degrees Fahrenheit for approximately one and half hours or until the tomatoes have reduced in size and intensified in color. Allow them to cool. Remove the tomatoes from the tray and place them in a container. Keep refrigerated.
On a baking sheet, place the bread slices in a single layer. Bake at 400 degrees Fahrenheit or until golden brown. Cool and store in a covered container.
Carry the prepped ingredients on board in a container, and at cocktail time, spread each toast with softened goat cheese, top with tomato slices, and garnish with a fresh basil leaf.
HERB AND LEMON MARINATED OLIVES
This flavorful blend of lemon, herbs and hot pepper is the perfect complement to the saltiness of the olives. Make this recipe early in the week and keep it refrigerated to blend all the flavors. Then, just carry this snack on board for all the olive lovers in your group.
Ingredients:
3 cups green and black olives pitted, rinsed and drained
8 thin lemon slices
1/4 teaspoon dried thyme
1/4 teaspoon dried rosemary
1/2 teaspoon hot pepper flakes
2 garlic cloves, peeled and finely chopped
2 teaspoons fresh lemon juice
2 teaspoons red wine vinegar
Directions:
In a stainless steel or glass container, combine all ingredients and mix well. Cover and refrigerate.
ZIPPY SHRIMP AND CRAB DIP
Part of the fun of boating is sharing good times with loved ones. What better way to celebrate friendship and family than enjoying a tasty snack after an action-packed day on the water?
Formula 382 FAS3Tech® owner and part-time gourmet cooking student Arlene Spellberg shared her delicious seafood dipwith us, which we now present to you. Her Zippy Shrimp and Crab spread is quick and easy to prepare from staples you can keep on board. This is a great appetizer to munch on while you're waiting for your salmon to grill. Thanks, Arlene!
Ingredients:
Two 8-ounce packages cream cheese, softened
1 teaspoon seasoned salt
1 teaspoon Worcestershire sauce
1/2 teaspoon onion powder
One 12-ounce bottle seafood sauce
1 tablespoon prepared horseradish
12 ounces frozen or canned seafood (baby shrimp, crab or mixture of both)
Parsley or scallions, minced, for garnish
Directions:
Beat the cream cheese until fluffy. Add the seasoned salt, Worcestershire sauce and onion powder and mix well. Spread the cream cheese mixture onto a 13-inch plate.
In a small bowl, mix the seafood sauce and horseradish. Spread the sauce on top of the cream cheese mixture. Top with the seafood and garnish. Serve with assorted crisp crackers.
Here's a carry-on tip: Arlene likes to make this dip in advance in a plastic pie plate with a lid. She keeps the snack on board in the refrigerator, and when it's time for grub, uses the lid for crackers.
BLUE CHEESE SPREAD

Formula owners Larry and Monica Weigand love to take their boat on Lake Wawasee in northern Indiana, where they enjoy sunset cruises with friends. They sent us one of their best recipes for boating, which is both delicious and very portable. Their Blue Cheese Spread is perfect for an impromptu gathering or savoring a lazy evening with loved ones. Thanks, Larry and Monica!
Ingredients:
One 8-ounce package cream cheese, softened
1/3 cup low-fat plain yogurt
1/3 cup crumbled blue cheese
1/4 cup chopped toasted pecans
2 tablespoons minced chives
Directions:
Beat the cream cheese until it's fluffy. Add the yogurt and blend well. Fold in the blue cheese, pecans and chives. Spoon into a serving bowl. Cover and chill for at least 30 minutes. Serve with crisp crackers, Melba toast or pita chips.
FORMULA FIESTA DIP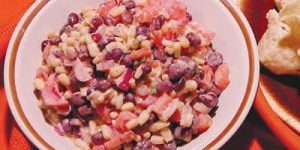 Here's another recipe from the Weigands, which is perfect for an on-board fiesta. This recipe calls for acreamy dressing, spicy hot sauce and colorful veggies for a dip that pops with flavor. As a bonus, this still tastes great even if you whip it up at the last minute. Thanks again, Larry and Monica!
Ingredients:
1/4 cup creamy Italian salad dressing
1/2 cup ranch dressing
1/2 teaspoon garlic powder
1/2 teaspoon black pepper
1/2 teaspoon chili powder
3/4 teaspoon Tabasco sauce
One 11-ounce can shoepeg corn, drained
One 16-ounce can black beans, rinsed and drained
1/2 cup diced red onion
1 jalapeño pepper, seeded and minced
2 Roma tomatoes, seeded and chopped
Directions:
Mix the dressings, garlic powder, black pepper, chili powder and Tabasco sauce. Chill for six hours. Combine the corn, black beans, onions, jalapeño and tomatoes. Toss with the dressing and serve with tortilla chips.
GREG JACKSON'S BUFFALO CHICKEN BALLS
Formula owners Greg and Betty Sue Jackson love to share this recipe at events like the Super Bowl and say it would taste great on the lake. We'll let you be the judge when you treat yourself and friends to this irresistible appetizer. Thanks, Greg and Betty Sue!
Ingredients:
1 rotisserie chicken, skinned and shredded
1 1/2 cups grated cheddar cheese
1/4 cup sliced green onions
1/4 teaspoon black pepper
1/4 to 1/2 cup hot sauce
1 cup flour
3 eggs, beaten
1 cup breadcrumbs
Oil, for frying
Directions:
Mix the shredded chicken with the cheese, onions, black pepper and hot sauce. Form the mixture into small balls. Place the flour, beaten eggs and breadcrumbs each in their own bowl. Dip the balls into the flour, eggs and then the breadcrumbs. Deep-fry the balls until they're golden brown.
JILL'S FAMOUS VEGGIE DIP
Jill Schneider and her husband Bob, Formula 34 PC owners in south Florida, love to entertain on their boat. Jill's guests most often request her classic dip made with Knorr Vegetable Soup Mix as an appetizer. She jazzes it up with water chestnuts and green onions for rave reviews from her friends at all of their Formula gatherings. Make this scrumptious dip before you leave the port for an easy take-along winner. Serve with corn tortilla chips or fresh veggies for dipping.
Ingredients:
One 10-ounce package frozen chopped spinach, thawed and squeezed dry
One 16-ounce container sour cream
1 cup mayonnaise
1 package Knorr Vegetable Soup Mix
One 8-ounce can water chestnuts, drained and chopped
3 green onions, chopped
Directions:
In a bowl, combine all ingredients and refrigerate. For a more uniform dip, our Formula Galley chef chops the spinach, water chestnuts and green onions in a food processor before blending them with the remaining ingredients.
Here's a tip: If the mixture seems a bit dry before you shape it, you can add half an egg to increase the moisture.
TROPICAL FRUIT CHEESE BALL
Who doesn't love a ball of cheese? Our Tropical Fruit Cheese Ball recipe mixes sweet with salty in an addicting appetizer your boat guests are sure to relish. You can make this recipe days in advance and have it ready to go when it's time to hit the water.
Ingredients:
4 ounces sliced dried beef, diced
One 8-ounce can crushed pineapple, drained
One 6-ounce bag tropical dried fruit, broken into bits
1 teaspoon prepared horseradish
1 teaspoon Worcestershire sauce
1/4 teaspoon onion powder
1/8 teaspoon garlic powder
Two 8-ounce cream cheese packages, softened
Directions:
Mix the beef with the pineapple and dried fruit and set aside. In a small bowl, mix the horseradish, Worcestershire sauce, onion powder and garlic powder. In a separate bowl, beat the cream cheese until it's light and fluffy. Stir in the seasonings and beef mixture. Form the mixture into a ball and cover it with plastic wrap. Refrigerate for several hours. Serve with crackers of your choice.
RANCH CHEESE DIP

Looking for a highly portable appetizer that will keep guests happily munching all day long? Consider our simple and satisfying Ranch Cheese Dip recipe. A more nutritious variation on a classic, this recipe scores high with the Formula taste-testers.
For an easy on-board way to eat this recipe with veggies and without spills, place the dip in the bottom of a plastic, wide-rimmed cup and "sink" the veggies on top.
Ingredients:
One 8-ounce package reduced-fat cream cheese, softened
1 1/2 cups low-fat cottage cheese
1/4 cup sour cream
One 1-ounce package ranch dip mix
1 tablespoon dried dill weed
1/3 cup skim milk
Directions:
Combine all ingredients except milk in a food processor and puree until you've reached a smooth and creamy consistency. Add the milk and process just until blended. Cover and store in the refrigerator until you're ready to pack it up and go.
HAM AND ASPARAGUS DIPPERS
This creamy and easy-to-make appetizer is ideal for an elegant evening of on-board entertaining.You can prepare this recipe quickly at home while the tomatoes roast, keep it refrigerated on your boat, and then arrange it on a platter to serve. You'll impress guests with the tangy dipping sauce that adds just the right punch to the savory ham-wrapped asparagus spears.
Ingredients:
1 pound fresh asparagus spears, washed and tough ends removed
1 pound Black Forest ham, very thinly sliced
3/4 cup mayonnaise
1/4 cup Dijon mustard
1/2 teaspoon dried dill weed
1/2 teaspoon dried tarragon
1 tablespoon fresh lemon juice
Directions:
In a glass baking pan, lay the asparagus spears flat. Sprinkle the spears with a small amount of water and cover with wax paper or plastic wrap. Microwave on high for two to three minutes or just until the spears are tender.
Immediately, plunge the dish into ice water for five minutes. Drain and dry the spears with a paper towel. Wrap each asparagus spear with a slice of ham, keeping the green tips exposed. Place the ham-wrapped asparagus spears in a covered container and refrigerate.
In a small bowl, combine the mayonnaise, mustard, herbs and lemon juice. Cover and refrigerate. Serve the asparagus spears with the sauce as a tantalizing dip.
KELLY'S TOMATO AND MOZZARELLA BITES
Kelly Nielsen of Northwest Boat Center prepared this fresh and delicious appetizer for a Formula Rendezvous. It's wonderful for a boating party — so easy to make ahead of time and carry on board. Drizzle with the basil-flavored olive oil just before serving.
Ingredients:
1 pint grape tomatoes, washed and dried
1/2 pound fresh mozzarella balls or cubes
1 bunch fresh basil leaves, washed and dried
1/2 cup basil-infused olive oil
Directions:
Skewer the first three ingredients in this order: Tomato, basil leaf, cheese, basil leaf, tomato. Place the skewers on a serving platter and drizzle with the basil-flavored olive oil.
Healthy Boat Snacks

Bringing healthy snacks on your boat is a must — if you wish to make the most of your day on the water. All of those boating activities, such as swimming or fishing, can work up an appetite. Tasty and nutritious snacks give you the energy you need to enjoy your boat and your company. Here are some tasty and healthy boat food ideas to keep you satiated and energized.
HIT THE WAVES POWER CRUNCH
Satisfy the hungry fun-seekers in your boat with an easy-to-toss-together snack mix. Our Hit the Waves Power Crunch is perfect for an energy boost between meals and fortifying the entire bunch for an afternoon of boating fun.
Ingredients:
Two 11 1/2-ounce bags mixed nuts
One 14-ounce bag M&M's plain chocolate candies
One 12-ounce bag seedless raisins
One 6-ounce bag dried sweetened cranberries
Directions:
In a large bowl, combine all ingredients and mix well. Spoon into a covered container.
FRUIT SALAD BOWL TO-GO
It's important to stay hydrated while you spend a day on your boat, especially if it's a hot day. One way to keep yourself feeling great is to enjoy a juicy snack. This recipe is easy to throw together the night before and grab as you head out the door.
Ingredients:
4 cups assorted fresh melon, cubed
1 pineapple, peeled and cubed
2 cups grapes
2 pints strawberries, quartered
1 tablespoon fresh-squeezed lemon juice
2 to 3 tablespoons honey
1 pint assorted fresh berries
Directions:
In a large bowl, gently mix the melons, pineapple, grapes and strawberries. Cover and refrigerate.
In a small bowl with a lid, mix the lemon juice and honey well. Refrigerate. Just before serving, pour the lemon-honey mixture over the fruit. Add the fresh berries and gently toss to combine the fruits and honey.
SPICY BLACK BEAN HUMMUS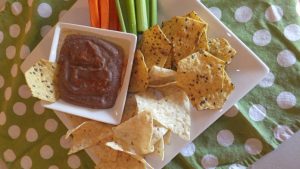 Packed with fiber and protein, hummus is a great choice for keeping your energy levels up. This hummus iscompletely tailorable to your preferences and has a different flavor compared to traditional hummus. You can make this as spicy or mellow as you'd like. Serve it with any chip, cracker or veggie you desire and be ready to enjoy a quick, delicious and healthy snack.
Ingredients:
One 15-ounce can of black beans, drained
3 garlic cloves, peeled
Juice of 2 lemons
1 1/2 tablespoons tahini
1 jalapeno, chopped
Dash crushed red pepper
Dash cumin
Salt, to taste
Sesame oil
Dash of cayenne pepper
Directions:
In a food processor, combine the first eight ingredients and puree until smooth. Transfer the mixture to a dish or container and drizzle with the sesame oil. Sprinkle ground red pepper on top. Serve with your favorite dippers, and you'll have some happy snackers.
Remember, you can add, omit or change any ingredient you want. Make this your own and have fun with it.
DEVILED EGGS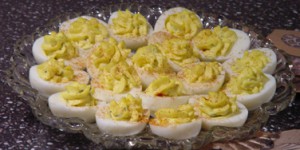 Eggs are low in calories and high in protein and other essential nutrients. One wayto enjoy an eggy snack is to whip up classic deviled eggs. Deviled eggs are as fun to eat as they are tasty and nutritious. You can prep these ahead of time and set them out for easy-to-grab bites.
Ingredients:
5 tablespoons mayonnaise
2 1/2 tablespoons sweet pickle relish
1/2 teaspoon Dijon mustard
1/8 teaspoon onion powder
Pinch garlic powder
Salt, to taste
Pepper, to taste
12 large hard-boiled eggs, peeled
Paprika, optional
Dill, optional
Directions:
In a mixing bowl, combine the mayonnaise, pickle relish, mustard, onion powder, garlic powder, salt and pepper. Slice the eggs in half, length-wise. Place the egg yolks into the mixing bowl. Lay the egg white halves on a platter. Smash the egg yolks with a fork and blend them into the mayonnaise mixture. Carefully spoon the mixture into the egg white halves. Sprinkle with paprika or dill weed, if desired.
Enjoy Cooking on Your Formula Boat

Are you looking for a comfortable, stylish and powerful boat where you can prepare your favorite foods while cruising with friends and family? If so, reach out to us at Formula, your premier boat builder.
Since 1956, we've been designing and producing world-renowned powerboats. It's our mission to build a boat you'll love with all the features you need, including an equipped galley. To learn more about building a personalized boat made especially for you, contact us at Formcula Boats today.
Do you already own a Formula and have a favorite boating recipe you'd like to share? If so, send us the recipe at info@formulaboats.com, and we'll add it to our blog.