It's a technological world and now there's an app for everything. You might not think there's one that can help you on the water boating, especially since water and technology don't always mix, but there are plenty. While connection on the water isn't always guaranteed, it's important to have some apps on your phone to help you plan your trip beforehand, log it afterwards or to use in the cases that you do have service. You can set alerts for unsafe conditions, track freighters, double-check your knot tying, find the best times for fishing or even communicate with other boaters. There's no end to the usefulness of boating apps.
Apps for Boaters

Applications can be useful to both the new and experienced boater or fisher. Plenty of the applications listed below offer similar features to one another. You might not be inclined to get every single one, but it also might be useful to download more than one from each category. To create the best boating experience, consider utilizing more than one of the apps and using them in a way that compliments one another, rather than choosing one and limiting yourself and your resources.
Here are some of the top apps that offer maps and navigational help, weather and safety, boating resources and fishing resources:
Here are some of the top apps that offer maps and navigational help, weather and safety, boating resources and fishing resources:
MAPS AND NAVIGATIONAL APPS
Knowing where you are and where you're going is one of the most important factors when boating. The following apps offer varying features to assist you:
Boating HD Marine & Lakes: This boating app from Navionics is a resource that helps you plan your open water trips while avoiding any hidden dangers along the way. The app contains features including nautical charts, real-time weather data, tide and current maps and depth awareness. It can also suggest safe routes when you plug in your starting location and destination.
iNavX: This app helps you with all your chart and marine navigation needs. iNavX has what they call a "chart store," where you can review and purchase a multitude of charts from varying providers. Its features include up-to-date boating conditions and route management. You can also discover fishing locations by viewing deep holes and inlets on the app.
Nebo: With this app, you can log your trips and share your journey with others, but with ease. Nebo will automate the task of logging for you. All you have to do is tap Start at the beginning of your voyage and it will create detailed boating logs including weather observations. During or after your trip, you can add photos.
Navionics: Navionics is one of the most popular boating apps on the market. It is a fully functioning GPS. It has access to all Navionics charts and NOAA raster charts.
MarineTraffic: This app tracks the real-time locations of all freighters and commercial vessels for you to view. You can click on any of the boats on the chart and the app will open a page of detailed information and photos of the vessel. It will give you information like where it's headed and its speed and direction. If you're near major ports and shipping routes, this can show you a safe place to anchor your boat or a safer route so you avoid the larger boats.
KnowWake: Join a community of boaters with this app. It's used across North America, Canada, parts of the Caribbean, Australia and New Zealand. It offers GPS and navigation with real-time boaters. You can use the app to find and explore places like local restaurants, fuel docks, boat ramps, dive shops, inlets, dive sites and snorkel areas.
C-Map Embark: This app prides itself on being simple and easy to use. It will take you only mere seconds to navigate the application, using it for your water navigational tasks.
SeaPilot: SeaPilot is a very comprehensive navigation app. It allows you to connect with peers through a Facebook integration. They will be displayed on your charts, creating an ease of finding others on the waters. It also offers polar diagrams for over 300 different boats, which you can use to determine an ideal path with wind and current forecasts in mind.
These apps range from simple for quick use to extensive for in-depth knowledge. No matter your reason for wanting a navigational app, you'll find the perfect one for you in the list above.
WEATHER AND SAFETY APPS

Maybe the navigational apps aren't for you because you might prefer the printed, tangible charts. But there's no such thing as too much safety advice or precautions. Safety is of the utmost importance when on the water. These apps will help you ensure you and your passengers stay safe:
NOAA Buoys Live Marine Weather: Using over 500 weather buoys around the globe, NOAA Buoys Live Marine Weather shows real-time weather. You can also search your current location or along your route to monitor conditions, wind speed, wave height and direction and water temperatures.
United States Coast Guard: No longer question if you're following boating laws and regulations with this app. It gives you constant access to commonly requested information and resources, safety information, boating laws and requirements and navigational guides. More importantly, the app allows you to contact the Coast Guard in the case of an emergency.
Marine Weather Forecast Pro: Real-time NOAA buoy data, swell trends and graphs, tide graphs and forecasts, wave watch swell models and navigation charts all make this app useful. It also allows users to share detailed weather discussions with one another.
Anchor Watch/Alarm: Anchor drag can be very dangerous. This app creates a "circle of protection" around your anchored boat. You can choose the proximity and if you were to drift to the edge of your designation, an alarm will sound and alert you of the dragging.
PredictWind: PredictWind offers features like forecasting models, weather routing, departure planning and forecast alerts. It utilizes over 20,000 stations around the globe.
Tide Alert (NOAA): Using data provided by NOAA, the app shows you tide forecast data and a moon phases calendar. You can also set up alerts for high tides and low tides.
BoatUS: Like the other apps on the list, BoatUS offers general data like tides, weather forecasts and alerts. But what makes it stand out from the rest is the ability to call 24/7 for towing. This is essential in any case that you get stuck on the ocean. Since the app also uses location services, the dispatchers will be able to immediately know your location to get you the help you need.
Weather Channel: This app may seem like a given, but it's still important to list and keep in mind when planning boating trips. It allows you to view the same in-depth forecasts, weather maps and radar that's available on the channel itself.
WeatherBug: Offering a range of weather data, this app is a must. It also will alert you for lightning and severe weather so that you can stay up-to-date and aware.
When out and enjoying your time, it can be easy to get caught up in a moment. You might forget to consistently check for weather updates. That's why it's important to utilize the apps that offer alerts. Even if you aren't currently checking the app, you'll be aware if there's a change in tide or weather. Knowing as soon as possible only elevates your safety.
BOATING RESOURCE APPS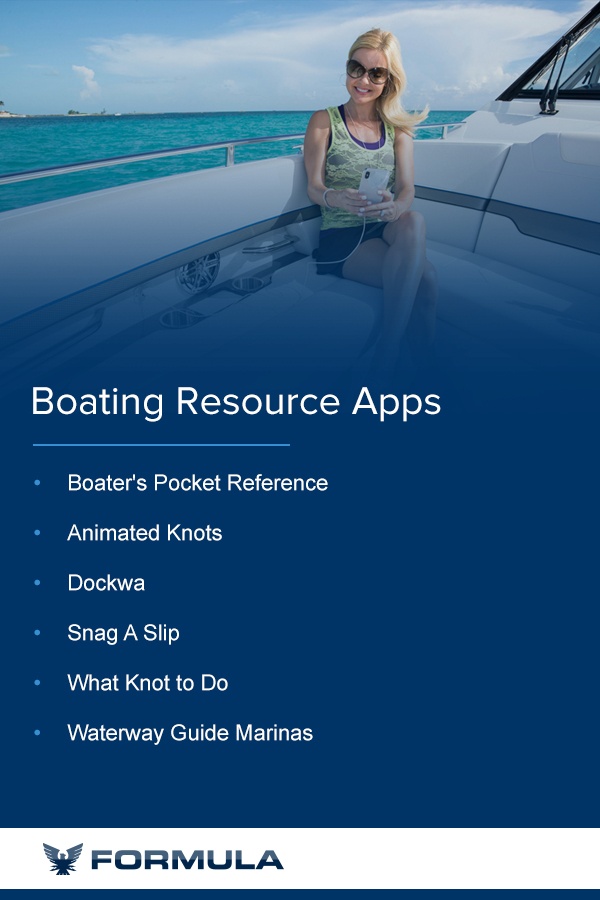 From knot tying to marina finding, there's a lot of work that goes along with boating. Here are apps that will help you track down and reserve slips, remember your knots and more:
Boater's Pocket Reference: This application contains pages upon pages of useful boating information. It can act as a learning guide for those newer to the waters but also as a good reference for experienced boaters. There are over 100 different boating-related calculators for any occasion.
Animated Knots: As any boater knows, knot tying is essential. An incorrectly tied knot can be detrimental to the boat or her passengers. While this app is more expensive than other knot resources, it is much more comprehensive and includes step by step photo animations of how to tie the knots. It's easy to use and makes it easy to learn.
Dockwa: With Dockwa, you can reserve slips or moorings at marinas, yacht clubs and boatyards all over the country. You'll no longer need to spend hours researching and reaching out to different marinas to try to reserve a slip. On the app, you'll be able to compare rates, amenities and services.
Snag A Slip: Like Dockwa, this app helps you find and reserve spots in marinas. However, this application covers more area with options from Canada to the Caribbean. There's no additional fees for booking in-app. Snag A Slip also offers price match guarantee, so you're ensured to find the best prices.
What Knot to Do: This is another knot-tying application. It contains 70 must-know knots with illustrated examples.
Waterway Guide Marinas: Waterway is another marina-finding app. It lists over 3,700 marinas and boatyards nationwide. You can find which have transient slips, what channel they monitor on the VHF, their approach depth and other information that will be helpful if you're boating in unfamiliar areas.
It might be best if you use most if not all of the apps in this section. You can never have too many resources, especially when it comes to something as important as knot tying. But it can also save you time and money to have more than one. Consider that you use Snag A Slip and Dockwa, for example. The prior guarantees price matches. Maybe you see a deal you like on Dockwa, but would prefer to use Snag A Slip for either ease of use or the larger destination range. By having both, you'll be able to get the most out of your efforts and money.
FISHING APPS
Fishing requires patience. Everyone knows that, but why not take some precautious and initiative that will help ensure that you're bound to make a catch. The following apps offer plenty of fishing resources:
Fishbrain: Join the millions that use this app to explore catch positions, research fishing forecasts, log catches, see what baits work best and share pictures. The angler social network also provides you with resources that will allow you to quickly find fish.
FishWeather: With FishWeather, you can monitor and analyze real-time wind data that uses over 50,000 weather stations around the world. It also offers tide reports, radar maps, water temperatures, nautical charts and user reports from other fishers — all key information to know when scouting for fish.
Fish Rules: Stay in the know on freshwater and saltwater fishing regulations across the country with this app. It uses your location to inform you on keeper limits, size regulations and if a specific species of fish is in season.
FishAngler: This app is great for fishers of all experience levels. It is another networking app that allows you to share experiences with others. You can explore new locations, find hot spots, record catches, meet other anglers and use detailed forecasting models to help plan your trips.
FishTrack: Offering information like sea surface temperatures, tide and current information, bathymetry data, moon phases and weather, this app is a good baseline to use when fishing.
Terrafin: You can download charts, view surface temperatures, set waypoints, get bearings and distances, look at altimetry and chlorophyll charts, all with Terrafin.
Fishing Deluxe: Fishing Deluxe tells you the best time of day for optimal fishing. The app calculates the times by using the solunar tables, which are based on moon positions and tides. You'll never need to wonder if you're leaving at a decent time or not again.
Whether you want to fish alone or to make friends with other local fishers, these apps will help you find the best locations, times and information that you'll need. Using these apps can make your next fishing trip all the more relaxing.
Design Your Own Boat with Formula Boats
Maybe you don't have the space on your phone for the apps above or you don't want to have to rely on the internet when you aren't always guaranteed connection on the water. Instead, you can look into boats that offer technology built into their helms. Companies like Formula Boats offer a variety of technological additions. Formula's mission is to provide a fun but safe boating experience to bring people closer together.
On their site, they offer you the chance to build your own boat. You can choose the distinct features and technology that you want included for the best experience and end result. Formula knows that a boat is a big investment, so they want to provide you one that fits your specific wants and needs. They even have a program, FormulaFlex MyWay that allows you to request special electronics that aren't regularly offered by Formula. They use the highest quality of materials for the best look, ability and safety.
Here are just some of the areas that you can customize on your boat:
Hull and outboard
Upholstery and cabin interior
Electronics and helm layout
If you want a boat perfect for your needs and one that offers plenty of safety features and resources like the ones listed in the apps above, go design yours on Formula Boats today.