According to the National Marine Manufacturers Association (NMMA), 95% of all Americans live within an hour's drive of a navigable body of water. If you're in the market for a boat, chances are you're searching for one because you're interested in entertaining or relaxing on the water, participating in water sports or fishing. Bowrider boats are versatile and give you the opportunity to do all three. While additional equipment or a certain package may be necessary to tailor a bowrider boat to your specific boating needs, it's capable of providing you with several different experiences on the water.

Tips for Buying a Bowrider Boat: Features
Once you've decided on a bowrider boat, there are still plenty of options to consider, as there are several different manufacturers, models, styles and features that are available. Before you start browsing for your dream bowrider, the first step is assessing what you need. It's time to dive into features, like seating, cockpit design, storage, safety, entertainment accessories and watersports customizations. Once you have an idea of what features you want, it's time to shift your focus to the purchase – manufacturers and models, dealers, budget, new vs. used and dealership vs. private sale.
1. CONSIDER THE AMOUNT OF SEATING YOU WANT
Regardless of what you're going to be using your bowrider for, chances are you're going to want some kind of seating. The number of seats you need will likely depend on your intended use. In bowriders, you will have seating either in the bow (front) or the aft (back). Often, modular seating offers some flexibility in the amount and type of seats available in each model.
If the bowrider is going to be primarily for you and just a couple of family members or friends, a smaller boat should be able to accommodate your needs. However, if you anticipate entertaining several family members and friends, you want to make sure that both the bow and aft are going to be spacious enough for a day of entertaining on the water.
2. REFLECT ON YOUR IDEAL AMOUNT OF STOWAGE
One of the best questions to ask when you're considering a boat purchase deals with what you plan to take on the vessel and where you're going to put it. Whether you need enough room to store life jackets for the whole family or space for food, drinks and watersports accessories, make sure you give that some thought and consider it when you're looking into different models and features.
3. DON'T NEGLECT THE COCKPIT
The cockpit isn't one of the first things that come to mind, but it plays a crucial role in how comfortable you are as you cruise in your bowrider. Consider the finish of the screen and dash – is the screen tinted? The dash matte? The last thing you want is to be squinting when you take your boat out in the sun. What about the helm – does it come with a seat bolster to support your back and arms while you pilot your boat? Angled foot braces are another useful feature.
4. LOOK FOR GRAB HANDLES
Regardless of what model you choose, it will have grab handles. The amount and location may vary by design, so it's important to remember to look for them. You'll be picking up speed, slowing down and turning on the water – all of which may require sudden movements. Making sure you and your passengers have something to hold onto is necessary for the safety of everyone on board.
5. DETERMINE IF YOU WANT A WATERSPORTS PACKAGE
Some bowrider models will come with a standard watersports package, but if you find your perfect model and that isn't included, you can usually add it. However, if that's something you want, there are a few things to take into consideration.
For example, you're going to need to have the horsepower to support pulling a water ski, water board, tube, etc. In addition to horsepower, you're going to need a wakeboard tower, or something similar, to connect your rope to. You may also want additional storage space for your watersports accessories. Make sure you take all of this into considering when buying a bowrider for watersports.
6. DECIDE WHICH PARTY FEATURES ARE NOT NEGOTIABLE
Of course, your mind races with the thought of premier features like speakers and deck lights to take your party out on the water, but don't forget to look into the number of cup holders and the amount of storage you have too.
The flashy features come to mind first, but without a good number of seats and cup holders, your guests may end up frustrated. Often the seating in bowriders is modular and somewhat flexible, but make sure that if you want guests to be able to spread out in the bow that they have plenty of room to do so. Some models come with a small table too. Whatever you do, just make sure you decide which entertainment features are a must.
Bowrider Models That Fit the Bill
Once you've determined what the primary use for your bowrider will be and have given some extra thought to the features you'd like to have, it's time to take a look at what models of bowriders are best for you.
At Formula Boats, we offer four models of bowriders. All come with different standard specifications and features, with the opportunity to customize each model based on your needs. While all manufacturers offer models that are a little different, these descriptions should give you a rough idea of the combination of features that are available on standard models.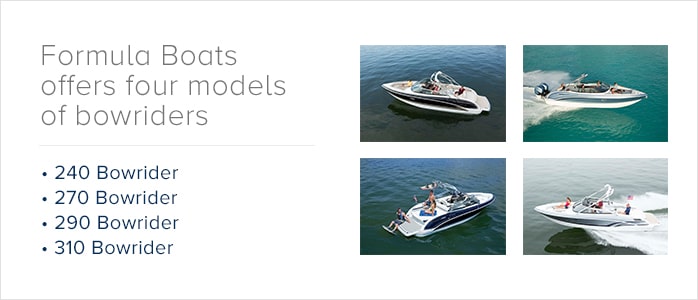 FOR THE WATERSPORTS ENTHUSIAST
The 240 Bowrider by Formula is a perfect solution for you if you're a watersports enthusiast. This model comes standard with some key features, like a swim platform and a sports razor tower. The swim platform comes with a stainless swim ladder and a waterproof transom-mounted stereo control and grab rail with tow eye. Take it up a notch and add the Transom shower and water system for the ultimate package. The sports Razor tower turns your boat into a water sports vessel with two rotating board racks, LED anchor light/swivel-head rope mount, two halogen tower lights, two quick-release speakers and a three-lens mirror.
FOR THE ENTERTAINER
Formula's 270 Bowrider has the style and amenities of larger models with the family-friendly design of smaller models. This model incorporates ultimate convertibility. Modular seating and extra storage make this model perfect for those interested in entertaining on the water all day long.
Standard specifications include:
Length: 27 feet
Horsepower: 300-430
Fuel Capacity: 101 gallons
Bridge Clearance: 5 feet
Deadrise: 22 degrees
If you're interested in having more space for your day with family and friends on the water, consider Formula's 290 Bowrider. The bow section of this bowrider also features the modular bow seating but comes with an additional perk – a cockpit table that can be used to transform the bow from sunbathing lounge to a dinette. This model also features its mini bathroom in a large, private head compartment – complete with a 23-gallon holding tank, dockside pump-out and a molded vanity with sink and faucet. Finally, this bowrider features the ultimate aft sun lounge for your family and friends.
Standard specifications include:
Length: 29 feet
Fuel Capacity: 112 gallons
Bridge Clearance: 5 feet 10 inches
Deadrise: 22 degrees
Standard specifications include:
Length: 24 feet
LOA with Extended Swim Platform: 25 feet 4 inches
Horsepower: 260-425
Fuel Capacity: 55 gallons
Bridge Clearance (with sports razor tower): 8 feet 3 inches
Deadrise: 20 degrees
ULTIMATE ENTERTAINER AND WATERSPORTS ENTHUSIAST
The Formula Bowrider 310 is the ultimate luxury sports boat. It includes everything you need to entertain and to take on your favorite watersports, with room to spare. You'll have spacious seating, wet bar dry storage, an impressive navigation system and more.
Standard specifications include:
Length: 31 feet
Horsepower: Twin 190 – twin 320
Fuel Capacity: 130 gallons
Bridge Clearance: 6 feet
Deadrise: 22 degrees
Tips for Buying a Bowrider Boat: Research and Purchase
Once you're confident you have a list of features you want to have in your bowrider, it's time to focus on the specifics you need to know as you browse what's available and begin to talk to dealers. Here are some of the most important tips for buying a bowrider boat.
1. EDUCATE YOURSELF ON THE PERFORMANCE AND CONSTRUCTION DETAILS
Not all bowrider boats are created equal. One of the most important tips for buying a bowrider boat is to educate yourself on horsepower and construction details. When it comes to horsepower, know what you need. There isn't one amount of power that works for everyone, but if you're going to be hauling lots of people or watersports, you're going to want to increase your horsepower.
Construction materials and composition are equally important. You should know the difference between vinyl ester, polyester and epoxy/vinyl ester construction processes and how that affects quality. Ask for details about barrier coats, upholstery materials and stitching, seat foams and other materials used in the boat.
Hull design affects how the boat rides, so make sure you know what to look for and can test it out to make sure it cruises the way you'd like. You also want to ensure you know the details for hauling the boat — tire size, trailer frame size, brakes, additional support, etc.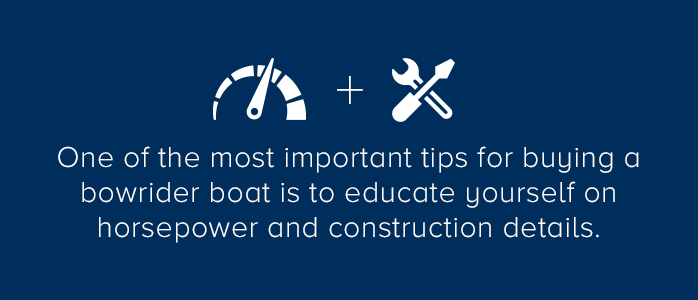 2. RESEARCH BOAT COMPANIES AND DEALERS
These examples are all from Formula, but how do you choose a manufacturer and a dealer? Does the company behind your boat matter? And what about the dealer who sells you the boat? The answer to both is yes. Here's why – choosing a boat company that is financially stable can assure you that the quality of the boats will be superior. Think about it – if a company isn't doing well financially, they're going to need to cut corners somewhere, and you don't want to purchase a boat that's been the victim of that corner cutting.
When it comes to dealers, you want to make sure you're working with a business that you can trust. While we encourage you to do your research and educate yourself, it's still beneficial to be able to have a dealer you can use as a resource. How do you know if you've found a dealer that's worthy? Look into their reputation and the number of years they've been in business. If you can, look into the owners and the staff. Are they experienced boaters? While this isn't a requirement, it's helpful to have a fellow boating enthusiast to talk to about this big purchase.
3. TAKE A COMPREHENSIVE LOOK AT YOUR BOAT BUDGET
Unless you have access to unlimited funds, deciding to buy a boat involves working within a budget. Yes, the cost of the boat itself is a big part of the budget, but to consider insurance and maintenance costs.
The cost of insurance will vary depending on the boat length and type, cost and level of coverage. You may be able to have it insured as a rider on your homeowner's insurance policy, and you may be able to decrease the premium by taking a boater's education course. Regardless, make sure you talk to an insurance company and have an estimate of what it's going to cost to insure the boat.
You should also include maintenance in your budget. Costs vary depending upon your location, but you can expect to pay an hourly rate similar to what you pay for your car when it comes to routine maintenance like oil changes and winterizing. It's also important to remember that while the initial investment for purchasing a pre-owned boat may be less, the maintenance costs over time could be significantly more.
In addition to maintaining the boat itself, transporting it also comes with costs whether you purchase a trailer or just need to factor in an increase in your gas budget to cover hauling it. You'll also need to determine a plan for storage. Even if you don't rent a space to keep your boat, you'll want to invest in a cover to protect it from the elements.
4. DECIDE WHETHER YOU'LL BUY NEW OR USED
When you're deciding whether to buy new or used, you should consider lifespan and use. A well-built bowrider used in fresh water can expect a lifespan of between 20-25 years.
Regardless of how good the boat looks on the outside, the reality is it's unlikely to survive any longer — there's a reason you don't usually see dealers offering warranties on used bowriders. In addition to knowing the lifespan, it's important to know that boats used in salt water are going to suffer structural damage.
Knowing both of those factors, buying a used bowrider usually doesn't make much sense. Unless you can confirm with 100% certainty that the boat has had one owner who never used it in salt water and you don't mind the risks involved with the age, chances are you're going to want to purchase a new boat.

5. DETERMINE WHETHER YOU WANT A DEALERSHIP OR PRIVATE SALE
Regardless of whether you choose new or used, you're going to have to decide whether to purchase from a dealer or a private sale either in person or online. Private sales through websites can be convenient and come at a lower cost but with that lower cost, comes a higher risk.
Regardless of whether you purchase new or used, dealerships have legal obligations to you as a purchaser. A dealership is expected to inspect the boat and either make repairs to get it into better condition or meticulously layout the "as-is" condition so that you know precisely what you're purchasing. In addition to that, you can be confident in the paperwork that is required, as neglect in any of these areas by a dealership could have legal ramifications.
Private sellers, on the other hand, do not have any of these obligations, hence the higher risk.

Formula Boats
Formula Boats has been in business in Decatur, Indiana for over forty years and is owned and managed by a family of lifelong boaters. All of our boats are world-renowned for their beautiful style, advanced engineering and exhilarating performance on the water. To learn more about the bowriders we have available, contact us.