Day 1: June 14, 2015
What started out as a beautiful morning took a turn for the unexpected. The day began unusually perfect. Everyone was up and at breakfast preparing for our journey to Bimini from North Miami. We all were on our way on time and excited for the days to come. We headed to the marina and waited for the local models and safety crew to join us – all were on time but one. We quickly learned we were down a model, but not to fear; all the girls knew to bring extra clothes, so we worked out a new plan and had everything covered.
After that mess was cleared up we hopped on our Formulas, untied and headed out for Haulover Cut. We were expecting 2-3 footers for our 310 Bowrider, 310 Sun Sport, 370 Super Sport, 37 Performance Cruiser and the magnificent 45 Yacht. The sea expectation was quickly surpassed and not in a pleasant way. Most of us have seen way worse, but it is always interesting when a two-hour ride turns into a four-hour trip. Nonetheless we all safely arrived at the Bimini Sands Resort on South Bimini. A little exhausted from the 5-6 foot-waves (nothing a Formula can't handle); however, we prepped and were ready for some action.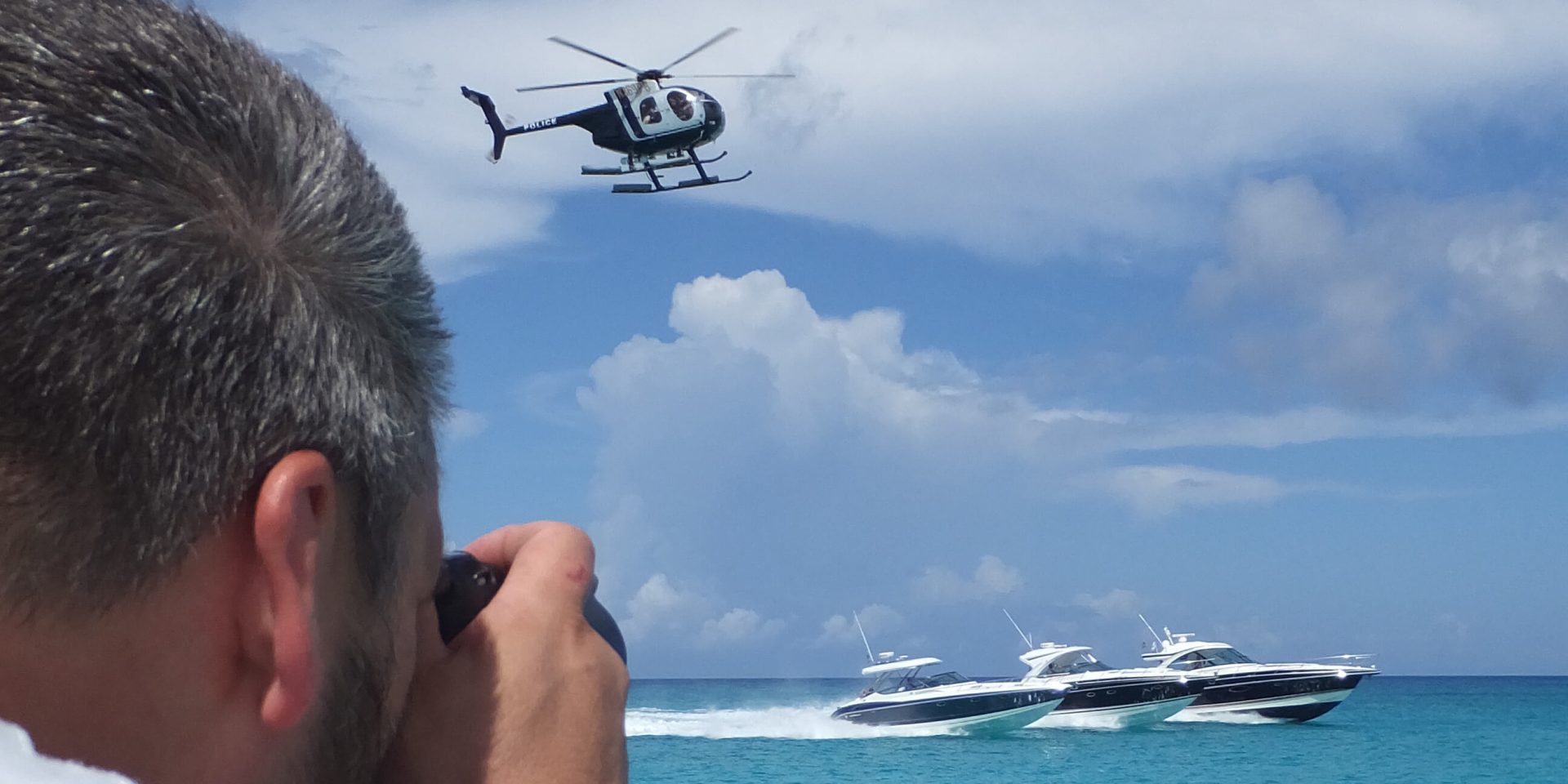 After clearing customs, we ate lunch and hit the water running. Between unloading and cleaning the boats, our dock crew was overworked. The models and photographers geared up for appointment shots on the water and difference shots on the dock. We had a successful day one, despite the rough ride over and a later than normal start.
To top off day one, we decided to try for some sunset shots. What a beautiful site we encountered! We were blessed with one of the most gorgeous sunsets we had ever seen in the Bahamas – a nod to our hard work for the day and a sign of to the perfect photo shoot to come. Dinner followed the sunset and we all went to bed exhausted.
Day 2: June 15, 2016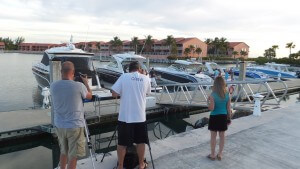 The first full day always seems the hardest. Day two keeps you on your toes the whole time. This day was full of appointments and difference shots. We shot the 310 SS and the 37 PC simultaneously after getting a few early morning difference shots at the dock. Appointment shots take a few hours at least, so it's always interesting when you are on a boat without a hardtop in the Bimini heat. By the time we were done with the boats it was time to grab lunch. We always bring someone to cook for us to keep the crew nourished and energized, and the meals are amazing!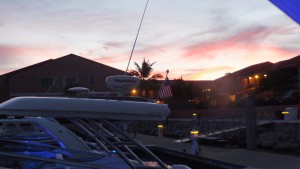 The afternoon was appointments on the 370 SS and many, many difference shots on the dock. We shoot every nook and cranny of the boats; every logo, every curve and every angle it seems. But it never fails that people ask for those particular photos, so we try our hardest to deliver. We are so grateful to our photographers for being awesome and so easy to work with.
We always have evening shots planned. We usually don't get them all. You just never know what kind of weather you will get in the Bahamas in June. This night we had as a dock party scene planned. Everyone has so much fun getting all dressed up for the dock party scene shots, and dousing themselves in bug spray. The no-see-ums love to hang with us when we are there! Dinner followed after and we wrapped up day two around 9:30 pm..
Day 3: June 16, 2015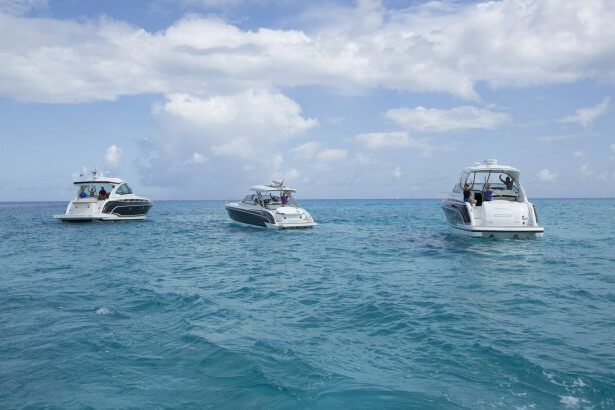 Chopper day! We all awoke early to get a few more morning difference shots in at the dock. We then awaited the arrival of the "World's Greatest Helicopter Pilot," and there is seriously no one better than him for what we want. As soon as Paul Barth lands we hit the road – or sky – running. We shot both 310's individually for stills and video and then ran them together in a mini formation. After that we broke for lunch and hit it again as soon as we possibly could. The 370 SS and 37 PC finished up our day of helicopter runs. This really is an awesome thing to witness and be a part of. All the while that the helicopter was running, you guessed it: difference shots at the dock were taking place. Someday we really need to total up the number of images captured over the whirlwind trip.
That evening we gave the models a break while the Formula crew and photographers worked to get the dash shots and blue LED shots at dusk on the dock. The LED lights are so pretty and gleam off the dock at night.
Dinner and bed were about all anyone could think of after this long day. These days build up appetites and bring on some deep sleep.
Day 4: June 17, 2015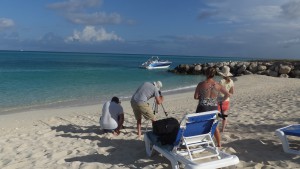 This day consisted of finishing up any chopper running shots and lifestyles. It started with the 310 Bowrider lifestyle. Weather was quickly moving in, but we got some great shots. We ran three boats for our formation poster shot and called a wrap for the helicopter. As sad as we were to see the "World's Greatest Helicopter Pilot" go – we all knew the end was near, so we rejoiced just a little.
Lunch finished up the morning hours and we headed to finish all the lifestyle shots we needed for the 370 SS, 310 SS and 37 PC. First up were the Sun Sport and Super Sport. We found prefect houses that complimented the boats and knocked those out in perfect time. Then we all headed back to base and shot the 37 PC in front of the fuel dock with talent and local Bimini employees joining in.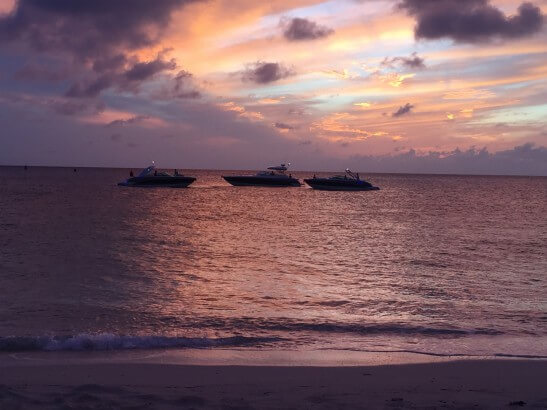 It was almost 4:00 pm when we finished the last lifestyle shot. Now came the make or break moment. Do we think of another shot to eat up a few more hours or do we call it a wrap for the whole shoot? After a few seconds, a wrap was called! Everyone was so excited to get an evening off. We all headed to the infinity pool before dinner to cool off and enjoy each other's company. What a perfect way to end an outstanding model year 2016 photo shoot.
Day 5: June 18, 2015
It never fails that we leave earlier and earlier each year. After a few days in the sun and non-stop running around you just want a break. Our trusty leaders just laugh at our wants. We all woke up extra early, got some breakfast and hopped on the boats. We were all ready to be home and sleep in our own beds.
Our trip back to the states was a complete 180 from the trip over. We had such a smooth, quick ride. It was the perfect way to end our time on the boats. After docking, unloading and reporting our arrival, the local Florida crew headed home (luckies). The rest of us grabbed some lunch and prepared for our return flights home that afternoon. Talk about a long day and three ways of travel for most of us. Boats, planes and automobiles. Everyone made it happily home that night.
———————–
Formula wants to thank everyone who participated in any way on our photo shoot. It is a big collaboration and takes so much coordinating and teamwork to get it done. Each year we are so thankful for safe and fun shoots. The friendships forged and memories make all the hard work worth it.