If you're looking into buying a new boat, you may feel unsure where to start — especially if it's your first time. One way to help give yourself peace of mind when getting a boat is to buy from a dealer. Dealership purchases can bring a lot of benefits, the same way they can for a new car. It's useful to know what boat dealers have to offer and how to tell if a dealer is right for you.
Benefits of Working With a Boat Dealer
You have a handful of options for how to buy a boat. Buying online or from a private seller is a possibility, but it may not be as beneficial as buying from a dealer. This is because buying online or privately leaves you completely on your own once you've made the purchase, with no guarantee that your boat will be as high-quality as the seller claims.
Dealers, on the other hand, provide you with a greater sense of security and continue to work with you long after you make the purchase. Here are a few of the benefits they offer:
1. Warranties
Boat warranties are typically offered by the manufacturer, not the dealer. However, dealers often provide the necessary repair services at their shop to take care of anything covered in your manufacturing warranty. So if you buy your boat through a dealer, that dealer will likely offer repairs covered by the warranty in the future.
Compare this arrangement with buying a boat from a private seller. Under those conditions, you're only getting the boat — there's no warranty and no offer of repairs down the road. If the boat turns out to be in bad shape once you buy it, it's your responsibility to fix it. In contrast, dealers can provide security on future problems you might encounter with your boat.
2. Boat Knowledge
Another difference between dealers and private sellers is that private sellers may not have advanced knowledge of the boat they're selling you. A seller may not deliberately sell you a malfunctioning boat, but the boat could have an issue they are not aware of. If you don't have the boat knowledge to catch the problem either, you could end up throwing away money on a faulty product.
Boat dealers are equipped with plenty of boat knowledge. They can verify there aren't any issues with the boat you buy and can also help you figure out which boat is the best fit for you.
3. General Assistance
One of the best qualities of good dealerships is that they aren't just there for you when you purchase the boat. Instead, they remain with you throughout your ownership of the boat, providing assistance where they can. Some of this assistance ties back to the previous two points — they'll often provide the necessary repairs and will be happy to answer any boat-related questions you may have.
Boat dealers may also provide other services. For one, they can help you determine a suitable financing option for your purchase. Many dealers will also provide transportation for boat deliveries and pick-ups, so you're not left trying to figure out how to get your boat home if you don't have a trailer.
Things to Look for in a Boat Dealer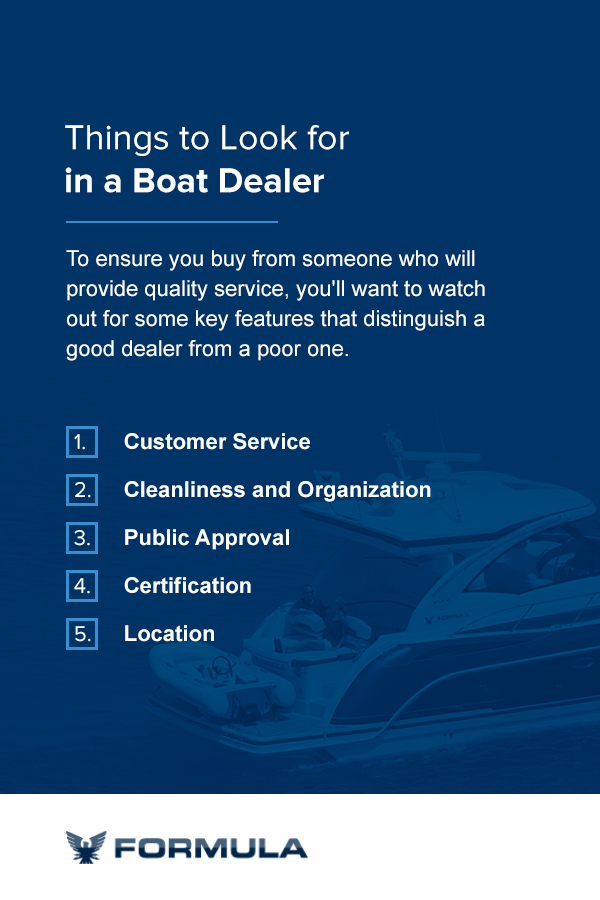 There's no question that buying from a dealer is better than going to a private seller. But not all dealers offer the same level of high-quality service you need. Even if you choose a boat dealer, choosing the wrong one can make your experience less enjoyable.
To ensure you buy from someone who will provide quality service, you'll want to watch out for some key features that distinguish a good dealer from a poor one. Here are a few of the main factors to look for:
1. Customer Service
Customer service is one of the first indicators of a dealer's quality. If a dealer is willing to take the time to show genuine interest in you and provide a friendly and caring boat-buying experience, it shows the kind of service you can expect to receive down the road. Disinterest and indifference tell you right from the start that any future interactions you have with the dealer probably won't be very positive.
This element can manifest in a few different ways. When you arrive at the dealership, see how long they keep you waiting. The sooner a representative approaches you and starts the process, the higher a rating they deserve from you. Of course, it's impossible to expect that a good dealer will always be able to get you started the second you walk in the door. They'll have other people to take care of as well. But if no one acknowledges you after you've been there for a while, something's definitely off.
The same is true of phone and email service. It's understandable that a dealer may not be able to pick up the phone each time it rings. But if you call or email them and they do not get back to you, they're probably not someone you want to entrust your boating experience to.
2. Cleanliness and Organization
When you choose a dealer, you want someone who will set you up with a boat that's in good shape and will be able to help you maintain that boat's condition over the years. So if a dealer can't maintain the condition of their own premises, it's a major warning sign.
When you arrive at a dealership, take a look at your surroundings. Does the building seem clean? Is everything well-organized? Do the boats look pristine and marketable? If the answer to all of these is yes, that's another check mark in favor of the dealer.
If you answer no to any of those questions, you may want to look for another dealer. If the building is unkempt, the tools and materials are scattered about, and the boats are dirty and visually unappealing, it means you probably can't expect the best service on your boat in the future.
It's also worth noting the representatives and how they carry themselves. If they appear clean and professional, they'll likely show your boat the same service. Disheveled employees, on the other hand, often indicate the opposite.
3. Public Approval
You can determine a certain amount of information about a dealer from your observation, but these are ultimately just predictions. It's possible that a disorganized dealership actually provides great customer service, or that a dealership may not respond to your email because of a technology issue rather than negligence.
If you really want to know what kind of service a dealer will provide, look at the service they've already provided to other people. Hearing from past customers is a great way to learn what you can expect from a dealer. You can do this in a few ways. One way is to look at online reviews. As with most online reviews, there will probably be a few outliers in both directions. But if the vast majority of customers seem to love the dealer — or disapprove of them — it's likely a safe bet that you will too.
Alternatively, you can ask the dealership for customer references. If the dealer has happy customers, they'll probably be quick to provide you with some references. If they seem hesitant to do so, it could be because they're not sure what their references will say. That's a sign you might be better off elsewhere.
You may even be able to find some references on your own, if you know anyone who has purchased a boat from that dealer before. You can choose to start your search this way — there's no point in looking at several different dealers if your friend can point you to a great one from the start.
4. Certification
Another indication that a dealership is trustworthy is if they have any notable certifications or accolades. In particular, it's a great idea to try finding a boat dealer that's Marine Industry Certified. To achieve this certification, dealers must pledge to commit themselves to many of the things already discussed, such as quality customer service. Retaining the certification shows that they live by that pledge.
Other accolades are helpful as well. These could take various forms, but the most important thing to know is that the more awards a dealership has, the better they probably are. That isn't to say that a dealer is bad if they're not loaded with accolades. Having awards simply provides you with extra assurance that they're as good as they say they are.
5. Location
An essential factor in your choice of dealer is where they're located. A dealer may have a flawless reputation, customer service, organization and certification, but if they're not located anywhere near you, they're not a good choice.
Your dealer needs to be located nearby so you can visit when you need to and easily transport your boat between the dealership and your home when it needs repairs. Make sure you're not getting caught up visiting dealerships outside a comfortable geographical range — stick to those close by.
About Our Dealer Network
If you're not sure where to start looking for a dealer, Formula Boats has you covered. We keep a listing of dealers all across the country to help you see where they're located easily. To take a look at the dealers in your area, visit our dealer locator tool and type in where you live. Depending on your location, you may have to widen your search radius accordingly.
Formula Boats is a family-owned company based in Decatur, Indiana. We manufacture top-quality boats with a reputation for advanced engineering and stellar visual design, honed over the course of 65 years of premier production. Our products range from sport boats to yachts to performance cruisers.
Because of Formula's quality and reputation, our boats are offered by an impressive number of dealers. You can find them at dealerships throughout the United States, from New York to Los Angeles to the Missouri Ozarks.
These dealers typically fit into one or more of three categories — sales, service and factory showrooms.
Sales

Sales dealerships are those that sell Formula boats. These locations are where you should go to select a new boat, finalize the purchase and have it brought to your home. When it comes to evaluating dealers by the criteria provided above, these are usually the best locations to visit, since it's where you'll actually be getting your boat.
Note that the different dealer categories are not mutually exclusive. Many locations that sell boats will also service them. To find this information in the dealer locator tool, scroll down below the map once you've done a search, and read the description of each result.
Service
Service dealerships are by far the most common in most areas of the country. Boats are bought once but serviced many different times, so more service locations are required to accommodate the number of customers.
These dealerships are where you should visit to get repairs on your boat after you purchase it. Note that you may visit a different dealership for service than where you bought the boat to start with. Many dealer locations are service-only. On the other hand, if you bought your boat from a nearby dealer that handles both sales and service, the situation may be different.
Factory Showrooms
The third dealership category is factory showrooms. These locations have grown in prominence in recent years. They exist to show off a wide range of boat types, as well as how they're made. The benefits of this format apply to both dealers and customers. Instead of stocking multiple copies of each boat type at the location, only one of each type is needed, which means there's room for a greater variety of boats.
As a customer, you can also see boats in the process of being made, allowing you to develop greater confidence in the manufacturing quality. If you find a boat you like at a showroom, you may be able to buy it there, or you may have to travel to another location where that boat is stocked. Either way, showrooms offer you a unique chance to see a greater variety of boats and the way they're made.
Get Your Formula Boat Today
Once you've chosen the right dealer, it's time to begin a new search — this time to choose the right boat. If you tell your dealer you're looking for a Formula boat, they'll be happy to point you in the right direction, and doing so can help streamline the process. With a professional dealer and a quality boat, you'll be able to head home knowing you're in qualified hands on all fronts.
For questions about Formula boats or the dealers who offer them, get in touch with us today and we'll be happy to help.