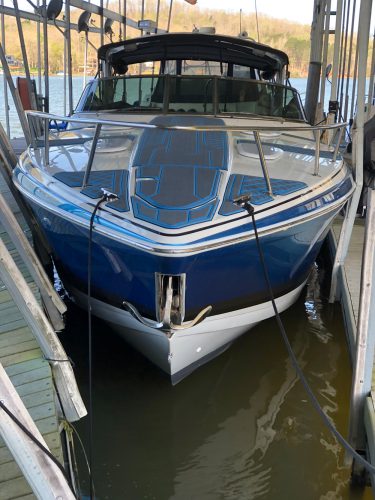 I've had the pleasure of building boats in factories and working for myself combined for over the last 20 years. Working in factories such as Sea Ray boats, Malibu boats…etc, Gives me an upper hand on how to Place value in the integrity of how a boat is built, the company that builds it, and the people building those boats. Along with that comes the people who own the company, whether they be privately owned or corporation. During my boat journey over the years I have owned and built several boats ranging from small ski boats to cabin cruisers.
Owning my own boat repair business for the last 12 years and doing it also on the side when I was working for Factory's has allowed me to see the incredible detail and/or the horrible workmanship between boat manufacturers all makes and models.
Seems like a lot of people just want a big boat for what it is, twin engines, a bedroom, bathroom, kitchen, a way to escape and maybe spend the night in a cove for a weekend. A lot of people don't give a second thought to what brand it is, if the price is right they just buy it and use it, only then realizing the little nooks and crannies of what they do and don't like about it and either upgrade or sell out and buy an RV?
Bear with me, I have a point to all of this….
I had the opportunity several years ago to purchase a 2002 Formula 400 SS. The poor thing was sun-dried and beat up from being in the Destin Florida sunshine, the seats were hard as a rock, cracks would pinch the back of your legs, the insides side walls and the outside for the most part we're oxidized to the point of chalk. But here I stood with an opportunity to purchase what was supposedly One of the best built boats in the Powerboat/cruiser categories. Although she was rough, I was up for the job, knowing that I take Boats and basically make them great again in my shop. I know what this boat could look like, after all they still built the same boat at the factory and I saw with the interiors the floors and The paint jobs looked like so I could envision what I could do with mine once I bought it.
That being said, I set out to go tour the factory to see just how these boats were built. Looking around my personal boat and seeing everything that a boat builder should do, put into this formula, was very pleasing to me. From the well-built transom and sturdy stringers to the stepped hull, everything in it seem to be thoroughly thought out and properly put together!
Much to my delight when I toured the factory I witnessed based on my experience the most well organized and efficient assembly line of mass produced boats in all my years of working for other companies in the Boat building industry. Their organization, ability to improvise, and build something so strong, along with the fact that they build the decks and hulls Like that of Sherman tanks, in both thickness and strength, Made me realize that regardless of the age of my Formula, I had been able to purchase what I would call one of the best built boats on the planet! As a Formula Boat owner, if you've not had a chance to go take a tour of the factory, I would let you know that it is well worth your time to see and appreciate just how your boat is built. I've been in so many factories and watched how things were done right and or wrong, but I can tell you, once I finished the tour as a boat builder, I was literally mind blown!
Which brings me to why I am making this post. With the help of several wonderful people, I was able to not only paint my formula and bring it up to speed with amazing color, I was able to also redo the interior in house, trade out the old wood grain dashes for new carbon fiber ones, along with new steering wheel and touch screen SIMRADs.
Tearing the boat apart re-wiring for all new stereo, complete with wet sounds system, wet sanding and re-buffing every square inch of this boat inside and out, and the final piece of the puzzle was laying down Kustom Gator Step flooring. To say this boat is my baby, is an understatement. I am more proud of this boat and the ability to show off my work and talent on not just any boat, but a Formula!
Now here's the hard part. As I am located in Tennessee, we have occasional wind storms and or mini tornadoes touch down randomly. Being out in the middle of the lake at a marina, you're basically just a sitting duck. A couple of weekends ago we had over 75 mile an hour winds and a small tornado touchdown in the facility of the marina where I keep my boat. Getting a phone call the next morning at 8 o'clock I knew exactly what I was going to hear.
As I threw myself together and drove down to the marina I could only fear for the worst! As I walked down the dock, the looks of everyone that passed me knowing the love and labor that I put in to my boat, was sobering. Everyone kept saying man I'm so sorry, man we all love that boat, it's the most beautiful boat here, we're so sorry that happened to your boat. Mind you it's a very long walk to the end of my dock where the boat sits and I have one of the best views of the lake. Once I got there, My heart began to sink as I looked at crumpled up Metal and poles literally forming the outline of my boat. Fearing the worst I got down on my hands and knees and checked below the dock to see what damage was there. I was assuming massive amounts of stress cracks and jabs of shards of metal in the sides of this fresh paint job done just basically this time last year…
Much to my surprise I could only see one place in the hull where metal had brushed up against it. I checked every pole wedged up against the rub rail, no cracks….was I just not seeing what I needed to see, was the light not right in the direction of my glare? I went over this boat four or five times looking for damage, stress cracking, Spider webbing, busted areas…..Nothing, not one crack. The wind had pushed so hard for a couple of hours against the dock that it broke free and pushed us one into the other into the dock before us. My boat was basically a piece of meat in a sandwich storm and was being bashed for a couple of hours, wedged in like a crumpled Coca-Cola can.
There were people out there that said their boats rocked almost up on their sides as they spent the night. I checked everything on this boat along with all of the cleats looking for cracks……NOTHING!
My boat suffered very minimal damage compared to what it could be, in my opinion if that had been any other boat it would've been destroyed, the deck would've popped off the hull, or at least there would be minimum tons of cracks around every pole that was sandwiched on top of it.
This is my testimony to the builders and the owners of Formula Boats. I knew before, that they built one of the strongest and most solid vessels on the water, especially after witnessing their layup and dedication to quality at their plant. But this storm and what my boat went through prove to me beyond a shadow of a doubt that they are literally one of the best built Boats for the money, used or new! I am a lucky guy, and no one got hurt during this storm. I have to say I have a new found respect for Formula Boats and the team that puts them together! Thanks for letting me tell my story, and prove once again how great these boats really are!
Sincerely,
Shanne Coffman