The power behind your boat is one of the most important things to consider when you're contemplating a new boat purchase. Get an engine that falls short, and you are sure to be left disappointed. Modern sterndrive motors have been around for almost 60 years — and are defined by the innovative, yet different builds of Ilmor, Volvo and Mercury.
If you're interested in purchasing a new boat powered by a sterndrive motor, there's a good chance it's going to be either a Volvo Penta, Ilmor or Mercury® Mercruiser®. You may be wondering — which is better, Ilmor, Mercury Mercruiser or Volvo Penta? Or, what's the difference between Ilmor, Volvo Penta and Mercury Mercruiser?

The competition between these companies is nothing new — they have been competing for the sterndrive market share since the modern sterndrive was introduced. That's why we're delving into their history, as well as similarities and differences these sterndrive brands, plus giving you some factors to consider as you decide how to choose between an Ilmor, Mercruiser and a Volvo.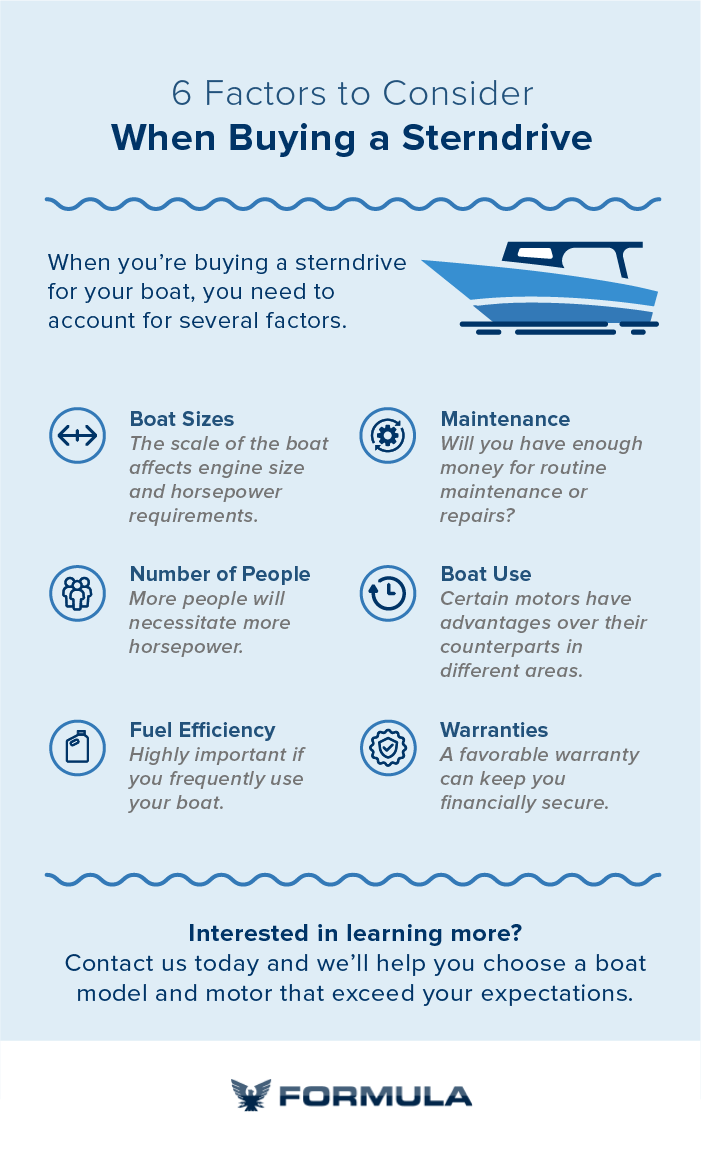 Evolution of Sterndrives: Volvo vs. Mercruiser vs. Ilmor Boat Motors
Johnson Motor Company introduced the first sterndrive in 1930, but the initial design required most boats to be redesigned to accommodate the motor. As a result, sales suffered, and it wasn't until almost 30 years later that the modern sterndrive of today was created.

The inspiration for the modern sterndrive began in 1948 when a young man, Charlie Strang, wanted to beat the outboard speed record. At the time, he was an MIT engineering student who had a vision for a design that he thought could give him the power he needed.
It consisted of a lightweight car engine and a lower outboard unit — what we know today as the modern sterndrive. To use this new design in his boat racing, he had to get the American Power Boat Association (APBA) to recognize and approve it as an outboard motor. They declined the design.
Ten years later, in 1958, Strang was working for Mercury, while it was being led by its founder, Carl Kiekhaefer. Stang was an engineer at the time and worked alongside Jim Wynne. The design resurfaced, and Strang and Wynne presented the plan to Kiekhaefer, but he rejected it. Rather than abandoning the idea again, Wynne left Mercury and filed a patent for the design after a falling out with Kiekhaefer. He then sold the rights to — you guessed it — Volvo Penta.
One year later, Volvo Penta released the first sterndrive of its kind, the "Aquamatic," at the New York Motor Boat Show. The announcement by Volvo motivated Kiekhaefer to embrace the new sterndrive model, and so he asked Strang, who was still with Mercury, to develop a Mercury version of the sterndrive. From that day forward, the two companies, Volvo and Mercury, would compete for the sterndrive market share.
The foundation of the Mercruiser and Volvo Penta have remained the same over time, beginning with the skeleton of an auto engine and then making changes to repurpose it for the boating industry — what's known as "marinizing." While the automotive and boating industries do share some similar fundamental needs, relying on auto engines comes with its share of pros and cons.
Having gotten its start in the 1980s, Penske-owned Ilmor Engineering began as an innovative manufacturer of high-performance engines for the car-racing industry. Responsible for engines that won iconic races across various series, including Indy racing and Formula One, Ilmor started stirring the waters in the marine industry in the early 2000s.
For the next decade, Ilmor became a leading provider of both racing and recreational boat engines that provide enviable power and outstanding performance, including a new generation of MV10 aquatic products that brought multiple winners across the finish line in several boat racing series. In 2010, Ilmor started producing MV8 engines for recreational and towboat use, manufacturing over 10,000 in just five years. The success of the MV8 led Ilmor to expand into sterndrive technology, unveiling its advanced smooth-shifting One Drive® system in 2016, followed shortly thereafter with the award-winning 483hp MV8 7.4-liter marine engine in 2017.
With another company that originally produced auto engines joining the ranks of Mercury Mercruiser and Volvo Penta in the marine industry, the pros and cons of relying on automotive engines as the basis for boat engines deserve further discussion.
Sterndrive Boat Motors Today
One of the advantages of relying on auto engines is the auto industry's technological advances. New, lightweight high-tech engine blocks have had an impact on the auto industry, and now, sterndrives are bringing these same benefits to the boating industry. What are the benefits that come with these new and improved sterndrives? Quite a few:
LIGHTWEIGHT
A lightweight build is ideal for sterndrives. Power-to-weight ratio is crucial in the boating industry — and it's an area that outboards have been outdoing sterndrives in for a while. Sterndrives, however, are closing the gap with lightweight aluminum motors that offer all the perks of a sterndrive. They also come with a never-before-seen weight. Its lightweight build also opens the doors for diesel sterndrives, which get the ultimate gas mileage.

GAS MILEAGE
All sterndrives are seeing an improvement in their gas mileage. Advances in fuel efficiency in the auto industry have enabled sterndrive manufacturers to add technology that improves gas mileage — sometimes even outdoing outboards at cruising speeds.
ENVIRONMENT
For better or worse, the catalytic converter requirement is a bonus for the eco-friendliness that sterndrives offer. They produce fewer emissions than outboards, and with the continuous developments in reducing carbon footprints, the eco-friendly advantage of sterndrives is here to stay.
OPEN SWIM PLATFORMS
Sterndrive boat motors offer boaters a bigger swim platform. This open platform makes boarding the boat easier and provides an unobstructed view from the vessel.
While the benefits from the auto industry are significant, at the end of the day these engines weren't built for a boat. While marinizing the engines is feasible, Mercury, Ilmor, and Volvo have differing opinions on whether following the auto industry is in the sterndrive's best interest, leading them to take different manufacturing approaches.
Mercury Mercruiser
Over time, Mercury has become a firm believer that the disadvantages of marinizing auto engines outweigh the advantages, leading them to build marine sterndrive engines from scratch — this is a significant difference between Volvo Penta and Mercruiser.
Some of the cons of choosing to marinize an auto engine include:
CORROSION PREVENTION
Boat motors have different requirements when it comes to corrosion prevention, given that boat motors are exposed to water, unlike an auto engine.
TORQUE AND HORSEPOWER
Boat motors have a non-stop need for all their torque and power, whereas a car or truck uses a fraction of its horsepower when cruising at 70 miles per hour.
CLIENT COST
As auto manufacturers continue to embrace new technologies to keep up with consumer demands and meet evolving regulations, new engine models are being released in shorter amounts of time. That's led to auto engines being marinized more often, which results in higher costs for customers.
These disadvantages have been present for a while, but technology is why Mercury decided to craft their sterndrive engines from scratch, instead of converting their auto engines. Moving away from auto engines avoids not only the constraints of auto engines but also provides the opportunity to control when they're released and their cost.

Mercury Mercruiser Boat Motors
Let's talk specifics. If you're interested in Mercruiser engines, you have five categories of sterndrives to choose from, many of them with a couple of options when it comes to horsepower. Each of them works with a specific drive system, with some offering you a choice of different drives.
Here's what you need to know:
– 0L, Inline 4-Cylinder Engine, 135 HP — This motor is a favorite for runabouts and other small boats, as its 19 feet and under in length. It's got plenty of power for small boats, plus is fuel efficient and low maintenance.
– 3L, V-6 Engine, 180-220 HP — If your boat is a little too big for the Inline 4-Cylinder Engine, this motor takes displacement up a notch. You also get to choose between Alpha or Bravo drives to match.
– 5L, V-6 Engine, 200-250 HP — Mercury markets this sterndrive as the power of a V-8 in a V-6 engine. Get a boost in performance, speed and acceleration, all while reducing sound and vibration.
– 2L, V-8 Engine, 300-350 HP — This V-8 was engineered and built for marine use. Mercury claims the torque and acceleration with this sterndrive are unparalleled. An intake resonator and aft-facing throttle body dramatically reduce noise.
– 2L, V-8 Engine, 380-430 HP — Mercury's largest sterndrive combines a big block with large displacement. The Multi-Port Fuel Injection (MPI) ensures that no fuel is wasted, which maximizes performance without high fuel consumption.
When it comes to drive systems, your decision depends on what's compatible with the engine you've chosen. Mercury has four drive systems — the Alpha One, Bravo One, Bravo Two and Bravo Three. We've included some insight into each of these drive systems below:

– Alpha One® — This drive system is the most popular in the world. It produces very little drag, which boosts performance and fuel economy.
– Bravo One® — If your focus is speed, this is the drive system for you. Extended-length torpedoes reduce drag — Mercury boasts it has best-in-class shifting, too.
– Bravo Two® — If you want to combine speed with a large boat or a heavy load, the Bravo Two gives you a higher thrust at lower speeds.
– Bravo Three® — This drive system features dual counter-rotating props and is also noted for its efficiency and agile handling.
The main reason boaters select Mercruiser is the engine's reliability. Using an engine you can count on throughout your ownership is a big perk. Boaters also appreciate the Mercruiser's fuel efficiency and performance.

Volvo Penta
Volvo remains 100 percent committed to marinizing auto engines. The company cites leveraging the auto industry, and its continual advances in fuel efficiency, performance, torque and reliability, as the primary reason for its decision.
All aspects of the engine system can be controlled through Electronic Vessel Control (EVC). This system allows boaters to control Autopilot, Cruise Control, joystick driving and docking and other features for smoother maneuvering and a more ergonomic experience.
Volvo's focus is creating lighter, more fuel-efficient sterndrives — their lightweight all-aluminum gas engines use General Motors' Gen V technology as their inspiration. As General Motors continues to develop innovative engines, Volvo continues to marinize them, introducing many of those cutting-edge technologies to the boating industry. These advancements can continue to be found in the Aquamatic sterndrive and the drive systems offered by Volvo.
Aquamatic
This name should sound familiar — Aquamatic was the name Volvo gave to its first modern Volvo sterndrive motors when they were released back in 1959. While a lot has changed since then, this sterndrive continues to cater to the same crowd of boaters that want reliability and performance.
Aquamatic is an excellent choice for watersport enthusiasts and those looking for a leisure cruise on the water. Volvo insists that all Aquamatics come with robust, low-end torque, exhilarating high-end power and superior mid-range response.

The Aquamatic is available in:
– 3L, V-6 Engine, 240-280 HP
– 3L, V-8 Engine, 300-350 HP
– 2L, V-8 Engine, 380-430 HP
Volvo's Aquamatic is also available in the following diesel motors:
– 4L, Inline 5-Cylinder Engine, 140-220 HP
– 7L, Inline 4-Cylinder Engine, 224-301 HP
– 5L, Inline 6-Cylinder Engine, 330-400 HP
Forward Drive
In this motor, Volvo rotated the design 180 degrees, causing the counter-rotating props to pull the boat through the water. This design results in a few fundamental differences, especially for those who enjoy watersports. You have the potential to go faster, without losing maneuverability. Plus, the movement of the props under the boat makes it safer for your rider as the exhaust is pushed out underneath the boat and not into your rider's face.
Forward Drive is available for the following engines:
– 3L, V-6 Engine, 240-280 HP
– 3L, V-8 Engine, 300-350 HP
– 2L, V-8 Engine, 380-430 HP
While Forward Drive is the latest and most innovative drive system Volvo Penta has introduced, there are three others to choose from once you've chosen your engine — the SX, DPS and OCEANX. We've included some brief information about each of them below.
– SX — This drive system is lightweight and designed for fun. It's known for its superior handling at any RPM.
– DPS — With a dual-prop, this system is built for sports boats, providing improved performance and fun.
– OCEANX — If you're going to be cruising the ocean, this drive system is for you. It features a titanium-ceramic coating that makes it up to four times more corrosion-resistant.
Why You May Prefer Ilmor One Drive Boat Engines
Since the engine-maker established its marine division in 2004, Ilmor has continued to push the envelope when it comes to innovation, leveraging both their racing technologies and their Penske quality heritage.
Ilmor MV8 Engines
Like Mercruiser and Volvo, Ilmor produces high-quality sterndrive engines that follow through on their promise to deliver power and performance. Ilmor also benefits from the auto industry's technological advances as well as its proven reliability and performance as a platform for their marinized engines. Every engine in Ilmor's portfolio was designed to deliver plenty of power in a lightweight and compact package. Ilmor's engines come standard with closed cooling and electric throttle, and feature a performance-tuned cast aluminum intake and easily accessible service points.
One of Ilmor's unique differences from other sterndrive engines is their focus on corrosion prevention. Ilmor uses fully closed-cooled exhaust manifolds, cooling the catalysts using coolant rather than raw water. This is an important feature for salt or brackish water boaters, significantly reducing saltwater exposure to the engine exhausts and minimizing long-term expensive parts replacements.
The GM Marine-based Ilmor MV8 6.0L engine generates 380 horsepower while the MV8 6.2L engine produces 430 horsepower. Most recently, Ilmor introduced the MV8 7.4L engine, which is hand-built in Ilmor's Plymouth, Michigan racing headquarters, with Ilmor-designed internal components, including forged crank, rods and pistons. This 454 cubic inch engine fills the power void currently experienced in the gasoline sterndrive segment between recreational duty 430 HP and high performance 520 HP+. Uniquely positioned at 483 HP, the MV8 7.4L meets a long-awaited need for manufacturers as well as boating enthusiasts, providing substantial power and torque for sportier cruisers and bowriders without sacrificing Ilmor's renowned durability that owners have come to depend upon for trouble-free boating.
All Ilmor engines are supported by Ilmor's industry-leading customer experience team and its 5-year/500-hour factory-backed limited warranty.
Ilmor One Drive® Sterndrive and One Touch® Joystick
Ilmor unveiled the One Drive package at Miami International Boat Show in 2016. The source of Ilmor's unique smooth shift experience is the One Drive's electro-magnetically actuated hydraulic clutch transmission (instead of a traditional cone clutch). Especially noticeable in the twin engine configuration, the hydraulic clutch system quietly engages and disengages gears at an incredible two-shifts-per-second, allowing for a very responsive and refined ride experience.
The twin propeller drive unit is built with precision forged gears and an internal drive shower for increased durability, and offers extensive active and passive corrosion protection systems. All drive systems are complete with power assisted steering and hydraulic trim. The One Drive's transom also has a significantly larger exhaust output than comparable systems, minimizing backpressure for improved engine performance. Among other unique options, the Ilmor One Drive can be customized for an added aesthetic effect by the customer.
You can experience excellent acceleration with counter-rotating propellers. The adventures you'll go on while operating this vessel with its superior propellers and other features are like no other.
On twin engine boats, Ilmor sterndrive motors offer the optional One Touch joystick system for easy and responsive vessel maneuverability, especially in close-quarters or while docking. The system includes Ilmor's informative MERLIN engine monitoring display and is compatible with auto-pilot functions.
The Ilmor One Drive and One Touch systems are covered by a 5-year/500-hour factory backed limited warranty.
Ilmor is known for producing engines that are often described as trouble-free in addition to being recognized for their performance. Durable, powerful, and quiet, Ilmor's One Drive system is a viable option for boating enthusiasts looking for alternatives to Mercury Mercruiser and Volvo Penta engines.
Ilmor boat engines are available for a wide array of Formula boats. Here are some of the Formula models that can be outfitted with Ilmor One Drive systems:
– 240 Bowrider
– 270 Bowrider and Sun Sport
– 290 Bowrider and Sun Sport
– 31 PC
– 310 Bowrider and Sun Sport
– 310 FX and FX BR
– 330 Crossover Bowrider
– 330 FX CBR
– 34 PC
We can also outfit even more Formula boats with Ilmor sterndrives, including these popular Formula models: 350 Crossover Bowrider, 350 Sun Sport, 350 FX and FX CBR, 353 FAS3Tech®, 370 Super Sport, 370 FX, 382 FAS3Tech®, 400 Super Sport and 400 FX.
How to Choose Between a Mercruiser and Volvo
The good news is that both Mercruiser and Volvo are putting out superior sterndrive motors. Don't stress over how to choose between a Mercruiser and Volvo, because in the end, it's less about the brand you select and more about getting the right engine for your boat.

When you're trying to decide which sterndrive is best for you, consider the following:
– Size of your boat
– Number of riders
– Fuel efficiency
– Maintenance and parts
– Boat use
– Warranties
To help you make your decision, we've broken down each of these factors below, as well as included some highlights of Ilmor, Mercruiser and Volvo to help you make your decision:
SIZE OF BOAT
The size of your boat, from the length to the weight, determines your engine size and the approximate amount of horsepower you need. Once you've decided on the size of your boat, you can narrow down your options. You can then dive into the details and determine which manufacturer is best for you. Don't forget that while the engine is your primary focus, the drive system can also make a big difference.

NUMBER OF PEOPLE
How many people do you expect to be joining you on your boating adventures? You don't want to skimp on an engine, only to find that it's struggling to haul your crew through the water. Considering the number of people in your boating crew may not be something you think about in advance, but weight does play a role in determining the horsepower you need, which is why it is worth considering as you decide on a sterndrive engine.
FUEL EFFICIENCY
If you anticipate using your boat often, savings from fuel efficiency will add up. On the other hand, if you aren't expecting to use your boat as much, this factor won't have as much of an impact on you. When it comes to comparing the Mercury Mercruiser to Ilmor to Volvo Penta, there isn't a clear front-runner for fuel efficiency — instead, it depends on the specific sterndrive engine you choose.
MAINTENANCE
Before you decide on a boat engine, it's essential to know when it will need routine maintenance or even the cost of potential repairs. You'll also want to make sure you have a mechanic familiar with the engine. While Mercruiser tends to have better availability when it comes to mechanics and parts, it depends on where you live. Your boat dealer should be able to help by giving some insight into the Ilmor, Mercruiser and Volvo marine mechanics in your area.
BOAT USE
If you're going to use your boat for watersports, Volvo's Forward Drive comes with an undeniable edge that you have to consider. This forward-facing drive takes the prop and turns it 180 degrees so that it's underneath the boat and away from your watersport rider. Because of this position shift, the exhaust is pushed out into the water and underneath your cruiser, rather than behind it and into your rider's face.

Regardless of whether you choose Volvo's Forward Drive or a drive built by Mercury, when you're using your boat for watersports, other factors to consider are engine weight and horsepower. If you have an engine weighing you down and it doesn't have the power to back it up, your ride may be cut short.
Aside from water sports, if you'll be using your boat to entertain, you should consider the electrical output at idle and low speeds. Think about it, if you've got a crew and you're taking a cruise, chances are you'll want to have drinks in the refrigerator, the stereo on and your navigation system leading the way. If your inboard block doesn't come with enough amps to support all of that, your cruise may not be all you envisioned.
WARRANTIES
If you've explored your options, and narrowed your selection down to one or two motors from Ilmor, Mercury and Volvo, compare the warranties. When you're looking at a warranty, its length is a priority, but remember to revisit mechanic and parts availability. If you have an extended warranty coverage with one company, but don't have a dealer or certified marine mechanic nearby to do the repairs, the length may not matter.

You may want to consider asking about the warranty process too — would you go to your dealer? Or directly through the engine manufacturer? Is there an average repair time turnaround? When it comes to warranties, having the coverage is important, but the end goal is to get back on the water.
Which Is the Best Sterndrive Motor for My Boat: Mercury Mercruiser, Ilmor or Volvo Penta?
If you've been wondering which is better, Mercury Mercruiser, Ilmor or Volvo Penta, the answer depends on your unique situation. Consider the size of your boat, the number of people you haul, fuel efficiency, maintenance and parts and your boat use are all decision-making factors that should be used to make your purchasing decision.
Your boating preferences are also something you should consider when you're trying to determine which engine is the best fit for your boat. While some boaters want as much power as possible, others are content with a capable, durable engine that will simply get them to their destination safely and without a problem.
How you'll use your boat in the future is something you should think about when you're choosing an engine as well. If your kids are young and they mainly enjoy splashing around in the water, you might not have a need for a more powerful engine right now. What will happen as your children grow and develop interests in different water activities like waterskiing or wakeboarding? Be sure the engine you choose will be able to deliver enough power to keep up with your children's evolving interests as they get older.
Whether you go with a Mercruiser, Volvo or Ilmor engine, the options that are available for Formula boats appeal to avid and casual boaters alike. You really can't go wrong no matter which brand you choose for your boat. While that's the case, it's important to note that not every available engine is compatible with every boat we craft. If you already know which engine you want, it's vital that you check to make sure it's compatible with the type of boat you want to get.

Formula Boats: Volvo vs. Mercruiser Boat Motors vs. Ilmor
At Formula Boats, we offer both Volvo, Ilmor and Mercruiser sterndrive options on most of our custom boats, from the smallest Sun Sport to the superlative 45 Yacht. Throughout our 60 years of marine manufacturing, we've witnessed the evolution of sterndrive motors.
As Volvo, Ilmor and Mercruiser continue to come up with new innovative sterndrive models, our custom boat offerings continue to evolve. For example, the introduction of Volvo's Forward Drive inspired our two new Extreme Sport (XS) models that are built to accommodate this new sterndrive.
Formula Boats is owned and operated by a boating family. We have the knowledge and expertise to help you decided which works for you — the Mercury Mercruiser, an Ilmor engine or the Volvo Penta? If you already have a boat in mind, you can begin by building your custom boat on our website, complete with your choice of sterndrive. We'll provide you with an immediate price, as well as information on discounts our dealers may be offering.
With our custom boats setting the standard for comfort, luxuriousness and style on the water, it's only natural that we pair our carefully crafted boats with engines made by the world's most respected marine engine producers. We're thrilled that we can give boating enthusiasts the chance to choose among engines made by the Volvo, Ilmor and Mercruiser brands. That's because you'll have chosen a trusted brand regardless of the particular brand you ultimately select.
At Formula Boats, we make the best custom boats you can find — and we offer the best sterndrive options available for our boats. This marriage of the best boats and engines is part of the recipe that makes Formula boats so popular with boat lovers throughout the world.
If you're just getting started on your search for a new boat and the perfect sterndrive to match, contact us — we'd love to put our years of experience to good use by helping you choose a boat model and engine that fits your wants and needs.